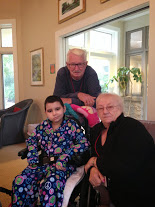 The Centre, located at 1200 Holloway in Rolla, will be the site of the April 11, 2015 GrandFamily Conference for grandparents raising grandchildren in Phelps County.

From 8:15 a.m. until 2:00 p.m., a host of informative sessions and community resources will be shared to empower grandparents who are parents for the second time in life. The day begins with registration and complimentary breakfast for attendees. Workshops will commence at 9:45 a.m. and continue throughout the day with a break at 12 noon for a complimentary lunch.

Workshop session topics include: mental health, legal issues, staying fit and active, family cohesiveness, and a panel discussion about other resources that are available. Presenters are: Karen Traylor, Parent Link; Emily Woodward, Esq., Woodward & Joyner; Dr. Jim Pritchett, Rolla Public Schools; Jamie Myers, Prevention Consultants; and David Duncan, Pathways.

Children are welcome and will enjoy the many activities offered at The Centre. They will be supervised by Stay N' Play while adults participate in workshop sessions.

The GrandFamily Conference is sponsored by AARP Missouri, Rolla Parks & Recreation, and University of Missouri Extension.
There are several ways to register: stop by The Centre at 1200 Holloway; send an email to Chantae Alfred at alfredc@missouri.edu or Kristy Rich at kristy@rollacity.org; or call 573.341.2386. Registration is strongly encouraged so that adequate meals can be ordered.