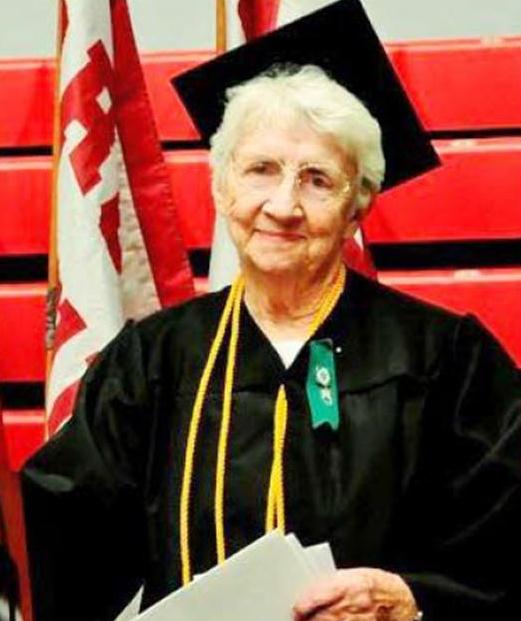 Leslie Nivens graduated from Cox College with a degree in nursing on December 14, 2012. She presented the graduation address for her class and following is the bio that served as her introduction to the audience.

On December 12, 1928, in the town of Diggins, Missouri, a remarkable lady was born. On this day in December, the journey of Leslie Earle Reagor Nivens began. Leslie Nivens has had a life that many individuals would envy. She is a lady that has greatly embodies the idealism of our fifth core value, Life Long Learning.

Nivens started the journey of life long learning in Mount Vernon, MO, where she graduated from high school in 1946. From there, she went on to Missouri State Teachers College, now Missouri State University, where she received her teaching certificate. During 1947-48m Nivens taught school at Hoberg, MO, in a one-room school house where she taught grades one through eight.

During the next few years, Nivens worked as a bookkeeper and factory worker. In 1951, she decided she would like to be a nurse and graduated from the Burge School of Nursing in 1954. After graduation, from 1954 until 1981, she worked at what is currently the Missouri Rehabilitation Hospital in Mt. Vernon, MO. During this time, she raised two children, took extension courses from University of Missouri-Columbia, Missouri Southern State University, and Southwest Missouri State University. Nivens also attended special training courses at the Centers for Disease Control and Prevention in Atlanta, GA.

In 1990, Nivens moved to Carthage and in the last few years, she has taken time to go on a mission trip to India, wrote and published four books, and is currently working on two additional books.

In 2011, while on a tour of Cox College, Nivens mentioned she would like to earn her Bachelor of Science degree (BSN). Dr. Anne Brett, president of Cox College, mentioned we could award her an honorary degree based on her life experiences and education. Nivens was not interested in having bestowed an honorary degree – she wanted to earn her degree.

After a careful evaluation of her academic transcripts and giving her credit for life experience, the college determined the courses Leslie would need to complete her RN-BSN degree. Today, she is achieving another milestone in her journey of life long learning by receiving her BSN degree.

During an interview with Nivens, she revealed that she lacked only two courses needed to attain the BSN degree. Each course required was 12 weeks in length, but Nivens complete the course work in only 10 days! "I 'aced' both classes," Nivens said. "I have the ability to memorize and retain information – so it was easy for me to complete the coursework in record time," she added.

Nivens has been featured in the Joplin Globe newspaper and on local television stations.

Kudos to Nivens who is an exemplary example of life long learning and example of AARP's "Life Reimagined" initiative.