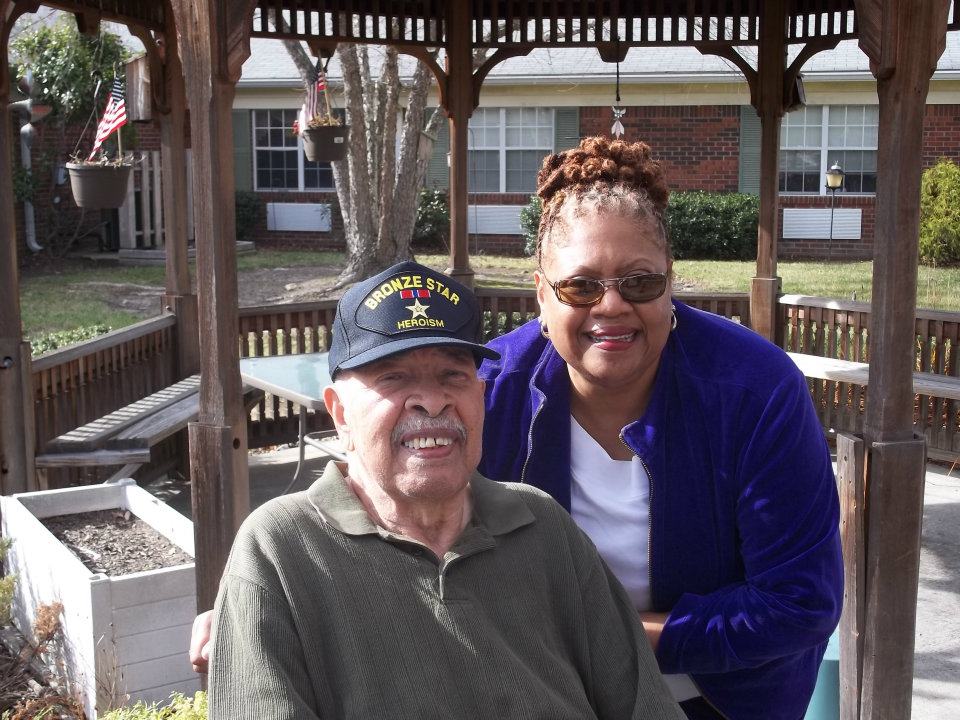 The following feature was written by Brenda C. Siler, associate state director for communications in the AARP District of Columbia State Office.

It's been interesting for me and my siblings to learn about a significant part of our Dad's military history through the recently published book authored by Linda Hervieux, Forgotten: The Untold Story of D-Day's Black Heroes, at Home and at War.

We learned that our Dad, Floyd Siler, Sr., landed on Utah Beach in Normandy on D-Day as a member of the 320th Balloon Barrage Battalion, an all-Black army unit. The 320th handled blimp-type balloons from the ground that kept enemy planes from attacking U.S. military planes. We didn't find out about our Dad being in Normandy and the heroism of his unit until about six years ago.

We began learning about our Dad's important role on D-Day when my sister, Ina Siler, was installed as a new member of the Disabled American Veterans chapter in North Carolina. She and our Dad now live in High Point, NC though we were raised in Washington, D.C.'s Riggs Park neighborhood.

Ina discovered our Dad had been awarded two Bronze Stars. When she asked him about them, he just looked at her and smiled. We had no idea a war hero had been in our midst our entire lives.

Ms. Hervieux's research helped us learn more. She interviewed our Dad and learned about other survivors from the 320th with whom my Dad had kept in touch.

Now that we knew about this amazing time in our Dad's life, my sister began to ask him about D-Day. It was very difficult for him to discuss. He told my sister, "When we went ashore in small boats after leaving the ship, soldiers were shot at. We were swimming in a sea of blood. So many soldiers died."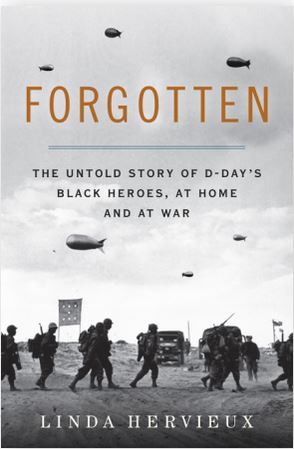 The interviews with Ms. Hervieux were not only helpful for her research, but helpful for our Dad. I think it was easier for him to tell a stranger about his D-Day experiences than to bring family into the war drama. Our Dad also consented to an interview for the Library of Congress' WWII project.

Unfolding our Dad's heroic war story helped us figure out that he was experiencing depression in late 2008.
We knew our Dad had been in the Army, but had no details. This is what my siblings and I recall from our childhood:

•Dad had an occasional limp that he attributed to old army accident or injury;
• Sometimes after dinner, Dad would walk a few blocks to visit "an old army buddy." We now know that buddy was Willie Howard, Sr., who lived about three blocks from our home and was a member of the 320th;
•When celebrating our Dad's 80th birthday, he thanked everyone for coming by saying, "When I was in the war, I thought I was going to die." That's all he said and then went back to his seat;
• One of my brothers remembers how skittish our Dad would become whenever there was a thunder and lightning storm, and
•We wondered why we had never seen photos of our Dad in uniform.

In late 2008, our Dad began to have health problems. He was falling and in pain because he needed both knees replaced.

He'd cry out, "I can't walk. . . Help me . . . Why don't you put me in a nursing home, that's where I want to go."

The behavior was strange. That's when we determined that our Dad might be suffering from depression. Examination by his internist and a psychiatrist confirmed our concerns.

The experience of the 320th was so harrowing, beginning with training at army bases in a segregated military to landing on Omaha and Utah Beaches to coming home. And Dad was not talking about it. We believe he wanted to forget it all and had suppressed his emotions. They were now surfacing in 2008 as a form of Post-Traumatic Stress Disorder (PTSD).

All of the revelations about my Dad's military background were eye-opening for me and my siblings. The heroics of the 320th are amazing and we are so happy that Forgotten tells their important story.

Last summer, I finally met Dad's old army buddy, Willie Howard, Sr., who still lives a few blocks away from where I grew up.

We have always had a great love and respect for our Dad. Learning about his war experiences has deepened those feelings and shown us he's even more of a special man than we ever realized.

Forgotten: The Untold Story of D-Day's Black Heroes, at Home and at War by Linda Hervieux, is available through Amazon.