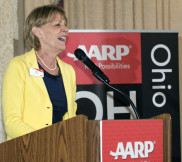 AARP Regional Vice President Rawle Andrews Jr. announced that, after a long and successful career driving positive social change for AARP members and Ohio residents of all ages, Ohio State Director Jane Taylor is retiring effective April 13, 2015.

In thanking and wishing Jane well on her "What's Next", Andrews closed by stating, "With Jane's departure, AARP Ohio's Manager of State Operations Tamara James will step in as interim State Director, and Luke Russell, AARP Ohio's Associate State Director for Government Relations, will become interim Manager of State Operations."

Michael Barnhart, state president for AARP in Ohio, said, "This transition for AARP Ohio represents a sure stepping stone into the future where we can continue our advocacy and community outreach for 2015. As I look forward to working with Tamara and the rest of the AARP Ohio staff and volunteer team we will add to and build on the advocacy and community outreach developed under Jane's effective leadership."

Taylor joined AARP as Ohio state director in 2007. During her eight years of service, Taylor led AARP's staff and volunteer team in public policy and community initiatives that significantly contributed to AARP's mission of enhancing the quality of life for all as we age. With outstanding service for to Ohio, Jane has championed positive social change and delivered significant value through advocacy, information and service.

Prior to joining AARP, Taylor established and was the director of the Ohio Association of Area Agencies on Aging for 19 years. Previously she was the director of the Central Ohio Area Agency on Aging and directed PASSPORT as a pilot. During her tenure at AARP, Taylor had significant success in moving Ohio toward improving access to home and community-based health care and achieving affordable utilities.

"We have been so fortunate to work with Jane, collaborating on Long-Term Care, caregiving, community programming and other issues so critical in helping Ohioans to continue to live healthy and fulfilling lives," said Ohio Department of Aging Director Bonnie Burman. "We wish her well in her retirement and know that she will continue to live the AARP brand, actively engaged, sharing her life experiences, skills and passions in her community."

James, who joined the AARP Ohio staff in October 2000, manages the community outreach team, which delivers education and outreach through its focus on community presence, member and volunteer engagement, partnerships and collaborations, and implementation of Ohio's state plan. Prior to AARP, Tamara managed a grant program that provided employment services to people with disabilities

Russell is associate state director for government relations and advocacy in Ohio. Along with staff and a team of volunteers, Russell works on federal and state advocacy issues that impact AARP's 1.5 million members in Ohio. He began working with AARP in January 2003.

###

AARP is a nonprofit, nonpartisan organization, with a membership of more than 37 million, that helps people turn their goals and dreams into real possibilities, strengthens communities and fights for the issues that matter most to families such as healthcare, employment security and retirement planning. We advocate for consumers in the marketplace by selecting products and services of high quality and value to carry the AARP name as well as help our members obtain discounts on a wide range of products, travel, and services. A trusted source for lifestyle tips, news and educational information, AARP produces AARP The Magazine, the world's largest circulation magazine; AARP Bulletin; www.aarp.org ; AARP TV & Radio; AARP Books; and AARP VIVA, a bilingual news source. AARP does not endorse candidates for public office or make contributions to political campaigns or candidates. The AARP Foundation is an affiliated charity that provides security, protection, and empowerment to older persons in need with support from thousands of volunteers, donors, and sponsors. AARP has staffed offices in all 50 states, the District of Columbia, Puerto Rico, and the U.S. Virgin Islands. Learn more at www.aarp.org .