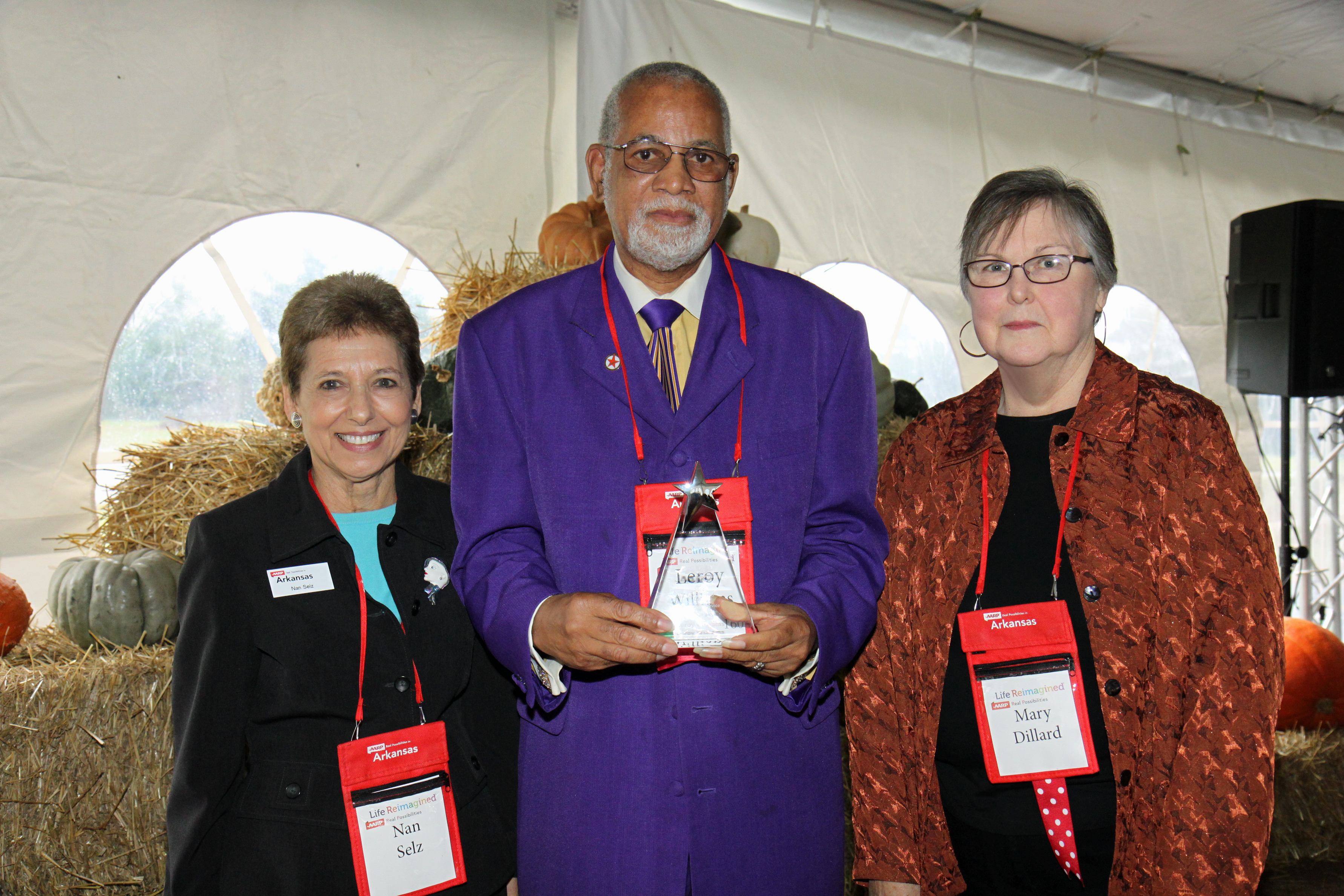 FOR IMMEDIATE RELEASE
Oct. 28, 2014

AARP Arkansas honors volunteer leaders with 2014 awards

LITTLE ROCK— Leroy Williams of Helena-West Helena is the 2014 recipient of the Andrus State Award for Community Service, AARP's most prestigious and visible volunteer award.

Williams received the award during AARP Arkansas' 2014 Andrus Award and Volunteer Appreciation Luncheon, held today at Moss Mountain Farm in Roland. Also presented today was AARP Arkansas' 2014 Distinguished Service Award, to Emma Rand of Little Rock.

AARP Arkansas announced a new recognition for 2014, the Outstanding Team Award, designed to honor the achievements of a particular group. The inaugural winner was the A-Team, AARP Arkansas' team of advocacy volunteers, for playing a key role in the 2013 passage and 2014 renewal of Arkansas' Private Option for affordable health care. This legislation adopted by the Arkansas Legislature has to date helped more than 200,000 previously uninsured Arkansans secure health insurance coverage.

The Andrus Award is AARP's most prestigious and visible volunteer award for community service. The award recognizes outstanding individuals who made their communities better in ways that are consistent with AARP's mission, vision and commitment to volunteer service, and who inspire others to volunteer.

AARP's commitment to volunteer service can be traced back to the life and vision of founder Dr. Ethel Percy Andrus. From the beginning, her motto, "To serve, not to be served," has shaped AARP's community service efforts at the national, state and local levels. The Andrus Award winner is nominated by his or her peers and the award recipient is chosen by a special selection committee consisting of AARP Arkansas volunteer leaders.

This year's Andrus Award winner, Leroy Williams of Helena-West Helena, gives tireless service to his community, particularly residents who are older or have physical limitations. He regularly prepares home-cooked meals for members of his church and others in need, and transports friends and neighbors to the doctor, church, and grocery shopping—all free of charge. His commitment to others has been recognized by his hometown with a "Jewel in Your Own Backyard" Award; by AARP Arkansas with the 2012 Distinguished Service Award; and by AARP's national office for community service. Williams is Co- Leader of AARP Arkansas Hub 7 in the Delta, providing instrumental leadership in recruiting new members, and has held several leadership positions with the Arkansas Retired Teachers Association.

"Leroy is committed and dedicated to a mission of serving others and always works to make sure that no one is left out," said Maria Reynolds-Diaz, AARP Arkansas State Director. "Volunteers say that Leroy seems to have so much fun that it is infectious and inspires others to join in the work of AARP."

Because so many high-quality volunteers have historically been nominated for the Andrus Award, AARP Arkansas created the Distinguished Service Award and it is given to the nominee who is runner-up for the Andrus Award.

Emma Rand of Little Rock, this year's Distinguished Service Award winner, volunteers extensively on both the chapter and state levels. She is a longtime and committed member of AARP's Highland Park chapter in Little Rock; volunteers often at the State Office and recruits other volunteers to assist with major projects; and also participates and provides leadership in the University District Senior Network, AARP's community presence project. Whenever the Walgreens Way to Well Health Tour with AARP bus visits the Little Rock area to offer free health tests to the uninsured, Rand is among the first to sign up and help raise awareness about the tour's stops.

"When something needs to get done, Emma stands up to be counted, at the chapter and state levels and representing AARP in the field," Reynolds-Diaz said. "She exemplifies that volunteers are the foundation for all AARP works to accomplish on behalf of Arkansans 50 plus."

Three other outstanding volunteer leaders were nominated for this year's Andrus Award and were inducted as charter members into AARP Arkansas' new Andrus Award Nominee Hall of Fame:

Horace Smith of Van Buren serves as both an AARP Driver Safety area supervisor/ classroom instructor and as an active member of AARP's chapter in Fort Smith. Smith keeps chapter members informed about benefits and promotions offered by AARP Driver Safety, and actively recruits new members for the chapter and chapter members to serve as Driver Safety instructors.
Shaaron* Walton of Cherokee Villagebecame active in AARP through her affiliation with the Sharp County Retired Teachers. Shaaron has hosted a workshop to educate people in her area about avoiding fraud and scams; delivers food to homebound older people; and helps keep her community beautiful by maintaining street corners with trash pickup and recycling. *Spelling is cq
Billie Yates of Farmingtonserves as Co-Leader of AARP Arkansas Hub 1 in Northwest Arkansas and works constantly to recruit new members and educate people on the value of AARP. Yates promotes AARP Driver Safety, has hosted multiple Fraud Watch Network forums, donates supplies to Head Start and a local women's shelter, visits nursing homes and reads to the residents.


About AARP



AARP is a nonprofit, nonpartisan organization, with a membership of nearly 38 million, that helps people turn their goals and dreams into real possibilities, strengthens communities and fights for the issues that matter most to families such as health care, employment and income security, retirement planning, affordable utilities and protection from financial abuse. We advocate for individuals in the marketplace by selecting products and services of high quality and value to carry the AARP name as well as help our members obtain discounts on a wide range of products, travel, and services. A trusted source for lifestyle tips, news and educational information, AARP produces AARP The Magazine , the world's largest circulation magazine; AARP Bulletin ; www.aarp.org; AARP TV & Radio; AARP Books; and AARP en Español, a Spanish-language website addressing the interests and needs of Hispanics. AARP does not endorse candidates for public office or make contributions to political campaigns or candidates. The AARP Foundation is an affiliated charity that provides security, protection, and empowerment to older persons in need with support from thousands of volunteers, donors, and sponsors. AARP has staffed offices in all 50 states, the District of Columbia, Puerto Rico, and the U.S. Virgin Islands. Learn more at www.aarp.org