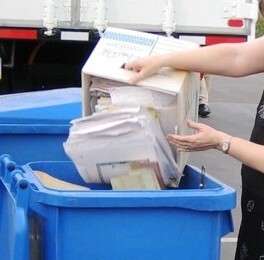 The AARP Fraud Watch Network in Connecticut is teaming up with radio station WTIC-News Talk 1080 to sponsor a Free Shred Day on October 18, 2014 from 10AM-2PM at EnviroShred, 22 Prestige Park Circle, East Hartford, CT.
Prevent ID Theft and Fraud by safely disposing of outdated and unwanted personal documents. You can bring up to 3 bags/boxes to be safely and securely shredded at no cost. Examples of outdated documents you should consider shredding are: Medical and Financial Records, Credit Card Statements, Cancelled Checks, Tax Returns and any other personal or sensitive documents.
AARP volunteers will be on hand to unload your bags/boxes and provide free information and resources from the AARP Fraud Watch Network that can help protect you and your family from identity theft, fraud and scams.
According to AARP State Director, Nora Duncan, "Identity theft, investment fraud and scams rob millions of Americans of their hard-earned money every year. The AARP Fraud Watch Network is fighting back by arming Americans of all ages with tools and information to safeguard against identity theft and other forms of fraud and scams. Please join us on Saturday, October 18 for a Free Shred Day where you will have the opportunity to safely dispose of outdated personal documents and learn about free resources that can protect you and your family."
For additional details, visit www.wtic.com/shredday.
The AARP Fraud Watch Network is:
• Free for Everyone. Anyone, of any age, can access our resources free of charge.
• A Go-To Resource. Get real-time alerts about the latest scams, tips on how to spot them, and help if you or someone you know has been victimized.
• A Scam-Tracking Network. Get connected to people in your state who are sharing their experiences so you know what to watch out for.
• A Guide to Outsmarting Con Artists : Learn to outsmart scammers before they strike with tips based on hundreds of undercover fraud tapes and hours of interviews with former con artists and their victims.
See also: 10 Tips to Prevent ID Theft