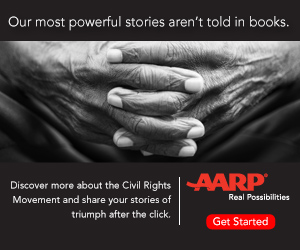 At AARP, we believe everyone deserves to live life to the fullest. As we celebrate Black History Month, we are proud to continue our commitment to helping everyone realize their own Real Possibilities. We recognize that some of the most powerful stories are not told in history books. That is why we are partnering with CBS Connecticut and WZMX Hot 93.7 to highlight some of the incredible people, right here in Connecticut, who are making a difference in their communities through actions big and small. There are thousands of such "unsung heroes" in our state and in our local communities. Whether fulfilling a personal passion or using their skills and talents to help others, each of them, in their own way, is helping to keep Dr. Martin Luther King's dream alive and ensure a better future for us all. We all have stories of success and triumph that deserve to be told. We hope you'll join us in sharing these stories, and in thanking the "unsung heroes" in your life. Read more important stories of the Civil Rights Movement and share your own at www.aarp.org/tellastory.

Pastor Steven A. Cousin, Jr.
Bethel AME Church
New Haven, CT
As a young, black minister in New Haven, CT, Pastor Cousin is passionate about his faith and his community. Since June, he has served as pastor of the Bethel AME Church in New Haven- one of the city's largest predominantly African-American churches. He is currently leading a local effort to enroll uninsured individuals in affordable health coverage by hosting information and enrollment fairs at his Church. The pastor's vision is for the Church to provide both a spiritual home and a hub for the community, offering educational programming and resources to improve the quality of life of community members and the local community.

Dolores Burgess
Citizen Activist and Former Educator
Stamford, CT
Dolores Burgess, a Stamford resident, was there on that hot August day when Dr. Martin Luther King give his "I Have a Dream" speech during the March on Washington in 1963. She was 16 years old and the experience had a profound impact on her. "He made me feel that I could and I am and that I was empowered to do anything I wanted to do if I put my mind to it." Since then, she has made it her mission to fight for civil rights, for all people, and to help improve lives through education and understanding. As a former educator, she believes in the power of education to change lives and is passionate about working with youth in the community. She started The Coalition for Respect, an group that aims to erase prejudices and bring together community members of all ages, races and sexual orientation to foster understanding and respect for individual differences. Burgess also serves as the current Education Chair for the Stamford NAACP and chairs their Scholarship Committee which provides monetary assistance to high school and college students, as well as older adults, who are looking to go back to school.

Corey Moore
Student Leader, Orator
West Haven, CT
Although still in high school, Corey Moore – a senior at Notre Dame High School in West Haven – already possesses the kind of oratory skills that have the power to change minds and shape lives. His presentation of an original speech he wrote, titled "Pride", on the subject of gang violence, won him first-place and a college scholarship in a prestigious statewide oratory competition. Since then he has been asked to share his message with officers of the New Haven Police Dept. and numerous community organizations that work to combat youth violence. As class President and a leader in the NAACP Youth Council and his church's youth group, Corey is doing his part to keep Dr. King's dream alive by harnessing the power of words to move people to action and help achieve positive social change in his community.

Mildred Battle Setzer
AARP Experience Corps Volunteer Tutor
Connecticut
Mildred Battle Setzer, a Connecticut resident, has spent the past four years of her retirement volunteering with AARP Experience Corps-Greater New Haven - a program which engages older adults to serve as literacy tutors in Kindergarten through third grade. Originally from Alabama, Mildred has always had a love of children and passion for education. After starting her career teaching middle school in Georgia, Mildred came to Connecticut where she has lived for the past 45 years. Mildred's patience and determination helps instill confidence in the children she works with, along with a life-long love of learning. She has touched countless young lives in a positive way and plans to continue volunteering with children for as long as she is able.

Debra Stokes
St. Stephen's Food Pantry Coordinator
Bridgeport, CT
Deb Stokes began working with St. Stephen's Food Pantry and Catholic Charities of Fairfield County to help feed hungry people in Bridgeport as a volunteer in 2005. She stopped by to drop off a donation and began volunteering the following week. It soon became obvious that helping others was her life's passion and in 2008, she was hired as the pantry's full-time Coordinator. Deb has witnessed first-hand the growing need for food assistance in her community and makes it a point to connect with, share and most importantly listen to the people she serves. Deb is committed to helping families make healthy food choices and during her tenure has greatly expanded the Pantry's offerings of fresh produce, meats, whole grains and dairy. Her love of helping others turned a chance meeting into an opportunity to make a positive and lasting impact on the lives of thousands of individuals and families in Bridgeport.

Wanda Gibbs
Principal, Riverside Education Academy
New Haven, CT
Wanda Gibbs knows how difficult it can be to overcome hardships early in life, that's why she has dedicated her life to working with youth and making sure they have the best chance to succeed. For the past 21 years, Wanda has served as the Principal of the Riverside Education Academy in New Haven, but to her students, their parents and the larger community, she is so much more. Many of her students call her "Mom" or "Grandma". To them, she is an advisor, a coach, a cheerleader and an advocate who gives individual attention and does whatever it takes - whether it's connecting them to local resources, a job, or even a place to live - to help them be successful, not just in school, but in life. Wanda is grateful for the opportunities she has been given in life and for the ability to make a positive impact on so many lives every day.

Audrey Harrell
Volunteer and Community Activist
Waterbury, CT
Audrey started the Sisters to Sisters Book Club in 1997 that still meets every month at the Silas Bronson Library. The Club is open to all. For more than 16 years, the Club has helped bring community members together to discuss important topics, encourage literacy and a love of reading and help promote the works of Black authors. Members of the Club also participate in community service projects throughout the year, volunteering their time and talents to help others.
Audrey also is an active volunteer with a number of community organizations, including the Waterbury Veterans Memorial Committee, where she serves as Recording Secretery; The Girl Scouts – having served as a former Board President; the Palace Theatre and the Mattituck Museum.

EdJohnetta Miller, Artist and Master Quilter
Wanda Seldon
Hartford, CT
EdJohnetta Miller - a world renowned artist and master quilter whose works hang in The Smithsonian Museum – and quilt artist Wanda Seldon, used their artistry and skills to promote the rich history and diversity of Hartford, and to reconnect the city's neighborhoods as part of the Charter Oak Cultural Community Quilt Project – a vital component in Hartford's iQuilt Urban Revitalization Plan. In 2012-2013, EdJohnetta and Wanda brought together quilters, artists and painters to create an enduring piece of art that commemorates and celebrates the strength and beauty of the 17 neighborhoods that comprise Hartford. The quilts, on display at the Charter Oak Cultural Center, serve as a visual representation of how the iQuilt Plan seeks to revitalize the City by embracing its cultural, artistic and historical resources.