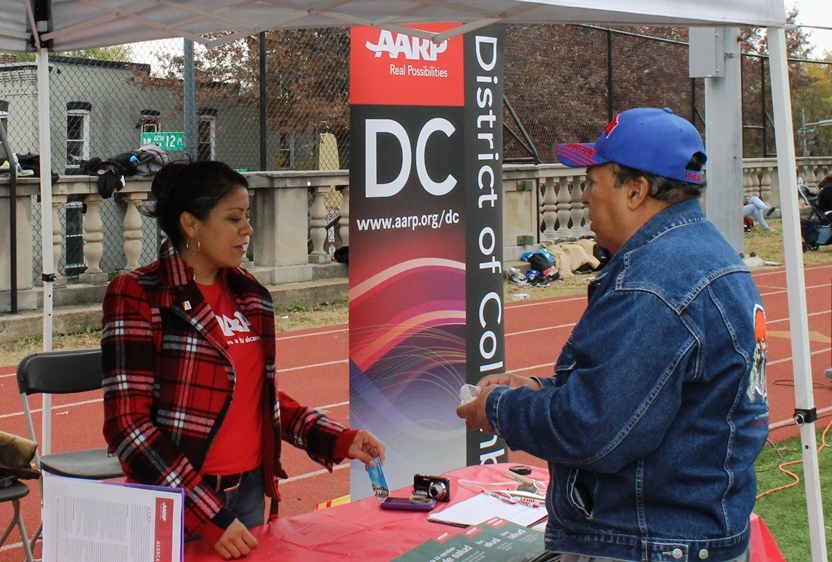 Washington, DC soccer fans cheered their favorite teams on Sunday, November 17 th during the Continental Soccer League Championship Tournament held at the Cardozo Education Campus athletic field. The sports event was sponsored by AARP DC and organized by Fossalex, a nonprofit organization that provides resources and support about financial security, health and wellness to Latino families in the District. Fossalex coordinates the Continental Soccer League and organizes sports events in DC to bring the Latino community together. AARP DC's support for Fossalex and the Continental Soccer League finals was a continuation of its outreach to the DC Latino community.

Ronald Chacon, who heads Fossalex and is Coordinator of the Continental Soccer League, spoke about how AARP's mission matched perfectly with the goals of Fossalex. "The community needed something, so Fossalex wanted to do something for families that are going through difficult situations," said Chacon. "When AARP joined with us, I knew they could provide necessary health information for the community."

The crowd in the bleachers included representatives from the Mexican and El Salvadorian Consulates. In between the action on the field, family and friends of the soccer teams spent time at the AARP DC tent where they talked to Spanish-speaking staff and volunteers about a variety of resources and issues.

Giving play-by-play commentary during the games were the broadcast teams from Radio Cuscatleca USA heard on @TuneIn Radio and its partner Spanish radio station Romantica 900am. The announcers interviewed AARP DC staff about its support of Fossalex, the soccer finals and about accessing health insurance.

"Romantica 900am noticed that many of the spectators were visiting the AARP tent. We conducted interviews in Spanish with both radio stations about the Affordable Care Act - DC Health Exchanges," said Johnny Garcia, Senior Operations Associate for AARP DC. "People have been confused about signing up for insurance. The radio interviews allowed us to emphasize how to work through the Health Exchange and that signing up could positively affect their families."

Milagro Nuňez, a volunteer at many AARP DC activities targeted to the Latino community, saw first-hand the impact of AARP's involvement with this community sports and health education event.

"I have experience working directly with the (Latino) community and they were very happy with AARP's presence at the tournament. I could feel it," said Ms. Nuňez. "People asked if Obamacare would affect them. They had good questions like, if they were not eligible to buy insurance, do they have to pay the fine anyway? In general, they were confused so, we (volunteers) gave them AARP's materials in Spanish so they could find insurance information that was safe and official."

The afternoon of soccer and family fun culminated with the team London Mexico winning against Central Olimpico whose members were of Salvadorian heritage. AARP DC viewed its partnership with Fossalex and the soccer tournament as a unique approach to connecting with the Latino community with timely information about ACA and other key issues important to Latinos.