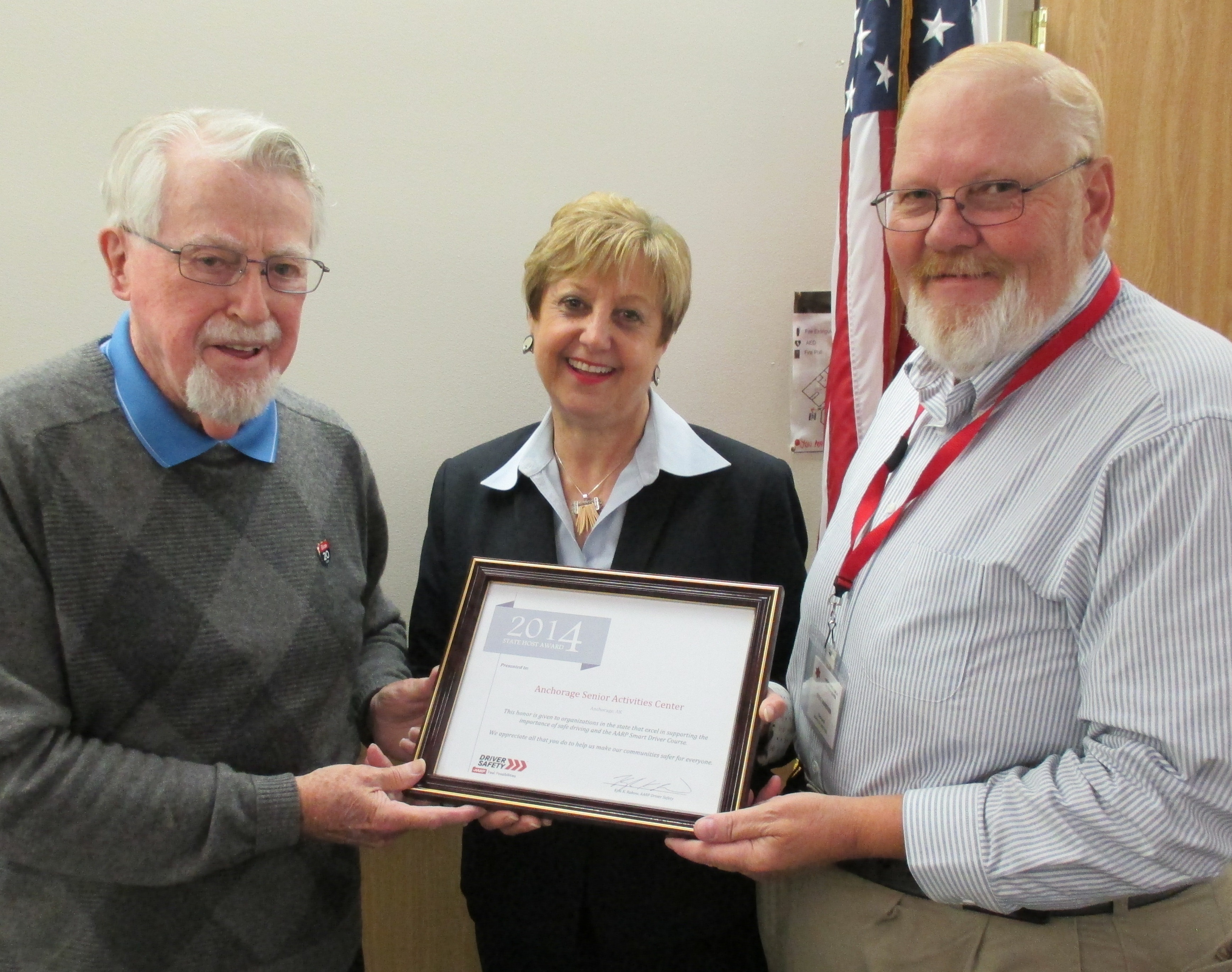 FOR IMMEDIATE RELEASE

July 8, 2015

Local organization receives award for offering driving refresher courses in 2014

ANCHORAGE, AK – AARP Driver Safety recognized the Anchorage Senior Activity Center with the inaugural "Top State Host" Award for its outstanding support in 2014 collaborating with local AARP Driver Safety volunteers to host its classroom-based driving refresher course, designed to help drivers stay safe and confident behind the wheel.

"We are so grateful to the staff and volunteers at the Anchorage Senior Activity Center," said Ethel Tuck, AARP Driver Safety State Coordinator. "We appreciate their consistent gracious hospitality and their support of the Driver Safety program."

From January 1 through December 31, 2014, the Anchorage Senior Activity Center offered 26 courses at its facility, reaching 225 participants in Southcentral Alaska. To offer some perspective as to just how momentous this achievement is, AARP Driver Safety volunteers work with more than 18,000 local community organizations to offer more than 30,000 AARP Driver Safety courses each year.

AARP Driver Safety's Top State Hosts are recognized based on the profound impact they make reaching drivers in their communities. Of all the organizations in Alaska that hosted a course in 2014, AARP Driver Safety selected the host that reached the largest number of participants and the host that held the highest number of courses to be honored. Using these criteria allowed AARP Driver Safety to recognize hosts that are tremendously supportive and actively working to make their community safer for all who use the road.

The Anchorage Senior Activity Center continues to offer AARP Driver Safety events, including the AARP Smart Driver course. The course is open to drivers of all ages and AARP membership is not required to take the course. For more information, visit www.aarp.org/drive.

ABOUT AARP DRIVER SAFTY
AARP Driver Safety first launched in 1979 as the "55 Alive" program to help to keep older drivers independent, safe, healthy, and confident while on the road. Today, AARP Driver Safety continues to meet these needs of older drivers through leading educational programs that include the AARP Smart Driver course, CarFit, We Need to Talk, and the Driving Resource Center. The flagship AARP Smart Driver course is the nation's largest classroom and online driver safety course and is designed especially for drivers age 50 and older. Over 15 million participants have gone through AARP Driver Safety classroom and online courses, taught by some of the more than 4,000 AARP Driver Safety volunteers. The courses are available in all 50 states, the District of Columbia, and U.S. territories. To learn more visit www.aarp.org/drive.