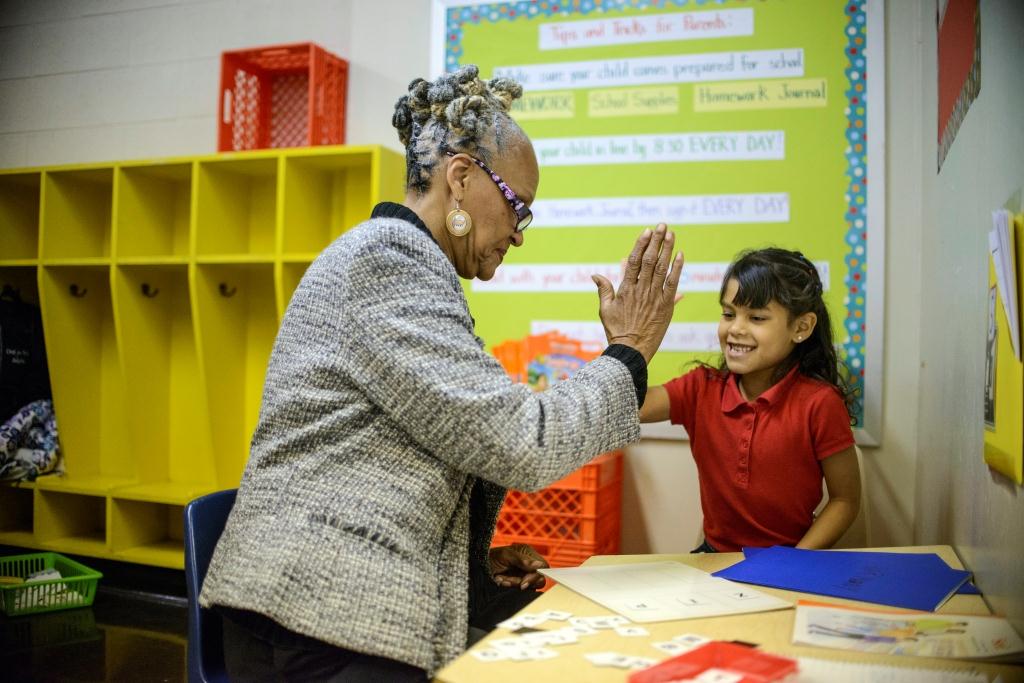 Updated September 2017: Volunteers are currently needed in Baltimore City Schools! Read more and sign up to help now.

People who sign up to volunteer with AARP Experience Corps are finding themselves back in the classroom. And they are loving it. Just ask Marlo Bender about her work as a tutor with AARP Experience Corps. As a volunteer in Tempe, Arizona, Bender is just as excited to be in the classroom as the kids are to have her.

"It's magical," says Bender of her experience. "When my students realize they're reading, not just word-for-word but fluently, their faces light up," she says.

And many adults 50 and over that work with AARP Experience Corps say they have an improved sense of purpose, as well as increased physical and brain health as a result of their time back in the classroom.

The Experience Corps Solution

In the U.S., only approximately 30 percent of American children are reading at grade level by the third grade. Many states are now implementing laws that effectively hold children back if they can't pass basic reading tests. AARP Experience Corps provides tutors who work with children in kindergarten through third grade who are struggling with reading—improving their reading scores with additional weekly support that the teacher just can't give. The extra time and attention pay off in improved reading scores for most. The work resonates with those who want to leave a legacy and provide future generations with the tools to be successful. Volunteers need have no prior experience teaching or tutoring; we provide extensive training.

Teachers Feel the Impact

It's not just the volunteers and children that are reaping the benefits from Experience Corps' special, hands-on approach to literacy. The teachers are well aware that Experience Corps tutors are useful tools in helping them make pronounced improvements in literacy.

Principals like Donna Smith count on Experience Corps. Volunteers work in the classrooms of her school, John Wister Elementary in Philadelphia, with most of the 12 current volunteers in their late 60's and early 70's. "They're not taking kids to the bathroom or making copies; these are trained literacy volunteers; they make drastic changes in where kids are academically," Smith says.

Volunteers are currently needed in Prince Georges County and Baltimore City Schools! To learn more about AARP Experience Corps, visit us at aarp.org/experiencecorps.