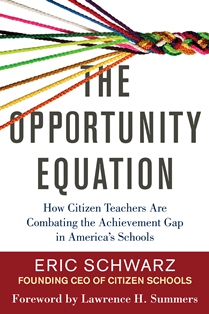 AARP Experience Corps invites AARP members in DC to join us for a book signing by Citizen Schools Executive Director Eric Schwartz. Here is the day and location information:

September 8 from 6 – 8 pm
Jones Day Office Complex
300 New Jersey Ave, NW
Washington, DC 20001

The book, all proceeds of which fund Citizen Schools, draws on the story of Citizen Schools to show how mentors, diverse opportunities, and experiences build the "muscle memory of success"—an elusive, intangible set of skills and social capital that has typically been inculcated only in the middle and upper classes—but can be shared with at-risk students across the country and thereby close the country's persistent achievement gaps. AARP Experience Corps and the personal story of CEO/VP Lester Strong are highlighted in the book.

Arguing that so-called "achievements gaps" are tied less to student willingness and ability, and more to the quantity and depth of resources that families can provide their children, Schwarz chronicles the ways in which wealth still "underwrites opportunity" in the US. He cites research that shows how parental wealth now predicts adult success more than at any point in over a century, with income-based achievement gaps doubling since the mid-1900s. And, Schwarz points to how middle- and upper-class communities organize afternoons, weekends, and summers full of formal and informal learning, while lower-income peers fall "relatively further behind, left in the wake of a tsunami of privatized extra learning opportunities that benefit their upper-middle-class peers.".

AARP Experience Corps is proud to sponsor the Washington, D.C. leg of the book tour and to support Citizen Schools. We hope to see many of you there.