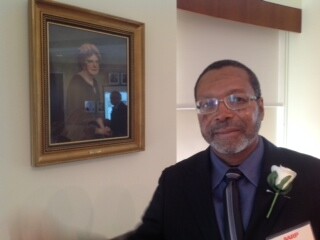 Many adults 50+, have dreams of leading their communities to greater heights, and for AARP Florida Executive Council member Larry Dixon, of Jacksonville, that dream became a reality when he graduated from AARP's rigorous year-long training program, the Volunteer Leadership Institute.
The institute was launched in 2012 by AARP's Office of Volunteerism and Service, as an initiative to mobilize and motivate highly skilled AARP volunteers into becoming greater leaders, ultimately increasing AARP's ability to influence and create positive change through community engagement.
"I never could have imagined having such a wonderful, life-changing opportunity," Dixon said. "The Volunteer Leadership Institute is about bringing people together and enhancing the quality of life for all seniors in our communities."
Dixon is one of 23 students to graduate from AARP's first Volunteer Leadership Institute class. The students come from a variety of backgrounds, from across the nation, all sharing one thing in common. They are all great leaders.
"The Volunteer Leadership Institute added on to the foundation that was already there, but in a major way," said Dixon. "Much of what we learned was about ourselves, which allowed us to utilize our strengths and to become better community leaders."
AARP Florida first began training leaders in 2010 with DESTINO, a leadership-building academic program that prepares leaders from multicultural communities, to become affective communicators and engaging community members, who create positive social change. What began as an attendance of 55 students has grown greatly to 230 in 2013, and is continuously growing, bringing in students from all walks of life.
While many organizations train volunteers to accomplish their own group's mission, the Volunteer Leadership Institute and Destino focus on training volunteers to excel in their local communities by allowing them to take their personal skills and develop them into something much greater.
"Our vision is to be an ally for real possibilities for all Americans 50+," said Ivonne Fernandez, AARP Florida's Associate State Director for Multicultural Outreach. "When we nurture volunteer leaders, it's like throwing a pebble into a pond. The ripples of community engagement and leadership spread. So we are making progress toward our vision, even if those leaders aren't AARP volunteers. What we do, we do for all."
The Volunteer Leadership Institute is unique in that it allows for participants to begin the program by selecting which leadership track they wish to improve on. Throughout the year, the participants work closely together with Institute faculty, state and national office staff members and with other volunteers to develop strategic plans on how to improve in their chosen area.
"The Volunteer Leadership Institute gives you self-confidence to be able to go into a community and make a difference based on the skills you acquired," said Dixon. "Most importantly it gives you self-confidence and motivation to help further AARP's agenda, which is a higher quality of life for all people."
For more information about Volunteer Leadership Institute visit www.aarp.org/fl