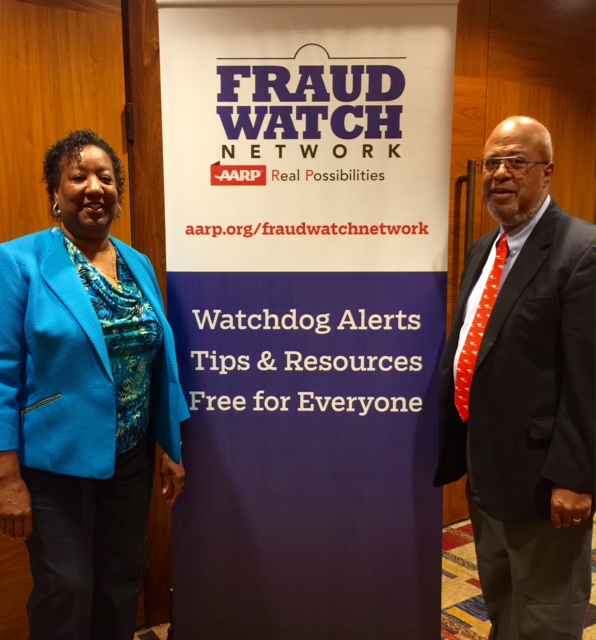 The AARP Fraud Watch Network is borrowing a favorite tactic of con artists in an attempt to beat cons at their own game. AARP Fraud Watch Network staff and volunteers operated their own telemarketing boiler room as part of a regional Fraud Watch Action Day on September 17 in Boston, MA. But instead of hearing from crooks, local residents received tips and information on how to protect themselves from two leading "imposter scams" hitting thousands of residents in Connecticut and throughout the country. Impersonating police officers, federal agents or financial service companies, scammers use their "authority" to scare a person into paying them. Or, they pretend to be a friend or loved one in trouble who needs money.

Connecticut Assistant Attorney General Lorrie Lewis Adeyemi, head of the AG's Consumer Protection Bureau, joined volunteers as they made calls to hundreds of Connecticut residents warning them of two key imposter scams: IRS and "tech support." According to the Federal Trade Commission list of top consumer fraud complaints last year, 2575 Connecticut residents were victims of imposter scams.

"I encourage Connecticut's seniors to take advantage of the tips and advice that have been provided during AARP's Reverse Boiler Room to become better and more informed consumers," said Attorney General George Jepsen. "Consumers that are on guard and equipped with the facts can protect themselves from common scams. Knowing their rights as consumers can make all the difference when making purchases or engaging in financial transactions."

"Con artists think they can bully people into forking over their hard-earned money," said AARP lead Fraud Watch volunteer, Byron Peterson. "That's why today, we're turning the tables on them, arming residents with the information they need so they know what to watch out for."

In the IRS scam, you receive a phone call from an IRS official ordering you to pay back taxes or face arrest. In the tech support scam, you're told your computer has a virus and they need remote access to your computer to fix it.

"We're giving people the facts: The IRS will never call you over the phone and demand payment. Any initial communication will come through the mail," said Peterson. "And, Microsoft or other large computer companies will not call you unsolicited asking for access to your computer and demand payment."

"Reverse Boiler Room" is a collaboration between the AARP Fraud Watch Network and the Attorney General's Office. Today's regional effort brought together Attorney's General and volunteers from Connecticut, New York and throughout New England who are trained in coaching people how to spot and avoid scams.

In Connecticut, AARP and the AG's Office are members of the Elder Justice Coalition of Connecticut, made up of over 20 state agencies, law enforcement, and community organizations who work together to educate the public and prevent consumer fraud.

The Fraud Watch Network arms people with the information they need to spot and avoid scams so they can protect themselves and their families. By signing up for the Fraud Watch Network, consumers get access to:
• The latest scam alerts, delivered right to your inbox.
• A scam tracking map featuring warnings from local law enforcement and first-hand accounts of breaking scams from people in your state.
• The Con Artist Playbook – interviews with con artists who reveal how they steal your hard-earned money.
• A fraud hotline you can call to talk to a trained volunteer for advice if you are worried you or a loved one has been scammed or if you suspect a scam in your community.

The Attorney's General and volunteers shared the following tips with call recipients:

Fraud Watch Network Tax Scam Protection Tips

Know that the IRS does not:
• call to demand immediate payment about taxes owed without first sending you a notification by mail,
• ask for credit or debit card numbers over the phone,
• threaten to bring in local police or other law enforcement to arrest you for nonpayment.

Fraud Watch Network Tech Scams Protection Tips

• Scammers claim affiliation with Microsoft, "Windows," computer manufacturers or others, but legitimate employees of those companies don't make phone calls or send "personal" email warnings about an infection in a particular computer. When real threats are detected, a security update or warning is usually sent en masse – and directly to your computer by the manufacturer of the antivirus protection installed on your machine.
• Unless you initiate contact with a trusted technology assistance firm like Geek Squad, never give strangers remote access to your computer. (They may get it by asking you to type a certain code, download a program they provide, or provide them with your username and password.)
• Don't be fooled if a phoning tech support scammer knows your name, address or even the operating system you're using. Cybercrooks glean their targets through public phone directories and often "guess" your operating system by citing more popular ones.
• At least once a week, check for updates in your security software and run scans several times a week.
• For legitimate tech support, Microsoft users can call 877-696-7786 and Mac users can call Apple at 800-275-2273. Do not trust other phone numbers provided in calls or emails, as they may belong to scammers.

To learn more about the AARP Fraud Watch Network, visit aarp.org/fraudwatchnetwork.

If you are interested in becoming an AARP Fraud Watch volunteer, to help arm residents in Connecticut with the tools and information they need to protect themselves and their families from fraud, please contact our Community Outreach Director, Erica Michalowski, at 860-548-3163 or email emichalowski@aarp.org.