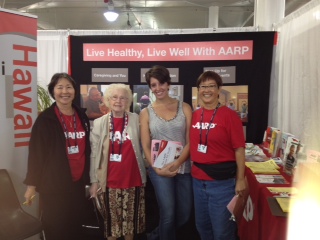 Hundreds of residents stopped by the AARP Hawaii table this weekend at the BIA Home Building & Remodeling Show at the Blaisdell Exhibition Hall. Among the most popular items is The AARP Home Fit Guide, which offers tips for making your home a safe and comfortable place for the entire family.

As Hawaii's population ages, more families are looking to make their homes safer and more livable. One example many homes lack is a step-free entry, either through an entrance from the outside or through the garage. This is an inconvenience not only for parents or grandparents pushing a stroller but also for visitors who can't or have difficulty climbing stairs.

The AARP Home Fit Guide provides information on making your home more liveable – everything from smaller, do-it-yourself jobs to suggestions for hiring a reliable contractor http://dl.dropbox.com/u/62955597/Home%20Fit%20Guide.pdf.

The National Association of Home Builder in collaboration with AARP have developed the Certified Aging-in-Place Specialist (CAPS) program to address the needs of consumers who want to make their house a beautiful home for a lifetime—regardless of one's age or abilities.

AARP's website also provides information on housing topics at www.aarp.org/home-garden and home design and home updates at www.aarp.org/homedesign.

The BIA Home Building and Remodeling Show runs through Sunday afternoon. Stop by our booth for more information on keeping your home fit for life.

AARP empowers you to pursue your goals and dreams.