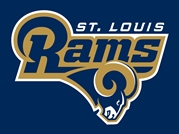 Do you live in the St. Louis region – or are a Rams football team fan from anywhere? AARP in St. Louis is offering discounted tickets to two 12 noon games this season - October 19 and November 30 - in the Edward Jones Dome in downtown St. Louis.

The Rams will face off against the Seattle Seahawks on October 19, and on November 30 will scramble with the Oakland Raiders. By teaming with the Rams, AARP in St. Louis can offer AARP members a 20 percent discount off each ticket. Ticket sections are located in three locations in the dome: endzone terrace level, sideline terrace level, and endzone field level.

In addition to the discounted tickets, AARP in St. Louis will host a member meet and greet event in the Bud Light Party Zone.

There are four ways to order your discounted tickets:



Phone Scott Tarlo at 314.425.0512

Send an email to starlo@rams.nfl.com

Online at www.stlouisrams.com/groupticketinfo
Use Promo Code: RAMS14 to make sure your get discounted tickets.

Join AARP in St. Louis for two fun and exciting member engagement events!