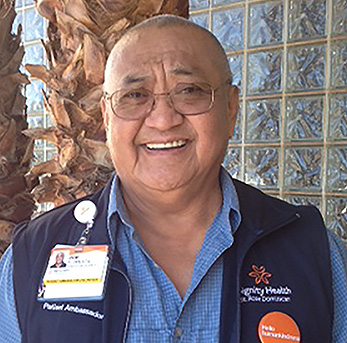 Domingo Floresta has been selected to receive the 2014 AARP Nevada Andrus Award for Community Service – the organization's most prestigious state volunteer award. The award recognizes Floresta's dedicated, inspiring service to the Las Vegas community as a volunteer leader.

As a volunteer, Floresta leads the Patient Ambassador Program at St. Rose Dominican Hospital, Rose de Lima Campus. Seeing a need for patient and family advocacy, Floresta helped develop and build the Ambassador program from the ground up, regularly working more than 40 hours a week on a volunteer basis. He currently oversees the program, leading a team of volunteers with the goal of enhancing the hospital experience at all levels for patients and their families. He advocates for those who have gaps in care, communication or comfort, letting them know they are not alone.

Danielle Roehm, the hospital's program manager, said Floresta's empathetic approach puts people at ease, helping families cope through even the most difficult of circumstances. "Domingo Floresta is a remarkable individual and I'm grateful to have him on my team," she said. "I had a family track me down in the hospital to tell what an impact Dom had in their dad's life. They told me Dom made their father's rehab ordeal bearable because he knew he had a friend to make him smile every day. That was amazing feedback!"

"We are so pleased to recognize Dom Floresta, whose dedicated work as a volunteer exemplifies outstanding community service and makes a difference every day in people's lives," said Mary Liveratti, AARP Nevada state president. "The Andrus Award celebrates the spirit of volunteerism and the important contributions volunteers make to their communities, neighbors, and the programs they serve."

Named for AARP's founder and first volunteer, Dr. Ethel Percy Andrus, the Andrus Award for Community Service was established to recognize exceptional volunteers who have made communities better, and that inspire others to volunteer. The Andrus Award will be formally presented to Domingo Floresta at AARP Nevada's annual volunteer recognition ceremonies in October.