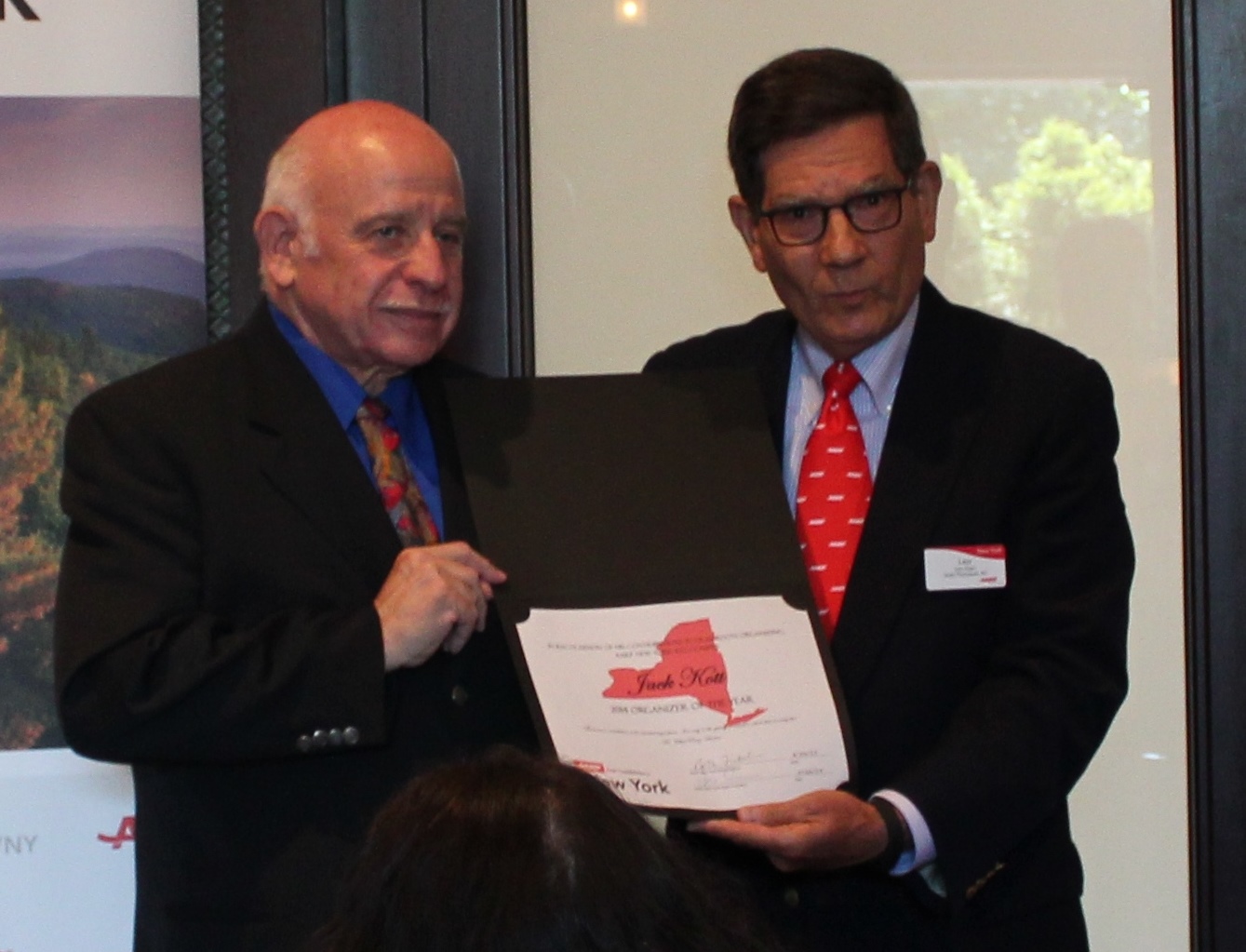 Long-time AARP volunteer and Town of North Hempstead Volunteer Team Coordinator, Jack Kott, was honored as Organizer of the Year by AARP New York at a recent awards luncheon in Melville's Blackstone Restaurant. Jack's role as the Town Coordinator was the first step in taking on greater leadership in the AARP volunteer community on Long Island. He has become known for his focus and passion in both the Village of Great Neck Plaza and the Town of North Hempstead as they've joined and work through the process associated with membership in the network of Age Friendly Communities.

This, combined with Jack's activism – encouraging Senator Martins to become a co-sponsor of both the Independent Utility Consumer Advocate and the CARE Act – has demonstrated his passion for the community in which he lives and his goal to improve the lives of his neighbors by making sure that both the elected officials and the residents of the town are knowledgeable and engaged.

"It's evident that Jack is incredibly generous with his time and talents and we're truly lucky to have him lead our North Hempstead volunteer team," said Bernard Macias, AARP's Associate State Director on Long Island.

Jack lives in Great Neck with his wife Doris of 47 years. Doris and Jack have been blessed with two wonderful daughters Dr. Tama Kott, Suzanne Kott and grandson Zachary Hayden. Jack was a Fulbright Fellow who studied and taught in Vienna, Austria from 1968-1969. He became an Assistant Professor of History at Newark State College and has taught at several other New York colleges which include The New York City College of Technology, Borough of Manhattan Community College, John Jay College of Criminal Justice.

Later, Jack left teaching and became President and CEO of a print finishing company. In 2002, Jack help found the Graphic Communication Scholarship Foundation, which has awarded more than $500,000 in scholarships to students entering the graphics field from New York City, Long Island and three counties in New Jersey.

Since retiring, Jack has become a member of the board of Project Independence in North Hempstead and has grown incredibly involved with AARP. If you are interested in volunteering with AARP, please email AARP New York for more information.