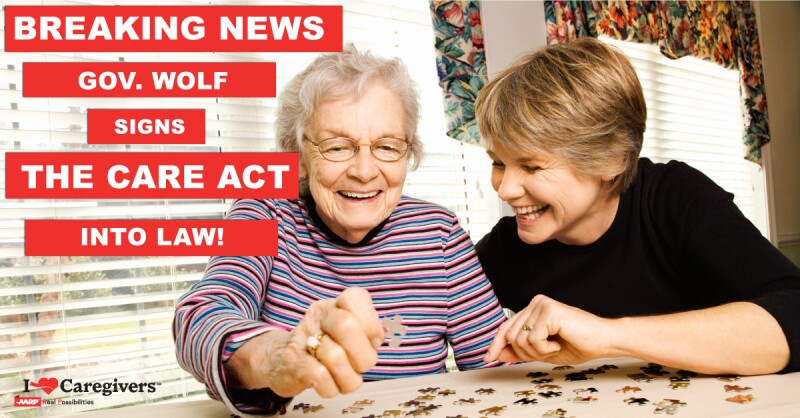 New law will help 1.6 million family caregivers statewide
More than 1.6 million family caregivers across Pennsylvania will receive critical assistance to help older loved ones remain at home following Governor Tom Wolf's signature today on the Caregiver Advise, Record, Enable (CARE) Act.
Today's action by the Governor means Pennsylvania's CARE Act will take effect in April of 2017. The bill (HB 1329) was unanimously approved by both chambers of the General Assembly earlier this month.
"AARP led the fight for the CARE Act to help family caregivers when their loved ones go into the hospital—and when they return home," said AARP State Director Bill Johnston-Walsh. "This law will help control health care expenses, reduce costly hospital readmissions and trips to the emergency room by ensuring family caregivers receive the information and knowledge they need to safely care for their loved ones at home."
Sponsored by Representative Hal English (R-30), the PA CARE Act was developed with input from the Hospital and Healthsystem Association of Pennsylvania and the Pennsylvania Nurse's Association, and features three key provisions:

That a caregiver be designated upon a senior's hospital admission.
That the facility notify the caregiver of the discharge plan.
That the facility provide an explanation and live instruction of all medical tasks – such as medication management, injections, wound care, and transfers – that the family caregiver will perform at home.
Johnston-Walsh said the new law was needed since research shows family caregivers increasingly perform complex medical or nursing tasks for their loved ones with multiple chronic physical and cognitive conditions, often with little or no training.
"Caregiving is now a common family dynamic-- If you're not a caregiver now, chances are you were one in the past, or will become one in the future," said Johnston-Walsh. "Many caregivers provide assistance 24 hours a day, seven days a week and perform complicated medical tasks like wound care, injections, and medication management that were once in the domain of only doctors or nurses."
Until the law takes effect in 2017, Johnston-Walsh said AARP will work with state hospital officials to help integrate caregivers into health care facilities' admission and discharge procedures. He added that AARP will also educate caregivers statewide about their rights under the new law.
"With the vast majority of older Pennsylvanians wanting to remain in their homes and communities as they age, the contribution of family caregivers cannot be overlooked," said Johnston-Walsh. "Without the help of family caregivers, too many of our seniors would end up in costly institutions – often paid for by the state, through Medicaid."
Approval of the CARE Act makes Pennsylvania the 23rd state to approve similar legislation designed to help family caregivers.
"While they would not have it any other way, family caregiving is a big job," said Johnston-Walsh. "Pennsylvania's CARE Act will make that job a little easier."