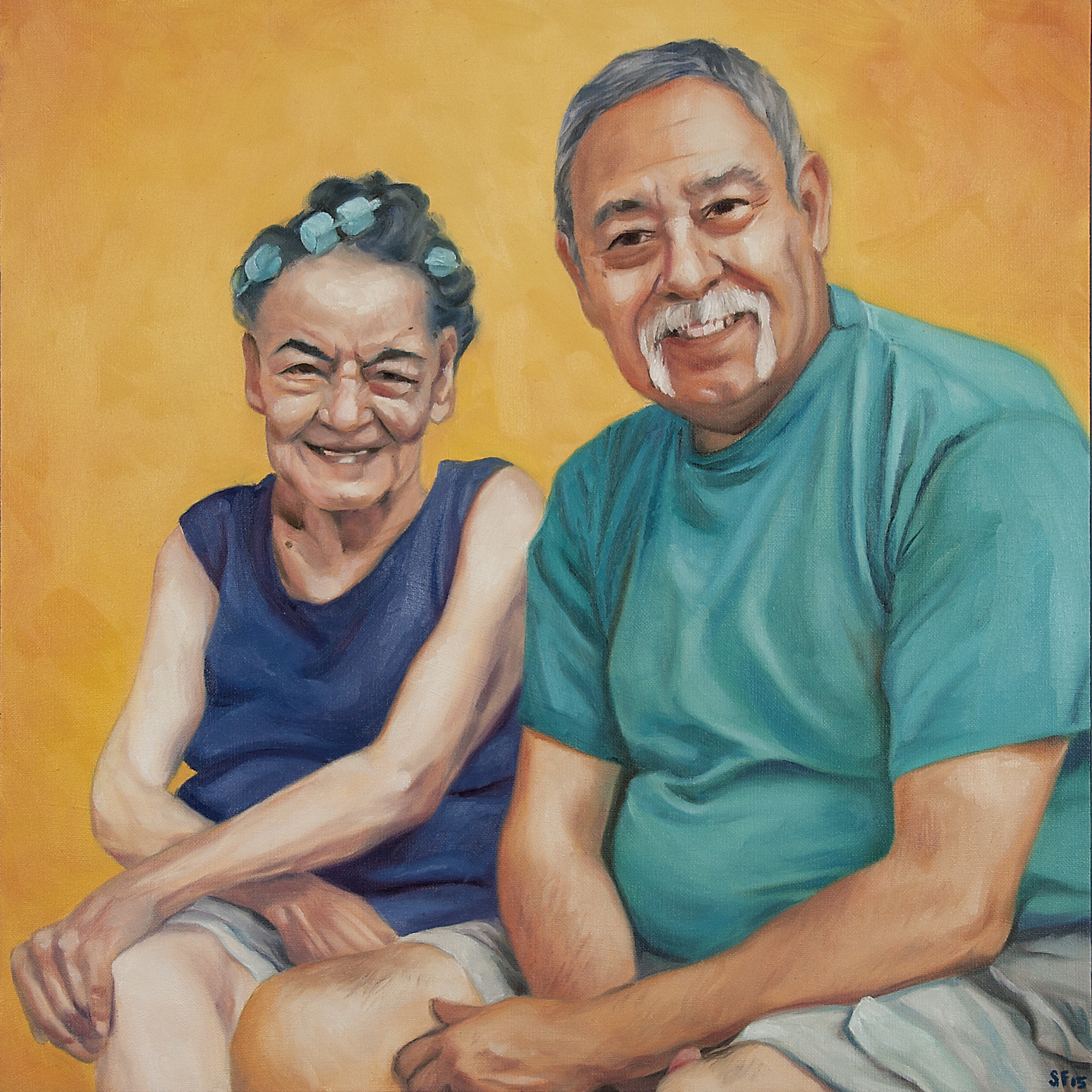 November marks National Family Caregivers Month, a time to recognize the 40 million Americans – more than 800,000 of which live in Arizona – who help older parents, spouses, and loved ones live independently at home, where they want to be. The unpaid care they provide – managing medications, cooking meals, driving to appointments, performing complex medical tasks and more – is valued at about $9.4 billion in Arizona alone.

Frank Ballesteros from Tucson is one of these unsung heroes. "My aunt says, 'Every time I see you, Frankie, I think I see God.' Going to visit her at the care center is a relief. I get to see her smiling," he says.

At age 66, Frank works part time for the U.S. Census Bureau. He has cared for his Aunt Lupe for 10 years, at first in his home. Aunt Lupe moved to a care facility this year due to her late-stage dementia, and a decline in Frank's health. He still visits her at least three times a week.

AARP Arizona recognized Frank with a Portrait of Care, an artist's painting of him and his Aunt Lupe at the La Canada Care Center in Tucson on November 19. Randomly selected through AARP's storytelling initiative, I Heart Caregivers (aarp.org/iheartcaregivers), Frank Ballesteros is one of 53 family caregivers from every state, Washington D.C., Puerto Rico and the U.S. Virgin Islands receiving a hand-painted portrait. Thousands have shared their stories on the I-Heart Caregivers website.

"We want to celebrate family caregivers like Frank, spotlight their experiences of hope, love, dedication and perseverance, and elevate their stories – especially during National Family Caregivers Month," said Dana Marie Kennedy, AARP Arizona State Director. "This is especially important as we work to support family caregivers through public policy, education, outreach and more."

Supporting Family Caregivers

"Family caregivers are the backbone of our care system, serving a crucial role in helping older Arizonans and their loved ones remain in their own homes and communities," Kennedy continued. "That's why AARP is fighting for commonsense solutions to help Arizona caregivers like working to pass the CARE Act and helping to make sure the right resources are available in the community, like respite care and adult day programs.

As the 2016 Arizona legislative session approaches, AARP is gearing up to work to pass the Caregiver Advise, Record, Enable (CARE) Act to help family caregivers when their loved ones go into the hospital and are discharged home. "AARP Arizona is going to work at the state capitol to make this kind of support a reality," said Kennedy, "because supporting family caregivers is a priority for all of us. It's not a Democrat issue. It's not a Republican issue. It's a family issue."

For more information and resources for family caregivers, click here.