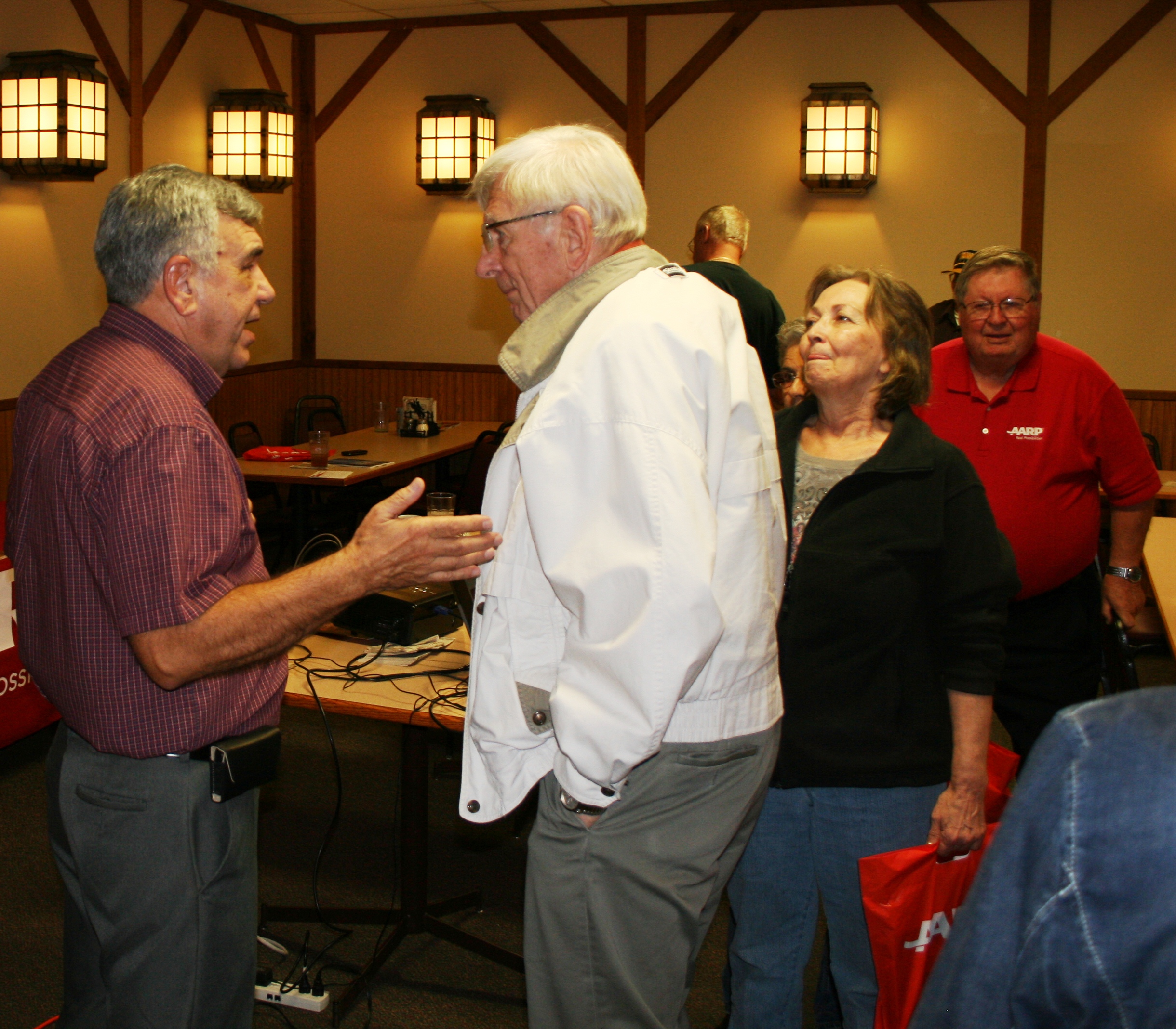 As part of AARP's 2014 voter engagement campaign in Iowa, State President Tony Vola is leading a 15-city "Pizza & Possibilities" informational tour. Vola is traveling the state to talk with members and the public about how AARP is working in Iowa to improve financial security, warn against fraud and scams, and encourage voter engagement on important issues.

All the Pizza & Possibilites events are at a Pizza Ranch restaurant unless otherwise noted. The full schedule of events is:

10/16 - Lunch in Creston, 11:45am, 520 Livingston
10/16 - Dinner in Atlantic, 5:45pm, 1512 E 7th Street
10/17 - Lunch in Red Oak, 11:45am, 1511 N Broadway
10/22 - Lunch in Le Mars, 11:45a, 11 Central Avenue SW
10/22 - Dinner in Orange City, 5:45p, 1505 8th Street SE
10/23 - Lunch in Spirit Lake, 11:45a, 2003 18th Street Hwy 9 & 71
10/23 - Dinner in Algona, 5:45p, 1325 Hwy 169 North
10/27 - Lunch in Burlington, 11:45am, Happy Joe's, 1011 Lawrence Drive
10/27 - Dinner in Muscatine, 5:45pm, Pizza Ranch, 106 Ford Avenue
10/29 - Lunch in Maquoketa, 11:45am, Decker Hotel, 128 N Main Street
10/29 - Dinner in Vinton, 5:45pm, Pizza Ranch, 219 W 4th Street
10/30 - Lunch in Grinnell, 11:45am, Pizza Ranch, 613 West Street South
11/5 - Lunch in Carroll, 11:45am, 425 Us Highway 30 West
11/5 - Dinner in Boone, 5:45pm, 1703 South Story Street

In addition to hosting the voter outreach tour, AARP has released voters' guides featuring positions from Iowa's Senate, Congressional, Gubernatorial and other statewide candidates on critical issues including Social Security, Medicare, and Financial Security. Voters of all ages may view the guides at www.aarp.org/yourvote.

"AARP wants to make sure our members and all voters know what the candidates are saying – and not saying – about key issues that matter to them and their families," said AARP Iowa State Director Kent Sovern. "Our nonpartisan voters' guides help voters cut through the political clutter and pressure candidates to share their views on lifeline issues like Medicare and Social Security before Election Day".

AARP's federal guides pose three questions on Social Security, Medicare, and Financial Security to candidates in all 471 federal races:

•How would you protect Social Security for today's seniors and strengthen it for future generations?
•How would you put Medicare on stronger financial ground and protect today's seniors and future retirees from the burden of rising health costs?
•How would you help Americans save so they can secure their future and live independently as they age?

The responses appear alongside AARP principles on each issue and consist of publicly available information and excerpts from candidate campaign sources. Voters can enter their address to see responses from general election candidates in their specific races for seats in the Senate and the House of Representatives. Visitors to www.aarp.org/yourvote can also contact the campaigns with their comments or questions and find out where they can vote in their state.

Candidates for Iowa races were asked questions on specific state issues, including support to family caregivers, access to critical home and community-based services, retirement security and access to affordable and reliable landline telephone service.

The nonpartisan AARP does not support, oppose, or contribute to any candidates for elected office.