AARP Report is first to quantify increase in BRCA testing rates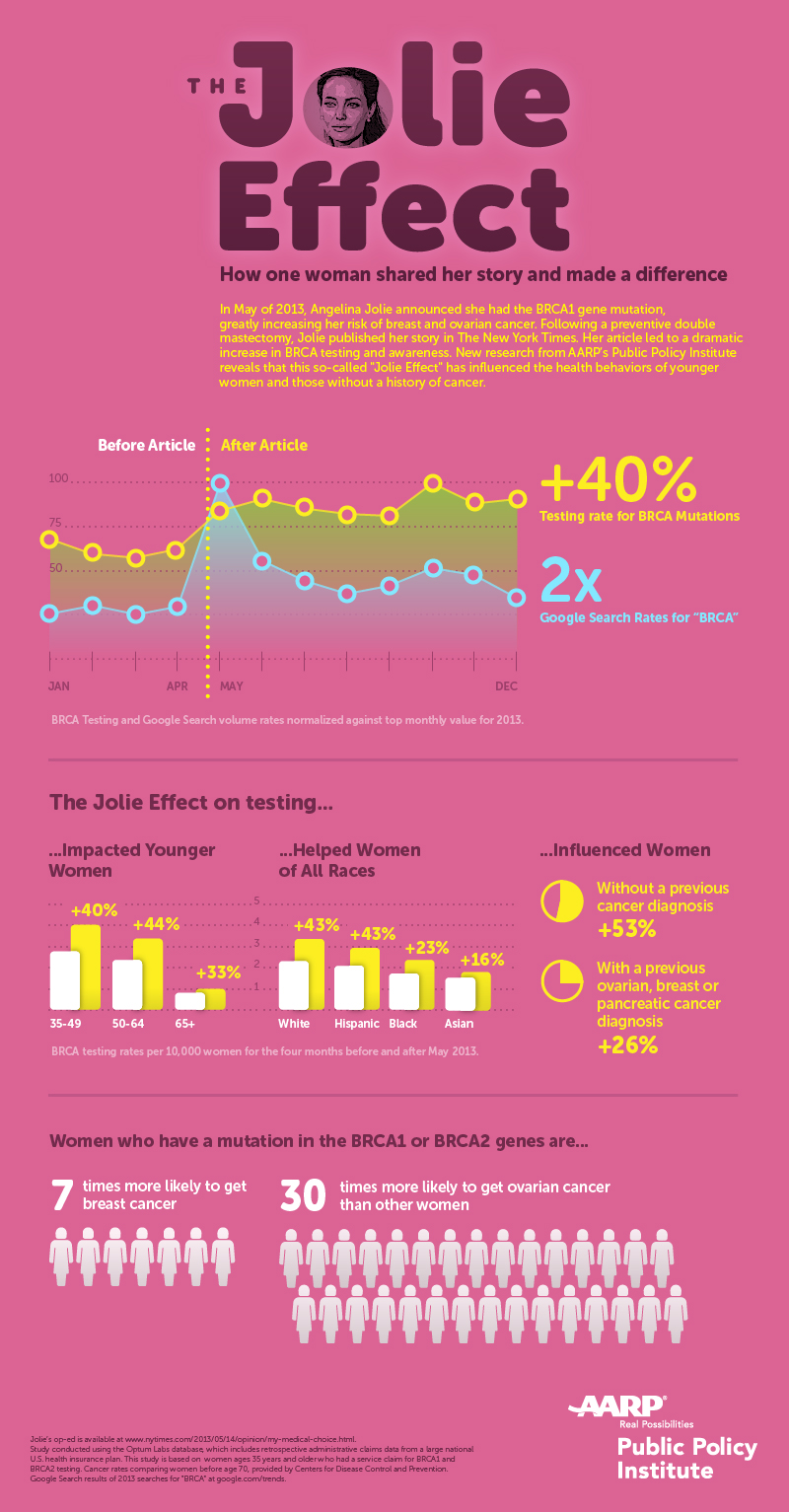 WASHINGTON, DC — BRCA testing rates surged nearly 40% in the week of Angelina Jolie's announcement that she carried the BRCA 1 gene mutation and had an elective double mastectomy, according to a new AARP Public Policy Institute study released today. This is the first report quantifying an increase in BRCA testing rates among women enrolled in a large US health insurance carrier.

Prior to Ms. Jolie's announcement, women with a cancer diagnosis had more BRCA tests than women who did not, the AARP study found. However, during the week of her public announcement, the increase in BRCA testing among women who did not have a cancer diagnosis was nearly twice that of women with a cancer diagnosis. BRCA testing helps identify treatment options for women with the gene mutations before or after they are diagnosed with breast and/or ovarian cancer, according to the National Cancer Institute.

"Our study showed that the BRCA testing rate increased about 40% and stayed at an elevated level for the rest of the year after Angelina Jolie's announcement," said AARP Executive Vice President for Policy Debra Whitman, PhD.

On May 14, 2013, Angelina Jolie announced in The New York Times that she tested positive for the BRCA 1 gene mutation and underwent a preventive double mastectomy to reduce her risk of developing breast cancer. Ms. Jolie's story gained immediate and widespread international media attention.

About 5–10% of breast cancers are thought to be caused by hereditary genetic defects, according to the American Cancer Society. BRCA1 and BRCA2 gene mutations are the most common cause of hereditary breast cancer. Women with either mutation have a high lifetime risk of developing breast and ovarian cancer.

"By revealing her personal story, Angelina Jolie did an incredible job of raising public awareness about the BRCA gene mutations and the increased risk of breast and ovarian cancer," added Whitman. "We found that Baby Boomer women ages 50- to 64-years-old had the highest increase in testing rates for the BRCA gene."

To better understand the so-called "Angelina Jolie effect", AARP, in collaboration with Optum Labs, compared BRCA testing rates based on claims among commercially-insured women ages 35 and older in the US, before and after Ms. Jolie's story was publicized in 2013.

Study Highlights

BRCA testing rates increased nearly 40% per week, from an average of 350 tests per week to an average of 500 tests per week and remained elevated for the rest of the year.
Women ages 50–64 had the highest BRCA testing rate increase (44%), followed by women ages 35–49 (40%).
BRCA testing rates increased for women among all racial and ethnic groups: 43% among white women; 43% among Hispanic women; 23% among black women; and 16% among Asian women.
"Star Power: Angelina Jolie's Personal Story of BRCA1 Mutation on Testing Rates Among Commercially-Insured Women " Methodology

AARP's Public Policy Institute examined the number and rates of BRCA tests among women covered by a large, national U.S. health insurance carrier before and after Angelina Jolie's May 2013 announcement (January–December 2013). Using data from the Optum Labs database of retrospective administrative claims data, the report also analyzed the age, race/ethnicity, and cancer diagnosis status of women ages 35 and older who received the tests.

# # #