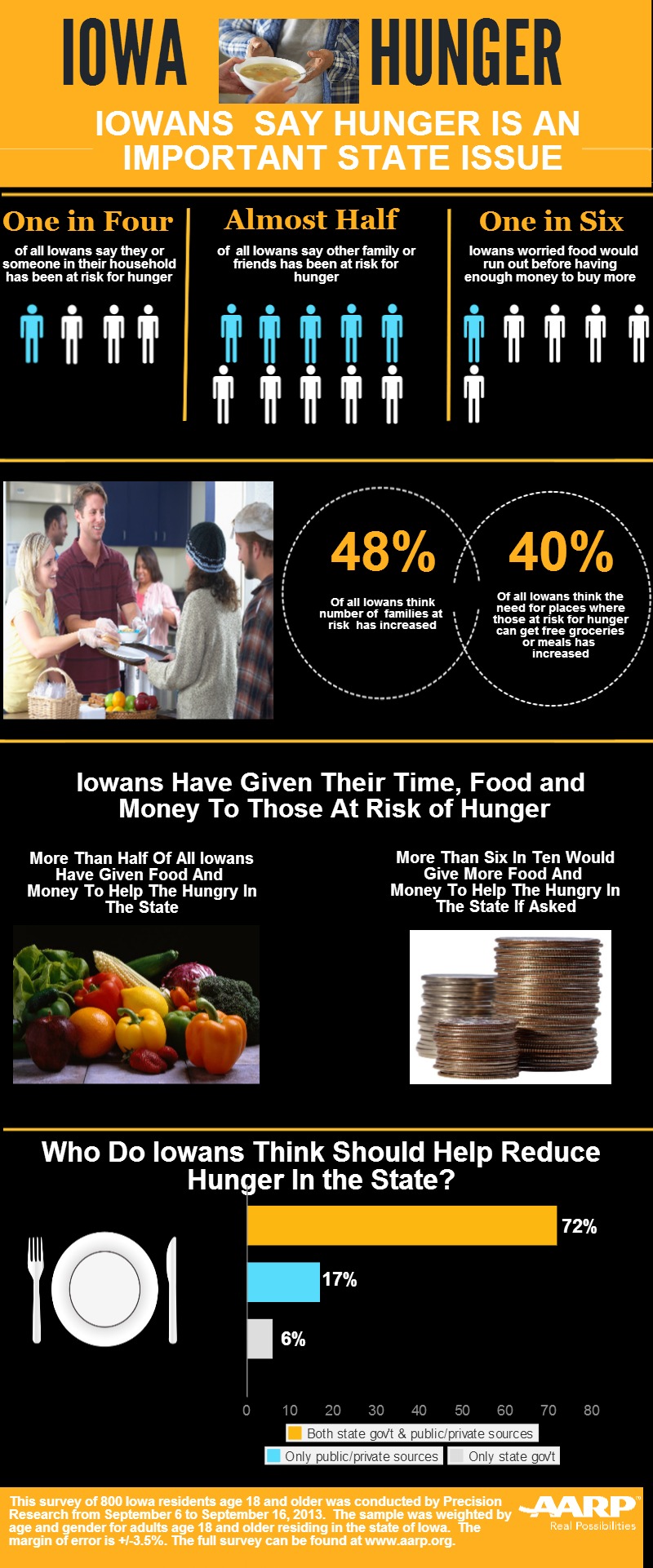 Most Iowans view hunger as an important problem in the state, with a third saying it is a very important issue, according to a new AARP Iowa survey released at the 2013 Iowa Hunger Summit, organized by the World Food Prize Foundation.
Findings also show that more than one in four Iowans surveyed said they had experienced food insecurity in their own household, and nearly half said that someone close to them has had limited access to adequate food on a regular basis due to not having enough money or other resources to buy food.



Forty-eight percent of Iowans said they think the number of families at risk for hunger has increased over the past two years, and 40 percent said they believe the need for places where those at risk can get free food or meals has increased, as well.

"Iowans, have a long history of humanitarian leadership against hunger at home and around the world, so it's not surprising that they rank hunger as an important problem for our state to address," said AARP Iowa State Director Kent Sovern. "What is surprising is that while about one in four Iowans has had direct experience with hunger in their household, almost half of Iowans know someone who has been food insecure. With increasing numbers of Iowans at risk for hunger there is a need for more resources to reduce food insecurity and we hope these survey results will focus more attention on the urgency of the issue and renew Iowans' desire to help in their communities."

Findings show Iowans are committed to fighting against hunger as more than half of Iowans responded that they have donated money or food to an organization providing food to those in need or directly to individuals in need in the last 12 months. In addition, far more Iowans surveyed indicated they would give more money and food, if asked.

"The generosity of Iowans really comes through in this survey," said Sovern. "And, the findings clearly indicate that people are willing to give more if asked. We hope our partners and all of Iowa's hunger advocates will be able to leverage these survey results to increase hunger relief in communities across our state through increased volunteer involvement and food and money donations. "

The survey finds that Iowans strongly approve (79.9 percent) of the State of Iowa's $1 million match of donations to Iowa food banks in 2014, and by about the same ratio, Iowans support AARP's role in working with the state of Iowa in fighting hunger for Iowans age 50 and above. Iowans believe that both the public and private sectors must work to reduce the number of families at risk for hunger as nearly three-quarters of the respondents indicated they see fighting hunger in the state as an issue best dealt with by state government working in conjunction with public and private organizations and individuals.

"These findings highlight the great work Iowans are doing to help fight food insecurity. The data also helps us to focus our attention and resources on those in greatest need." said Sovern.

AARP Iowa and AARP Foundation commissioned the statewide survey as part of their commitment to raise awareness of the issue food insecurity, particularly among older adults. The telephone survey of 800 Iowans age 18 and over was conducted by Precision Opinion between Sept. 6-16, 2013. The margin of error is plus or minus 3.5 percent.

Survey demographics identify respondents as roughly 50-50 male-female, ranging in age from 18-34 (30%), age 35-49 (27%); and age 50+ (43%). Respondents are long-time Iowans, having lived in the state an average of 39 years, and for an average of 16 years at their current residence. Almost 18 percent of respondents live on a farm. The majority of respondents are voters, with 54% reporting they always vote and 26% reporting they vote most of the time. Respondents identify political party affiliations as Republican (27%); Democrat (28%); Other (28%); No Party (11%).