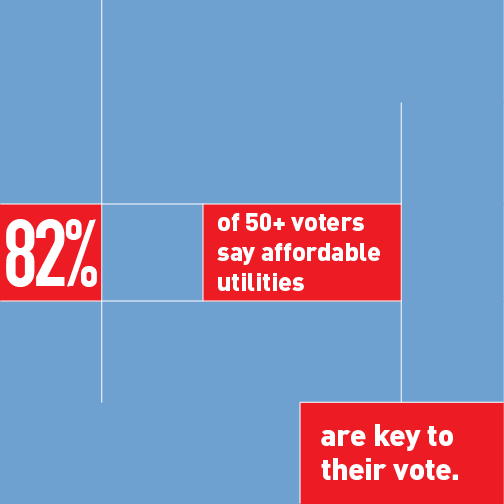 COLUMBUS, OH – AARP earlier released an election-year survey showing that Ohioans age 50+ who are likely to vote in the November election worry about their financial futures. Many of those who are not now retired worry that a secure retirement will be out of reach for them.

Voters 50+ say they want to see candidates focus on improving their financial security, as they believe their incomes are not keeping up with the cost of living, especially health costs, taxes and utilities.

50+ Voters' Financial Outlook: Anxious
The survey's "Anxiety Index" shows that across party lines, older voters, and particularly those who are not retired, feel anxious about their financial security. Voters 50+ worry most about:

Affordable utilities (82%)
Paying too much in taxes (59%)
Costs rising faster than incomes (56%)
Health expenses they can't afford (49%)
Not having financial security in retirement (47%).

While 59% of Ohio likely voters age 50+ see the economy as more good than bad -- especially men and those with a higher education – a large majority (64%) say their income is falling behind the cost of living. The survey also shows non-retirees, most of whom are boomers, say they have postponed or will postpone retirement (55%).

"Too many older Ohioans worry that a secure future is out of their each," said Mike Barnhart, who volunteers as state president for AARP Ohio. "They say they want to hear candidates talk about what they would do to address their financial concerns."

The survey also looks at voter attitudes toward gubernatorial candidates, President Obama and the key issues of helping seniors live independently, supporting family caregivers and affordable utilities. You can review the complete survey here http://www.aarp.org/politics-society/government-elections/info-2014/ohio-voters-2014-election.html

Utilities
Affordable utilities are a top-of-mind issue for Ohio voters age 50+. Affordable utilities are very or fairly important to 82% of likely voters.
The majority of Ohio 50+ voters use landline phone service nearly always or most of the time, and (70%) seven in ten believe the next governor should preserve this access.

Living Independently and Caregiving
Voters overwhelmingly want to live independently as they age and see this as a critical election issue, with 72% saying at-home care should be a priority for elected officials. That percentage rises to 79% of Ohio likely voters 50+ in caregiver households.
Almost 8 in 10 (78%) of Ohio's likely 50+ voters say that assisting older Ohioans and the disabled to live independently is a very or fairly important issue and will help them make voting decisions this year.

Ohio likely voters age 50+ indicate near universal support to shift additional federal funding from institutional to in-home care. Eighty percent say they support shifting the funding so that more people can receive services at home, with 7% in opposition.

Ohio Likely Voters 50+ and the 2014 Election
Ohio Governor John Kasich holds a 15-point lead in the gubernatorial race among likely voters age 50+, with 15 still undecided. In a trial heat, 50% said they support Kasich with 30% saying they definitely will vote for him. Thirty-five percent of voters said they Democratic candidate Ed Fitzgerald, with 24% saying they definitely will vote for him.

Among Ohio's undecided voters, 42% say it is hard to find objective and reliable information about the record and positions of candidates running for office this November.

More than half (53%) of Ohio likely older voters disapprove of President Obama's job performance.
Methodology: This was a statewide telephone survey conducted among 801 likely 2014 voters age 50/over (margin of error ±3.5 percentage points) June 27-July 8, 2014, including 431 retirees (margin of error ±4.7 percentage points), and 370 non-retirees (margin of error ±5.1 percentage points). Respondents were selected at random from a list of registered voters and were reached either on a landline or mobile phone.