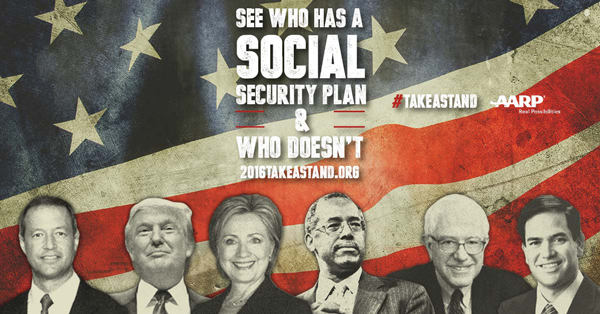 It's a promise that's been kept for generations. You pay into Social Security, you get the benefits you earned. But to keep that promise for future generations, Social Security needs to be updated for the 21st century. If our leaders don't act, future retirees could lose up $10,000 a year. Every year our leaders wait and do nothing, finding a solution grows more difficult.



  AARP does not and will not endorse any candidate's plan to update Social Security during this election because voters deserve an open debate between the candidates about Social Security's future. AARP has a proud nonpartisan history, and we don't endorse candidates or give money to campaigns." — AARP Senior Vice President John Hishta



The only way to make progress is for our national leaders to make Social Security a priority and put serious proposals on the table. And it starts with Presidential leadership. Anyone who thinks they're ready to be President of the United States should be able to tell voters how they'll keep Social Security strong.

That's why AARP is pressing every candidate to Take A Stand – and lay out his/her plan* to update Social Security so it's financially sound with adequate benefits. Throughout the election, we will urge the candidates to debate their proposals so you know how they will affect you, your kids, and generations to come. You work hard and pay into Social Security and you deserve to know how the candidates will lead so you can have a say.

For nearly 60 years, AARP has been fighting for Social Security, guided by our principles and our commitment to keep the promise for future generations. Fighting to ensure that hard working Americans who pay into Social Security get the benefits they've earned. With Take A Stand, we will keep fighting to make sure the next President has a plan to keep Social Security strong.

*Plan: At least one specific proposal to make Social Security financially sound so future generations get adequate benefits.