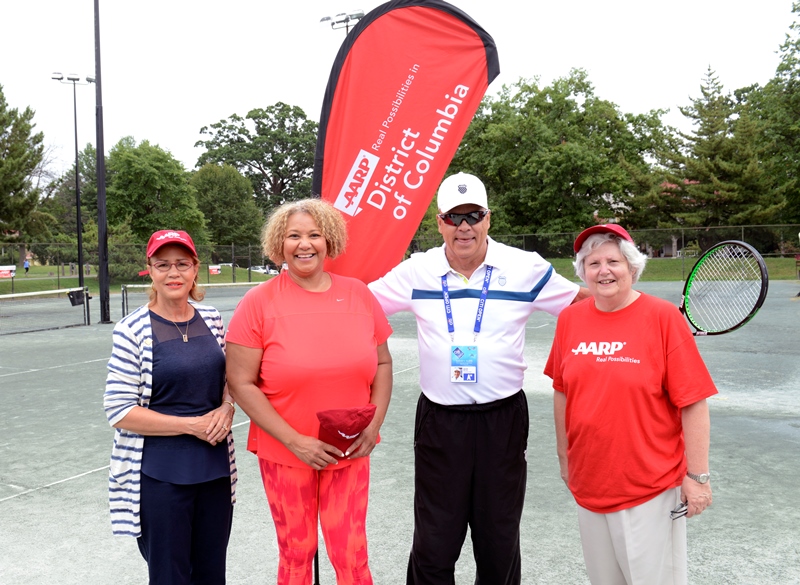 A sea of red and white t-shirts emblazoned with AARP District of Columbia and its "Real Possibilities" slogan, blanketed a free AARP-sponsored tennis clinic the annual Citi Open® Tennis Tournament held at Rock Creek Tennis Center. Volunteers prepared to greet tennis clinic participants, led by well-known tennis coach Wayne Bryan and featuring top-seeded tennis players. Citi Open, held from August 1-9, benefited the Washington Tennis and Education Foundation. AARP's free tennis clinic for 31 lucky participants provided an opportunity to be coached on tips to better one's tennis game.

AARP, a first-time sponsor of Citi Open, staffed an information/resource booth during this annual tennis tournament. The booth offered attendees an opportunity learn about AARP offerings in Washington, DC, to give feedback on what would make the District more age-friendly and a chance to win AARP-branded items or an Apple® Watch. People could attend Citi Open by using an AARP discount code.

Nancy LeaMond, AARP's Chief Advocacy & Engagement Officer, welcomed tennis clinic participants. She was followed District resident Diane Pratt, a member of the AARP Board of Directors and Chairman of the AARP Foundation Board.

Pratt welcomed participants to the AARP Citi Open clinic saying that AARP "has a serious mission of helping people in their 50s, 60s, 70s and beyond" to live a longer and healthier life. How do you do it? "If you live up to your best potential then the whole country will live up to its best potential," she said.

AARP was pleased to welcome to the clinic Councilmember Yvette Alexander from the District's Ward 7. Councilmember Alexander is a Washington Tennis and Education Foundation board memberand spoke about how she grew up playing tennis in DC. Her Father, the Late Paul Alexander Sr., coached youth participants in the tennis program at the Rock Creek Park Tennis Center and he was an avid tennis fan and competitive player throughout his life.

"I want to get on the court," shouted D.C. Councilmember Alexander, expressing her desire to get things going. She reminded everyone that tennis is one of those sports that is "age-friendly," AARP's reference to helping people live comfortably in their own homes and to improve living conditions in their communities.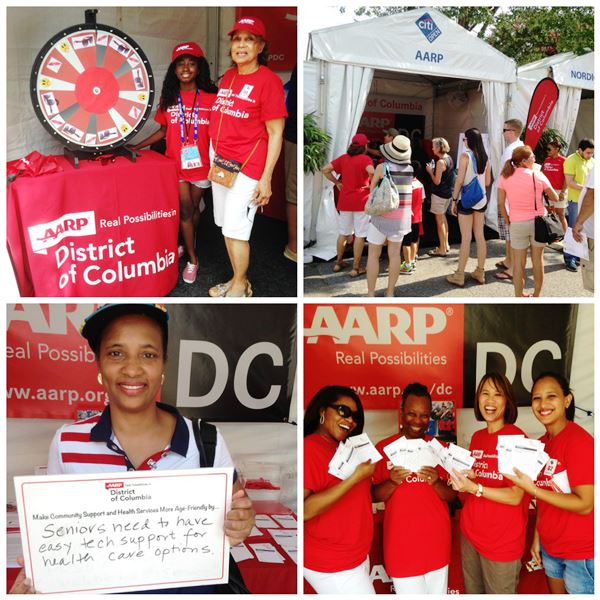 AARP was fortunate to have as its big draw to the clinic, Coach Bryan, a nationally-known speaker and author who led the clinic. He started the proceedings by saying, "You know I'm from California and we don't have great speakers like this (referring to LeaMond, Pratt and Alexander). The proud group of DC-area tennis enthusiasts appreciated that comment. Bryan went on to say, "I've gone from singles to doubles. Now that I'm AARP-eligible, I can still get out there and stroke a ball, so that's great and thank you for having me as a member." Bryan also is father to Bob and Mike Bryan, the most successful professional doubles team in tennis history.

"Who's got a racket and wants to jump in?" Bryan encouraged the group. His enthusiasm was contagious as the crowd assembled, waiting to hit that ball in the air. "If you've never played and you're scared, don't worry about it." Bryan explained to the group that they were going to do three "ice-breaker games" that anybody walking by can do. "So grab a racket and jump in. Come on out, come on out."

The tennis clinic, filled with adults of all ages, had excitement, fun and inspiration. As LeaMond said, "It doesn't get much better than this. One man told me he started playing when he was in his fifties and that's a great example of "real possibilities and people living their lives to the fullest!"

This feature was written by Rocci Fisch, AARP DC volunteer.