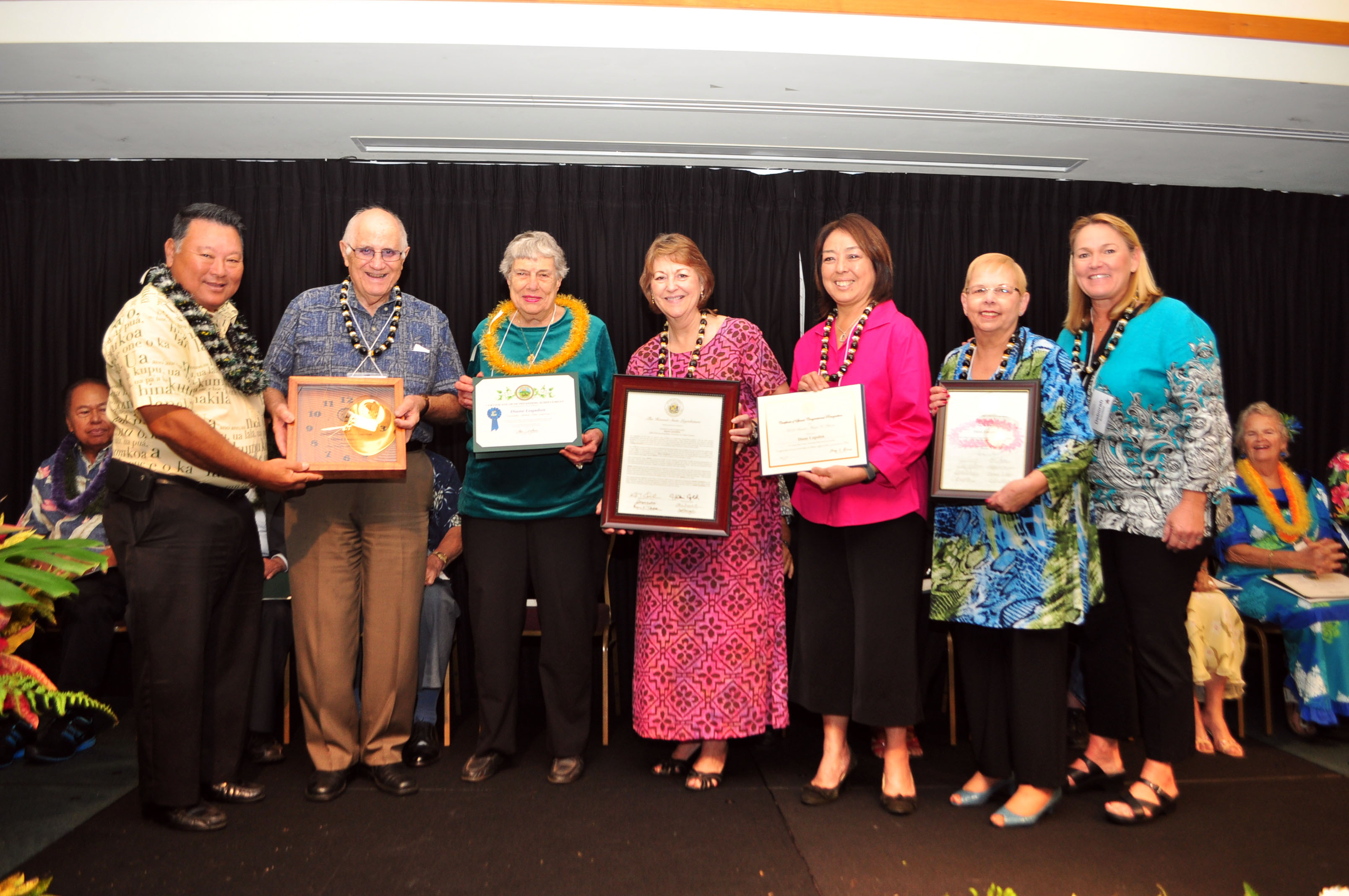 Each year many are nominated but only two are chosen. The 2013 recipients of the Maui County Outstanding Older American Award are long-time AARP volunteer Diane Logsdon and Richard Endsley of Lahaina.

Logsdon has been active in the community for many years as president, community service chair and treasurer of the AARP Kula Chapter on the slopes of Haleakala. As the corresponding secretary for the Maui Economic Opportunity Senior Citizens' Planning and Coordinating Council, she handled publicity for the organization and filled in for the recording secretary when needed.

This year's honorees received certificates of recognition as well as beautifully engraved koa clocks from Mayor Alan Arakawa and a representative of the Governor's Office.

The award came as a complete surprise but she says, "My son talked to my daughter and told her to come over – so I knew something was up." She says she is very pleased with the recognition and revealed an extraordinary aspect of her daily life – she is legally blind.

Logsdon relies on the Maui Economic Opportunity bus service to get to her activities. "This is a great service and organization, and they pick me up and drop me off right at my door."

When asked what motivated her to become involved in her community, she laughed and said, "Oh I don't know, I just wanted to keep busy and kept on going."

Logsdon has lived on Maui since 1989, moving from Oahu where she had lived since 1952. She has four children, one on Maui, one on the Big Island, one in Colorado and one in Las Vegas.

I caught up with her by phone and found out a little more about her:

LT: "You edit the newsletter for the Maui Friends of the Library and are on the Board of Directors, as well as volunteer at the Puunene bookstore. What's new at the bookstore these days?"

DL: "Well we have three stores, one at Kaahumanu Center, one in Lahaina and the one at Puunene. At the Puunene store, we have hundreds and hundreds of books. All books sell for 25 cents each, so come in and see us."

LT: "What is the last book you've read?"

DL: "I love James Patterson so it was probably one of his books."

LT: "What is the most important advice you can give our readers about growing older?"

DL: "Keep busy – get out and don't sit around. There are all kinds of services to help you in the community such as Neighbors Helping Neighbors and other organizations."

LT: "What would you suggest for becoming active in the community?"

DL: "The first thing I would suggest is go to the AARP Chapter meetings on Maui. This is very important – AARP is a good organization and you can find out a lot about what is going on here and nationally. Also go to the Kaunoa Senior Center and find out what is available. Tell them what you like to do and they will find a volunteer spot for you."

The AARP Kula Chapter meets every third Monday of the month at 9 a.m. at the Kula Community Center. For more information call Chapter President Kathleen Phillips at (808) 572-7226.

For information about volunteer opportunities at Kaunoa Senior Center call (808) 270-7150.

AARP Hawaii Communications Volunteer Lea Taylor submitted this interview. For information about volunteering with AARP, call 808-545-6006.