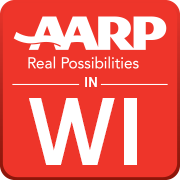 Are you or someone you know a passionate, strategic thinker with the ability to motivate and inspire others? If so, now is the time to apply!

AARP Wisconsin is accepting applications for State President, AARP's top volunteer position at the state level. A visionary leader is needed to help shape our outreach and advocacy efforts in Wisconsin.

Be a Leader:

Lead hundreds of AARP volunteers in Wisconsin
Represent the concerns of more than 820,000 AARP members
Play a key role in achieving AARP's vision, mission and strategic priorities in our state


The ideal candidate for these positions:

Has a record of achievement in either community service or a professional career
Has knowledge of and a passion for AARP's priority issues
Has extensive personal and professional networks
Is a strong public speaker with the ability to become an organizational spokesperson
Has the ability to communicate electronically via email and access the Internet to use AARP's web-based resources


Duties:

Serves as Chair of the Executive Council, an all-volunteer panel that advises and helps set strategic direction for the AARP Wisconsin office
Partners with the State Director and works with staff and volunteers to help achieve AARP's vision, mission and strategic priorities within Wisconsin
Acts as the principal volunteer spokesperson for AARP in Wisconsin, communicating AARP's messages statewide
Has the opportunity to build networks and partnerships with organizations and key Wisconsin decision-makers that will endure long after their term in office


Time commitment is flexible and varies. Some travel is required, both in Wisconsin and nationally. Approved travel and other expenses are reimbursed.

The deadline to submit your application is 5 p.m. Central Time on Friday, Feb. 12, 2016 - so apply now! We look forward to working with you!

Keep up with all that AARP Wisconsin does - find us on Facebook and follow us on Twitter.