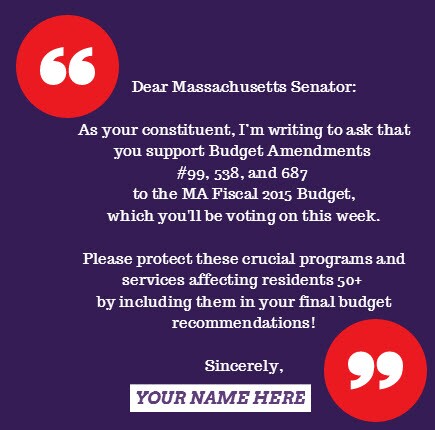 Beginning Wednesday, May 21, 2014, the Massachusetts State Senate will begin debate on numerous budgetary line items and amendments as the legislative body moves toward a final vote on the Commonwealth's Fiscal 2015 budget.
AARP Massachusetts is keeping a watchful eye on the following important budget amendments, which include programs and services of special interest to Massachusetts residents age 50+ and their families:
Amendment #99: The Uniform Adult Guardianship amendment would establish the Uniform Adult Guardianship and Protective Proceedings Jurisdiction Act. Massachusetts residents who are legal guardians of a loved one in another state would benefit from this legislation. Currently, Massachusetts courts do not recognize guardianship orders created outside of the state.
Amendment #538: This amendment would provide funding for Operation A.B.L.E. of Greater Boston, helping the non-profit organization continue providing skills, job training, and support to workers age 45+ who are unemployed.
Amendment #687: The Elder Home Care Purchased Services amendment would provide a funding increase for home care services needed by older residents who are living in a home or community-based care setting.
As the aging population continues to grow in Massachusetts, we'll continue to protect critical programs such as these. Join us and help by contacting your state Senator and urging him or her to support amendments #99, #538 and #687 (see how to do so, below).
Sincerely,
Leslie Siphers, Advocacy Specialist, AARP Massachusetts
EMAIL YOUR STATE SENATOR:
OPTION 1: Click here and complete the required information on the form. AARP MA will send your message directly to your state Senator.
OPTION 2: Send an email yourself. First, find your Senator here, then use the following template to email him or her:
(Email Subject Line): Please Support These Important Amendments!
Dear Senator ______,
As your constituent, I'm writing to ask that you support the following amendments to the Fiscal Year 2015 budget that is before you and your colleagues in the Massachusetts Senate:
Please protect these crucial programs and services by including them in your final budget recommendations.
Sincerely,
[Your Name]
[Your Address]
[City, State ZIP]