Ann Cambra is the recipient of the 2015 AARP Massachusetts Andrus Award for Community Service, the association's most prestigious and visible state volunteer award for community service. The award is named for Ethel Percy Andrus, the founder of AARP. The award was presented to Cambra at a ceremony on Thursday, Sept. 10 at the Rochester Senior Center. Cambra will donate the $1,500 award prize to Mission to Liberia, the charitable organization of her choice.


---


UPDATED 09/10/15, 5 P.M.: Ann Cambra, a resident of Rochester, MA, is the recipient of the 2015 Andrus Award based on her remarkable volunteer service, through which she has supported AARP's vision and mission — and inspired other volunteers. As a trained AARP Foundation Tax-Aide Program volunteer, Cambra works with the Fairhaven Council on Aging. She also volunteers for Coastline Elderly Services Money Management Program in New Bedford, as well as other charities and non-profit organizations.

Cambra has improved the quality of life for many people age 50+ through her volunteer work with several charitable entities. She has connected people in need to helpful resources, services, and information. Her generosity of spirit is an inspiration, according to those who know her, who also say that she epitomizes the model volunteer by making a difference and improving the lives of those most in need.

Cambra currently devotes her time to volunteering for five programs: AARP Foundation Tax-Aide; Money Management Program; Rochester Council on Aging; the Rochester COA Affordable Housing Committee; and Mission to Liberia, a nonprofit Ann founded with her husband (details below).

  This award acts as a symbol to the public that we can all work together for positive social change. AARP has long valued the spirit of volunteerism and the important contributions volunteers make to their communities, neighbors, and the programs they serve." — Mike Festa, state director, AARP Massachusetts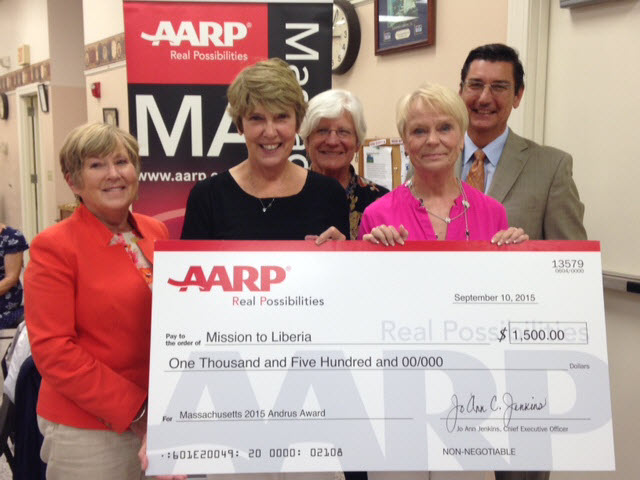 Volunteer extraordinaire

In 2010, Cambra joined the AARP Foundation Tax-Aide Program, Over the past five years, she has completed tax returns for 100 individuals, many of whom are seniors.

"I started volunteering because of AARP," said Cambra. "The most inspiring volunteer stories come from people who are involved with this amazing organization. To see people happily volunteering is a great thing."

Cambra works especially hard to ensure seniors are aware of the "Circuit Breaker" tax credit, which allows seniors to claim a real estate and property tax credit on their annual taxes. Seniors are also eligible to receive

"I love doing taxes," said Cambra. "The fact that there was a program that allowed me to provide help to people for free made me feel so lucky."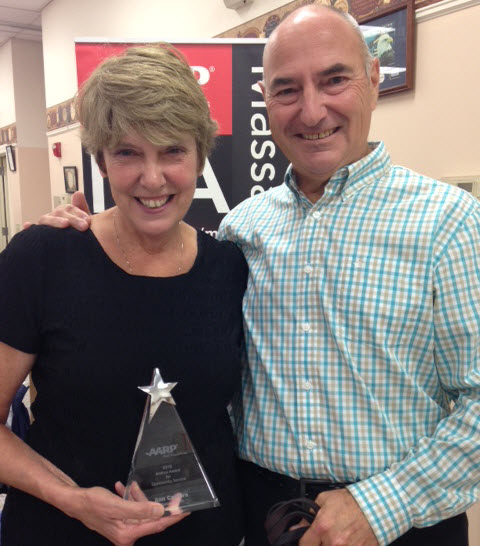 Tax preparation is not the only way Cambra helps seniors manage their finances. She is a Money Management Program volunteer for Coastline Elderly Service. Volunteers are a vital part of the program, assisting elders who need help paying bills creating budgets, and the like. Since 2011, Ann has served as a bill payer for two older Bay State residents; during her monthly visits to them, she helps them write checks, balance their checkbooks, and maintain a budget.

At the Rochester Council on Aging (COA), Cambra and her husband, Mike, prepare delicious meals for up to 40 seniors. The Cambras also prepare quarterly birthday dinners, and Thanksgiving and St. Patrick's Day meals. In their private lives, the couple belongs to a gourmet club where they find inspiration for many of the meals they provide for the COA.

"I believe in order to age [healthfully], seniors must lead healthy lifestyles," said Cambra. "This includes socializing, spending time outdoors, and best of all eating – eating great!"

As a champion in the fight to improve the life of seniors, Cambra is also a member of the Rochester COA's Affordable Housing Committee. Cambra's interest was sparked by a woman whose family roots went back more than 100 years in Rochester. The woman could no longer live in her home and moved to a neighboring town. "Something had to be done about this," said Cambra. The committee's goal is to have the town provide affordable housing to help those 50+ remain in the community. This project will span over five years.

Committed to helping others improve quality of life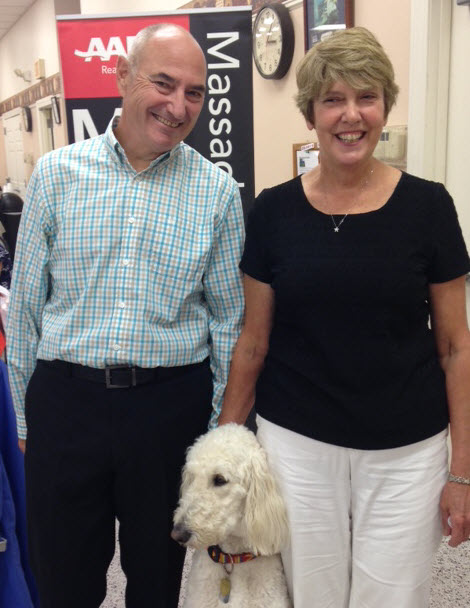 Cambra and her husband aren't the only ones in their family who share their love of helping people. Bob, the family Goldendoodle, is an active therapy dog. In the past, Cambra and Bob have volunteered at the Community Nurse and Hospice Care center in Fairhaven. Their work at the facility inspired many others to become pet therapy volunteers as well.

Cambra also helps others living outside the U.S. When a good friend of Cambra's left the struggling West African nation of Liberia – the oldest republic in African history – the people he left behind still needed basic support. While he had been sending shoes, the Cambras worked to fill a container with not only shoes, but with clothes and other essentials. This effort spiraled into a new calling for the Cambras and led them to create a nonprofit, which they named Mission to Liberia. Through the organization Cambra and her husband provide services and support for clean drinking water and toilet facilities, livestock and agricultural farming projects, and have built a school and a health clinic.





  AARP has long celebrated and recognized the achievement and important contributions of dedicated volunteers like Ann Cambra, across the country. We want to recognize Bay State residents age 50 and older who are making an impact and empowering seniors in their community." – Sandy Albright, AARP Massachusetts state president

Cambra's inspiration

Cambra is the mother of two sons, Chris and Greg Cambra. Chris, 40, owns and manages an online vintage clothing and record store near where he lives with his wife. The couple have followed in the family's charitable footsteps by starting a charity to help up-and-coming musicians.

Cambra and her husband tragically lost their son Greg when he died in a car crash at the age of 20. Cambra said Greg is the inspiration behind the family's commitment to volunteer work. To honor Greg's life, the Cambras created the Greg Cambra Scholarship Fund, which grants an award to "average" students –those who might not qualify for other scholarships.

Cambra's uplifting, driven spirit keeps her motivated, and she seeks new opportunities to volunteer whenever she can.

"I just love seniors," said Cambra. "Some people like children — I love seniors. You learn so much from them."

The Andrus Award for Community Service, named for AARP founder Dr. Ethel Percy Andrus, is awarded annually to one outstanding volunteer in every state. A selection committee evaluates nominees based on a range of criteria, including how their volunteer work positively impacts the lives of individuals 50 and over, how their work improves the community, and how they inspire others to volunteer. To be eligible for the award, the accomplishments, achievements or service on which the nomination is based must have been performed on a volunteer basis, without pay, and must reflect AARP's vision and mission. Learn more about the Andrus Award.