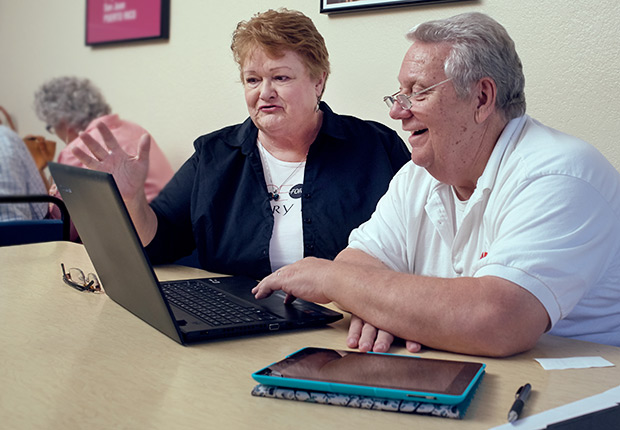 By Miriam Davidson

Elaine Newlin, 63, recently purchased a new laptop computer for her home-based business, selling Mary Kay cosmetics.

"I want that pink Cadillac," she said, referring to the coveted prize awarded to the company's top sales directors.

But first, Newlin had to figure out how to set up the laptop to help demonstrate the products and take customers' orders. The laptop had an unfamiliar operating system, and she had trouble logging in to the "consultants only" part of the Mary Kay website.

So, Newlin brought the laptop to a free one-on-one tech-tutoring session at the Tucson AARP office. Within minutes, instructor Henry Hanson had her logged in to the site, and she began looking at instructional videos.

"They have programs where you can upload a picture of the client and change her makeup on the screen," she said, happily showing off her laptop's potential as a sales tool.

Jeanie Brown, 87, came to the tutorial to better familiarize herself with her new smartphone.

"When I first got it, I would phone people by accident," she said. "I could hear my daughter calling 'Mom! Mom!' "

Brown was no longer "pocket dialing," as it's politely known, but she still had a lot of things to learn.
Instructor Warren Beneville began by going around the sides and back of the phone, explaining its features. He then turned the phone on and went over all the icons and where to find them.

He showed Brown how to pull the touch screen down, how to connect with public Wi-Fi, and how to make the screen brighter, among other tasks.

"He got me well acquainted with it immediately," Brown said. "He showed me things I didn't know anything about."

Thanks to a small group of local volunteers, Newlin and Brown are among several hundred southern Arizonans who have recently received free personalized help with their tech devices.

Beneville, 71, and Monica Tervoort, 62, who lead the East Tucson AARP Community Group, got the idea for the tutoring sessions last year, after they saw some members struggling to keep up with online activity.

"Warren would talk about putting something on the cloud, and I could see people weren't getting it," Tervoort said.

Specialized classes
The pair teamed up with Hanson, 76, and Karen McFadden, 64, who conduct tech classes and tutorials through an organization called Tucson Adult Learning Adventures. TALA offers classes on subjects such as smartphones, the cloud and how to download ebooks.

But the group's main emphasis is one-on-one instruction because, as Beneville said, "Everyone has different questions."

Like Brown, Elaine Bosman, 83, signed up for a tutorial when she got a smartphone, after years of using a flip phone.

Tervoort showed her some of the features on her new phone. "There are so many things I've discovered," Bosman said. "I'm really thrilled to know how to take photos, send them and store them."

Tervoort also helped Bosman master the proper technique to accept calls or send them to voicemail.
"I was missing my calls because I was tapping instead of swiping," Bosman said. "But it's not hard once you know how."

Tech-tutoring sessions take place at the AARP Tucson office, 6700 N. Oracle Road, Suite 331, every Tuesday from 2 to 4 p.m. With only four slots, sessions tend to fill up a week or two in advance. Registration on the TALA website is required.

Instructors will help with any device, and participants can sign up for additional sessions. "Some people bring their devices still in the box," Beneville said.

For more information about getting the most from your devices, or to sign up, go to:

tucsonadultlearningadventures.com or email talawebsite@gmail.com.

Miriam Davidson is a writer living in Tucson.