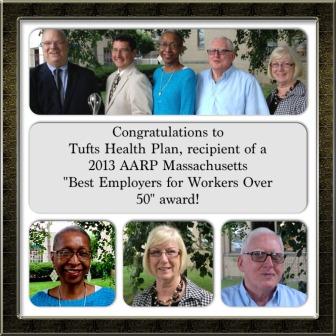 For Katrina Clark of Roxbury (pictured at left: bottom row, far left)), the thought of reentering the job market after a decade spent as a full-time caregiver for her elderly mother was overwhelming.

"I went to a temp agency, but was very daunted because most people there were the age of my grandchildren," Clark, 60, remembers. "I figured the likelihood of getting a job anytime soon was very low."

To her surprise, she received a call from the agency on her way home, with an offer for a temporary position at Tufts Health Plan in Watertown. The temp job eventually led to a full-time position with the not for profit health insurance company.

That was five years ago, and today Clark works as an inside sales representative. "It's a good place for those [who are] age 50-plus. I didn't come in with any misgivings about where I was, and the fact that I am a mature worker was honored, supported and validated."

Clark's employer, Tufts Health Plan, was recently named a 2013 Best Employer for Workers Over 50 by AARP and the Society for Human Resource Management (SHRM). The award program, now in its eleventh year, recognizes organizations for demonstrating that enlightened policies toward 50-plus employees make good business sense. Two additional Bay State winners made the grade this year: Massachusetts General Hospital of Boston, and the Massachusetts Institute of Technology of Cambridge.

For first-time winner Tufts Health Plan, many of their innovative practices and benefits help employees of all ages, but are particularly relevant to older workers including providing counseling for issues such as living with aging parents, assisting with searches for elder care services, and providing legal advice and personal financial consultations.

When Cathy Marino of Needham (pictured above: bottom row, center), was looking for a career change, finding an employer friendly to those ages 50-plus was a priority. "I came to Tufts Health Plan because I was interested in the Medicare plus side of the [health insurance] business, especially as I was entering the baby-boomer age," she said.

Marino, 60, a senior executive assistant to the senior vice president of senior products (Tufts Health Plan Medicare Preferred), has been with the company for 5 ½ years. What makes Tufts Health Plan such a great fit for those over 50? Marino says it the level of civility, which is part of the corporate culture.

"[It's] the most polite-employee conscious company I've ever worked for. I can't say enough about [the company's] consideration of [its] employees," Marino said.

Perhaps, however, there's no employee at Tufts Health Plan who emulates the company's commitment to hiring and retaining over-50 workers than Lennart "Len" Johnson (pictured above: bottom row far right). With 14 years at Tufts Health Plan, Johnson turns 80 years old on Aug. 2. "I was 65 when I was hired! There weren't many places that would've given someone like me a chance," Johnson told AARP. Today, Johnson, who lives in Woburn, works a part-time schedule as an administrative assistant for clinical services/case management. Like Clark, he was initially hired as a temporary employee and eventually was offered permanent employment.

Johnson explains that he hasn't considered retiring. "I'm a widower, and I just really don't feel like retiring at the moment. I feel that—and the doc has agreed with me—that working part-time with the nurses and the young people here keeps my mind active. I don't do any hard physical work," Johnson explains, adding that he does mostly desk- and phone-related tasks.

"I'd highly recommend Tufts Health Plan as a place to work," Johnson said. "Other than the Air Force this is the longest job that I've ever had. "



This is the 11th Best Employers for Workers Over 50 awards designation since the program launched in 2001. Read more about this year's AARP Massachusetts Best Employers for Workers Over 50 award winners. For a full list and for more information on the 50 national winners, visit aarp.org/bestemployers, which includes background on employers' workforce practices and a description of the selection process.