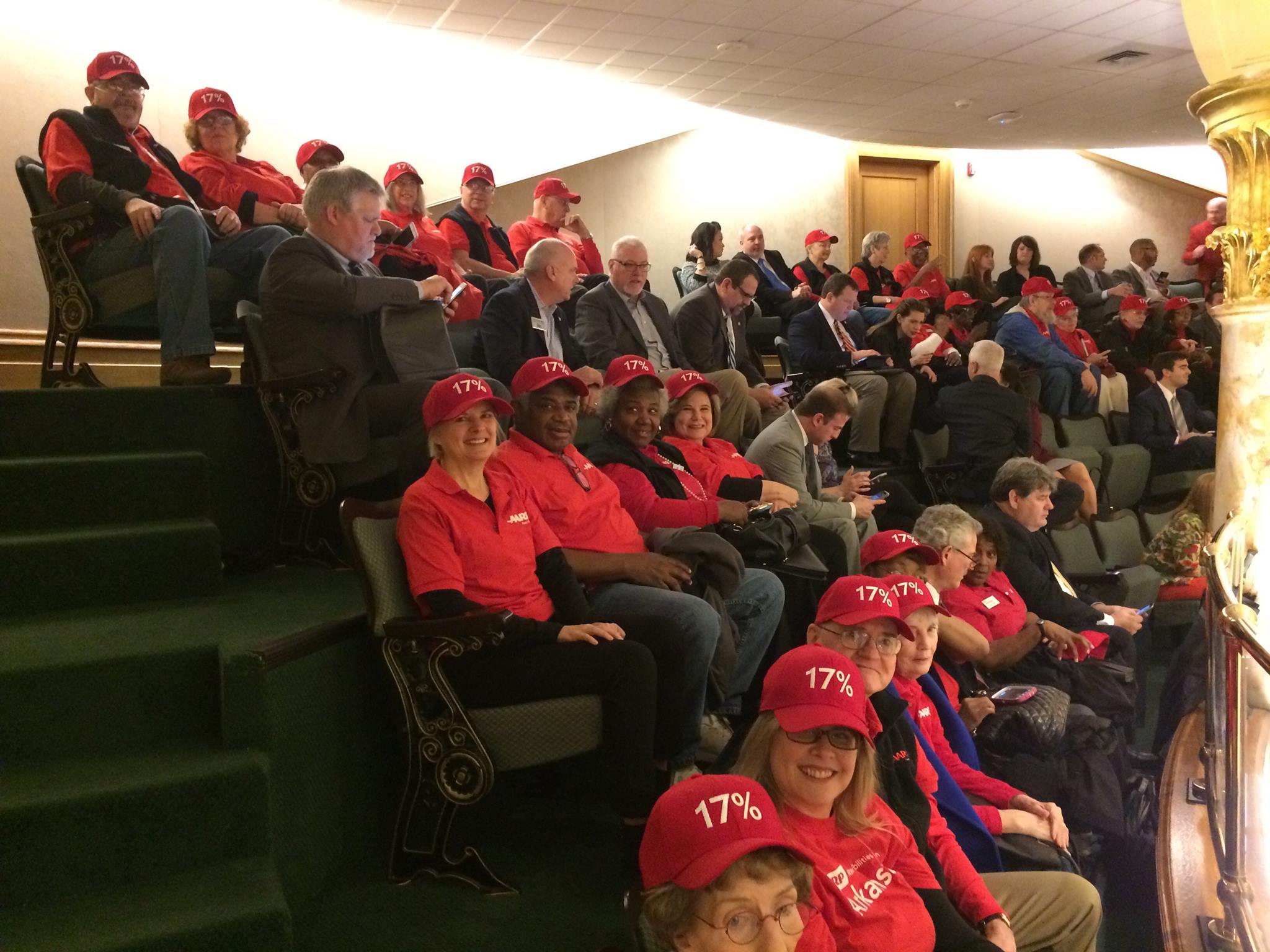 Arkansas consumers are the winners with state House of Representatives approval of Senate Bill 658 by state Sen. Jason Rapert, which closes a loophole used by out-of-state predatory lenders.

One of these lenders has been charging Arkansans up to 280 percent Annual Percentage Rate (APR) interest, despite our State Constitution's 17 percent APR cap on interest for consumer loans. SB658, which earlier passed the state Senate, goes to the Governor.

Closing this loophole is among AARP Arkansas' 2017 Legislative Priorities. Many thanks to our outstanding AARP Arkansas volunteers, pictured above sitting in the state House gallery, who wore red "17% caps" at the state Capitol during this legislative session to show AARP's strong support for SB658 and for the constitutional 17 percent cap! Thanks also to all who contacted their state Representative & asked them to vote YES on SB658.

Amendment 89 to the Arkansas Constitution, passed by state voters in 2010, set the interest rate cap for consumer loans at 17 percent APR. This represents an increase from the prior limit, a sliding scale approved by voters in Amendment 60 (1982). Arkansas is one of 15 states, plus the District of Columbia and the U.S. military, with interest rate caps that prevent high-cost payday lending.

AARP Arkansas as part of the Arkansans Against Abusive Payday Lending (AAAPL) coalition played a key role in helping remove this predatory industry from our state. AARP remains equally determined to prevent similar high-cost, predatory lenders from again gaining a foothold in our state.

Payday lenders for nearly a decade effectively evaded the state Constitution's interest rate cap thanks to a 1999 state law that the Arkansas Supreme Court declared unconstitutional in November 2008. Then-Arkansas Attorney General Dustin McDaniel in his March 2008 crackdown on Arkansas payday lenders also cited the usury protections.

In both 2011 and 2013, out-of-state lenders lobbied the Arkansas Legislature to pass bills that, like the unconstitutional 1999 law, would have redefined interest to get around our Constitution. AARP successfully led the fight against these bills.

In 2009, the last payday lender left Arkansas after nearly a decade of this predatory industry drowning Arkansans in triple-interest-rate, long-term debt traps. Less than eight years later, Arkansas, through passage of SB658, has shown that we're not going to allow predatory lenders to once again dot the landscape of the Natural State.