by Nancy A. LeaMond |

Imagine for a moment how busy and chaotic everyday life can be: juggling careers, kids, finances, and more. Now imagine also caring for a parent, spouse or child with a disability, maybe even around the clock. Every day about 40 million Americans—myself included—care for our loved ones, so they can live independently at home and in their communities, where they want to be.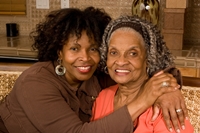 We drive to appointments, prepare meals, manage medications, and so much more. We also work, and face financial demands. Yes, the responsibilities of being a family caregiver can certainly be overwhelming and stressful.
Laurie from Maryland cares for her husband, Bill, who suffers from Parkinson's. She shared her family's story as part of AARP's I Heart Caregivers initiative. Laurie retired from her full-time job as a teacher so she could provide more assistance to Bill, but she needed to find part-time work to help make ends meet. She says, "When I retired I lost a lot of income and I lost a lot of future income…. I'm just drawing down my savings." In addition to a significant pay cut after retiring, Laurie incurs added expenses as a caregiver, including transportation, worsening their financial situation. "My goal is to keep our financial heads above water…," she shares.
Laurie is not alone. Most family caregivers juggle helping their loved ones while work full- or part-time. Some have to leave the workforce entirely to focus solely on caregiving responsibilities, putting their own financial security at risk.
Credit for Caring Act
A new, bipartisan bill, the Credit for Caring Act—introduced in the U.S. House last month and the U.S. Senate today—is a commonsense step to help address the financial challenges of family caregivers, helping them stay in the workforce and be more secure financially. The legislation would provide a new, non-refundable federal tax credit of up to $3,000 for eligible family caregivers who work, and use their own money to help care for a loved one.
In a national survey conducted last year, AARP found the strong majority (83%) of registered voters age 40 and older support providing a federal income tax credit for family caregivers. Not surprisingly, this support crosses party lines. After all, family caregiving isn't a Republican or Democrat issue – it's a family issue.
AARP has endorsed the Credit for Caring Act. We thank the U.S. House sponsors of the Credit for Caring Act, Reps. Tom Reed (R-NY) and Linda Sánchez (D-CA), and U.S. Senate sponsors, Sens. Joni Ernst (R-IA) and Michael Bennet (D-CO), for their bipartisan leadership on this bill.
In addition to easing some financial costs for family caregivers, the Credit for Caring Act tax credit could help:
• Provide relief so family caregivers can take a hard earned break;
• Help working family caregivers pay for home care or other support so they can continue working while also fulfilling their family caregiving responsibilities.
Have you used your own money to care for a loved one?
Share your story and help us fight for caregiving families.
Contact Your Legislators Today
Family caregivers are the backbone of care systems in the U.S. We provide $470 billion in unpaid care annually, helping to delay or prevent more expensive institutional care for older Americans and persons with disabilities—saving taxpayers money.
Please join me in urging your U.S. Senators and Representative to cosponsor the Credit for Caring Act, a commonsense step forward to support America's greatest support system: family caregivers.
Contact your U.S. Senators and Representative now.
______________________________________________________________________
Nancy LeaMond, chief advocacy and engagement officer and executive vice president of AARP for community, state and national affairs, leads government relations, advocacy and public education for AARP's social change agenda. LeaMond also has responsibility for AARP's state operation, which includes offices in all 50 states, the District of Columbia, Puerto Rico and the U.S. Virgin Islands.
You can follow her on Twitter @NancyLeaMond.