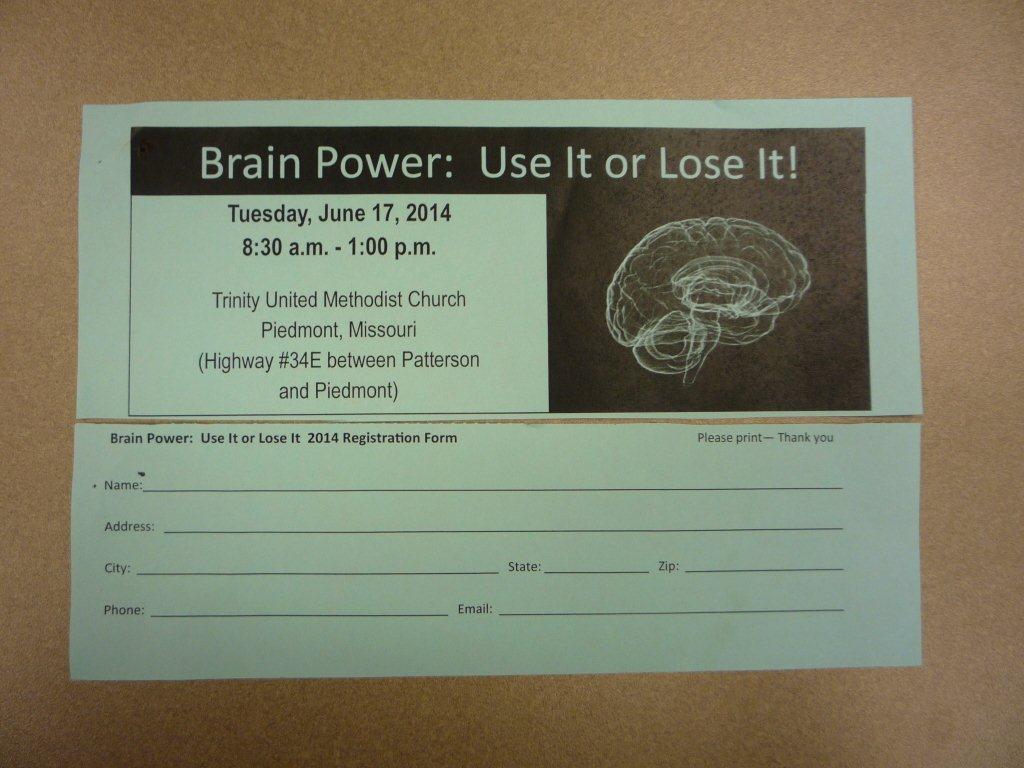 Learn about memory loss prevention, research, early detection-and how to get a proper Alzheimer's diagnosis.

Find out how to corral your brain power by attending the free seminar on Tuesday, June 17, 2014 from 8:30 a.m. - 1:00 p.m. at the Trinity United Methodist Church in Piedmont. Attendees will participate in activities that will stimulate the brain: exercise, healthy eating, and music. Lunch and light snacks will be served.

Featured presenters are Mary Ehvenreich, Alzheimer's Association-St. Louis Chapter; Phyllis Flanigan, University of Missouri Extension; Rhonda Bramlett, Aging Matters; Debra Fisher, Safe Harbor Hospice; and Diane Hall, AARP Missouri associate state director for Community Outreach.

Interested individuals should register by Thursday, June 12 by calling Bob and Geri Sanders at 573.223.7887, or sending a registration form to Bob and Gerri at RR1, Box 1837, Piedmont, MO 63957.

This event is sponsored by AARP Missouri, AARP Wayne County Chapter #1270, Aging Matters, Clark's Mountain Skilled Nursing by Americare, Greenville Nursing and Rehabilitation, Piedmont Family Clinic, Pyramid Home Health Services, Safe Harbor Hospice, Southeast Missouri Alzheimer Association, Wayne County Health Center, Wayne Medical Center LLC, and University Extension.