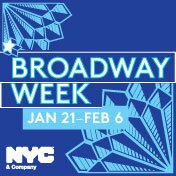 Happy New Year! What a way to begin the new year by telling you that starting Friday, January 3, 2014 at 10:30 am through Sunday, January 5, 2014. AARP members* can purchase 2-for-1 Broadway tickets (two tickets for the price of one) through a pre-sale offer period. This offer is available to AARP members three days before the offer is made available to the general public.
During Broadway Week (January 21-February 6, 2014) from 1-2 pm & 4-5 pm, stop by the Official Information Center-Times Square to meet AARP staff, volunteers, and other members to learn more about what we are doing in your
Tickets can be purchased online** using the code BWWKPR; or upgrade your seat for an additional $20 per ticket using code BWPRUP.
Two-for-one shows include 26 Broadway productions, a variety of long running hits, musicals and new releases. View the complete show list below:
A Gentleman's Guide to Love and Murder
After Midnight
Beautiful - The Carole King Musical
Bronx Bombers
Chicago
Cinderella
Jersey Boys
Kinky Boots
Machinal
Mamma Mia!
Matilda the Musical
Motown: the Musical
Newsies
Night With Janis Joplin, A
No Man's Land
Once
Outside Mullingar
Pippin
Rock of Ages
The Bridges of Madison County
The Glass Menagerie
The Lion King
The Phantom of the Opera
Twelth Night
Waiting For Godot
Wicked
*Anyone who receives this information can purchase 2-for-1 Broadway tickets using code BWWKPR. A minimum of two tickets must be purchased; ticket pricing will be displayed at the point of sale as 50% off each ticket purchased.
**Customer service: 212-484-1200
* ** Certain terms and conditions apply. This is not an AARP event.Tickets subject to availability. Please note any information you provide to the host organization will be governed by its privacy policy.