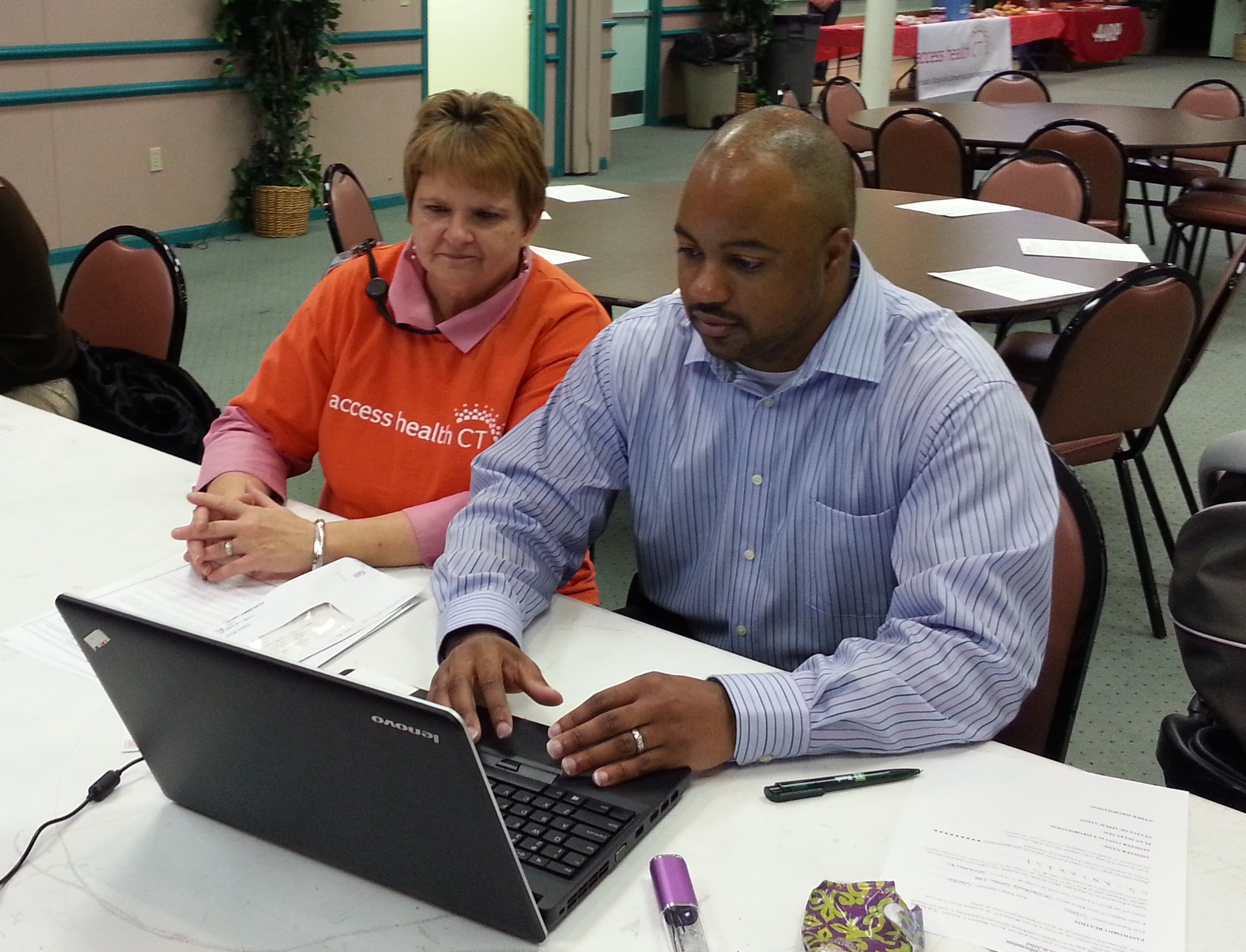 Rev. Steven A. Cousin, Jr. knew that the Affordable Care Act, otherwise known as "ObamaCare", had the potential to help families and individuals find health insurance coverage and positively impact the lives of his parishioners and the larger community. But he wasn't prepared for just how much of an impact it would have on his own life until he shopped for health insurance for his family.

The 30-year-old UConn graduate, who took over as pastor of Bethel AME Church in New Haven on Father's Day last June, was one of 18 individuals who took the opportunity to learn more about the Affordable Care Act and sign up for coverage through Access Health CT - the state's new online health insurance market - at a recent Information and Enrollment Fair co-sponsored by the Bethel AME Church, AARP Connecticut and the New Haven Dept. of Health. Not only was Pastor Cousin able to find a plan that would cover his wife, who suffers from a pre-existing condition, as well as he and his young son, but he was amazed that the plan would cost about $900 a month less than his current policy and provide more comprehensive coverage.

"The goal was always to have health coverage for the whole family," said Cousin. "Until the Affordable Care Act and the Access Health CT marketplace opened in Connecticut, that goal seemed out of reach for us."

In Connecticut, approximately 300,000 people lack health insurance. They now have the opportunity, like Rev. Cousin, to buy coverage through the marketplace.

Beginning in January 2014, most people will be required to carry health insurance or pay a penalty. If you sign up during open enrollment, which ends March 31, 2014 you will avoid the penalty. If you already have coverage through Medicare or Medicaid, a military program or your employer, you don't need to do anything.

"AARP is working to ensure that 50+ Americans understand the benefits and protections within the ACA and how the law works for them and their families," said AARP community outreach volunteer, Carrie Greatheart. "This includes what to consider when looking for coverage and where to go for resources and information.

If you are interested in applying for coverage, Cousin suggests taking the following steps to prepare:

1. Gather the following information (if attending an enrollment fair, bring it with you to the event):

• Social Security number of each family member
• Employer and income information for everyone in your family (from your tax return, pay stubs or W-2). This information will go into determining if you are eligible for financial help to pay for some of the costs.
• The policy number for any current health coverage
• Information about job-related health insurance available to you or your family

2. Prepare a list of your health care providers as well as your pharmacies and local hospital. You can refer to it to make sure the health plan you choose includes them.

3. Find more information and view available plans in Connecticut at: www.accesshealthct.com. If you need help, call 1-855-805-HEALTH (1-855-805-4325). Personal assistance is available.

Thanks to the success of the first enrollment fair at his church, Rev. Cousin and AARP have scheduled a second one on December 14 from 9:00 a.m. – 2:00 p.m. at the Community Outreach Center, 654 Orchard Street in New Haven.

For questions about the Enrollment Fair, please call Rev. Steve A. Cousin, Jr. at 203-865-0514.

To learn more about the Health Insurance Marketplace and the health care law's benefits and protections, visit www.HealthLawAnswers.org or for Spanish speakers, www.MiLeyDeSalud.org.