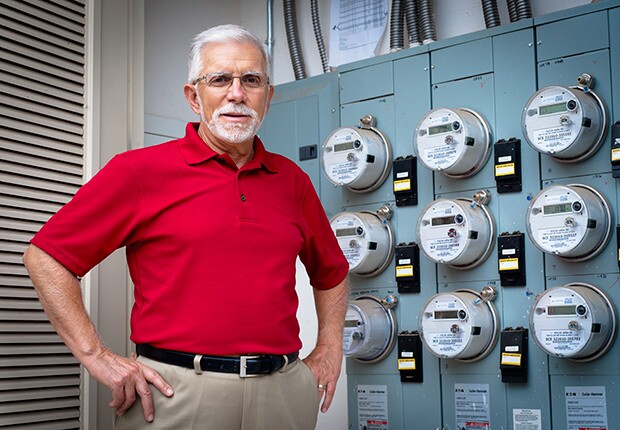 By Ray Huard
Hank Povinelli is fed up with rising electric rates. "If I have to pay significantly higher electricity bills, I have to take that money from someplace else," said Povinelli, a retired information technology executive who worked in the hospitality and casino industry.
Like many retirees, Povinelli, 67, who lives in the San Fernando Valley city of Chatsworth, must get by on a fixed income.
"We can't increase our revenue. We have to manage the costs," he said. "We're looking for Southern California Edison [SoCalEd] to do the same thing."
In the past, Povinelli said, a rate increase wouldn't have been that significant to him.
"We grumbled but we absorbed the rate increase and we paid the rate because we could," he said. Then the recession hit.
Povinelli found himself out of work with a house that was worth less than he paid for it and a retirement nest egg that had lost much of its value.
"I represent the baby boom generation. My story is absolutely not unique in Southern California because there are a lot of us," Povinelli said. "Where we could make up for the increases before, now we can't."
Povinelli was among dozens of AARP volunteers—many wearing red AARP T-shirts—who went to a California Public Utilities Commission (CPUC) hearing in Temple City in May to oppose a three-year, $878 million rate increase sought by SoCalEd.
The increase is to cover "day-to-day operational costs," said Mike Marelli, general rate case director for SoCalEd. As of press time, a decision by the CPUC was pending.
AARP's involvement in coordination with other consumer watch groups has made a difference in past rate cases, said Blanca Castro, advocacy manager for AARP California.
"They show up in the red shirts and it's really a demonstration to remind them [CPUC commissioners] that a lot of folks are listening," Castro said.

Smaller rate increases
"When Southern California Edison requested a $4.8 billion general rate increase that we felt was excessive in 2011, AARP members made over 15,000 calls opposing the increase," Castro said. "The requested increase was cut by more than half, with the CPUC eventually approving an increase of about $2 billion."
This year, AARP in collaboration with the Office of Ratepayer Advocates, The Utility Reform Network (TURN) and the Greenlining Institute has and other consumer advocacy groups challenged a three-year, $5.2 billion rate increase sought by Pacific Gas and Electric. In late August, the PUC granted a $2 billion increase over three years.
PG&E spokesman Jonathan Marshall said the rate increase is needed to keep pace with the rising costs of maintaining and replacing electric and gas lines due to inflation and improved technology.
"Balancing affordability with safety and reliability is always a complex task," Marshall said. "Over the course of many years, our rates have increased in line with inflation. Compare that with gasoline at the pump."
AARP California said it would monitor the rate increase closely.
"It wasn't as much as originally asked, so on that side it's good, but we still think it's excessive," Castro said. "What we're asking the PUC [to do] is to hold them accountable, to make sure the money is actually going to where they [PG&E] said it's going."
Volunteers such as Ethel Price of Glendora play a key role in AARP's successes because they put a human face on what would otherwise be a case of sterile numbers, Castro said.
A retired computer analyst with the Los Angeles Metropolitan Water District, Price, 63, had been living in a Covina single-family home until March, when she moved into an apartment. Her monthly electric bill from SoCalEd had averaged $350, but was still $200 even when she took conservation measures like bundling up in winter and turning off the air conditioning in summer.
"It's ridiculous," said Price, who attended the CPUC hearing on SoCalEd. "I think the public outcry is the best tool we consumers have."
AARP California is looking for more utility volunteers. Information on volunteering is available at aarp.org/ca or by calling AARP California toll-free at 866-448-3615.
"All they need to do for AARP is reach out and say they want to be a volunteer," Castro said.
Ray Huard is a writer living in San Diego