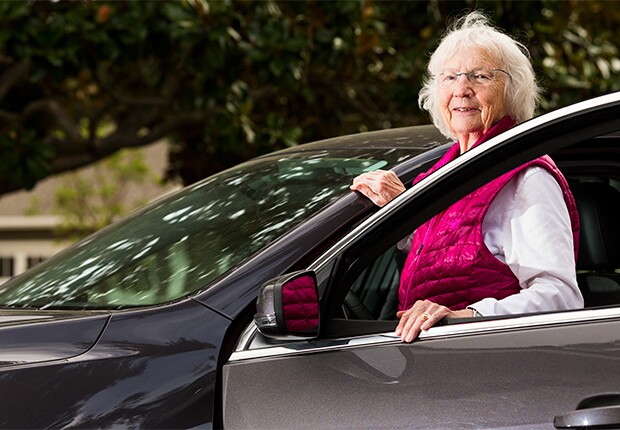 By Ray Huard

Marilyn White worries about how she'll get around her Northern California community of Saratoga.

At 91, White still drives, but plans to give up her car keys when she turns 92 next July and her license expires.

"By the time I'm 92," she said, "I hope they have a shuttle service here."

Saratoga is one of 11 cities and counties in California that are part of the growing AARP Network of Age-Friendly Communities.

The others are Berkeley, Chula Vista, Los Angeles County, Los Angeles, San Diego County, San Francisco, San Jose, Sonoma County, West Hollywood and West Sacramento.

"What we're trying to do is design our city as though the whole town is a senior center," said West Sacramento Mayor Christopher Cabaldon. "Issues on aging are priorities for all our city departments."

The World Health Organization (WHO) established its Global Network of Age-friendly Cities and Communities in 2010 to connect cities, communities and organizations worldwide with a common vision of making great places to grow old.

AARP is WHO's partner in the United States, and AARP California began forming a state Network of Age-Friendly Communities in 2015.

"One of the reasons we have started doing this Network of Age-Friendly Communities is jurisdictions are just not prepared for aging and this idea of people living 20 or 30 years after their retirement," said Christina Clem, AARP associate state director.

According to the U.S. Administration on Aging, people 60 or older will account for 20.3 percent of California's population by 2020 and 22.8 percent by 2030. Those 85 or older, estimated at 1.8 percent of the state's population in 2015, will grow to 5 percent by 2050, according to figures from AARP.

Helping people of all ages
Joining the Age-Friendly Network is a five-year commitment, which starts with assessing the needs of older residents, then developing a plan, implementing it and seeing how well it works.

"While it's focused on those 50 and older, we also recognize that a lot of what gets put in place to help older adults helps people of all ages," Clem said.

Saratoga Mayor Manny Cappello said city officials are working on getting White and other older residents the transportation services they need by forming a partnership with a private taxi company. The city would subsidize a portion of the fare.

Transportation is one of many concerns for older Californians. Housing, nutrition, street safety and isolation are among others.

Sheila Malkind, 78, said that crossing San Francisco's wide streets is a challenge because the walk lights don't stay on long enough. "I'm fearful," she said.

Malkind's complaint is familiar to Shireen McSpadden, executive director of San Francisco's Department of Aging and Adult Services.

"San Francisco's very dense and ... we realized that we have a very high number of pedestrian injuries and deaths," McSpadden said. The city has adopted a Vision Zero plan with a goal of eliminating all traffic deaths on city streets by 2024.

In San Diego County, housing and transportation are the two most vexing problems for older residents, said Ellen Schmeding, director of the county's Aging & Independence Services.

"We know we can come up with some creative solutions and we believe that being a part of the Age-Friendly Communities network will help with that," she said. "We'll have the opportunity to place a spotlight on the issues most important to San Diegans."

Ray Huard is a freelance writer living in San Diego, Calif.