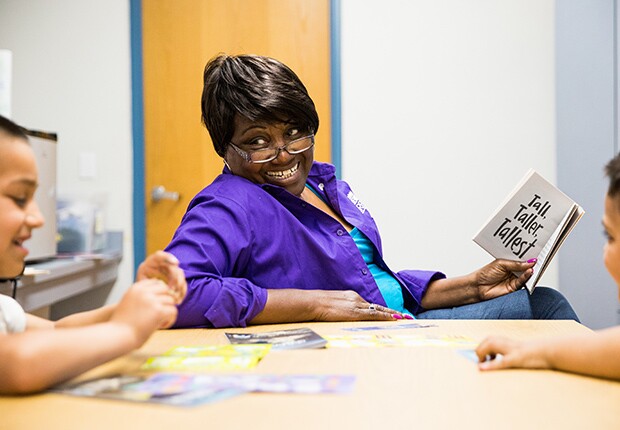 By Carla Meyer

When reading tutor Rosemary Revels asks for volunteers to read aloud, hands shoot up.

All three first-graders in Revels' recent session at North Country Elementary School, in the Sacramento suburb of Antelope, look eager to go first.

"They are jumping to read first now because they know they are going to get a high five from Miss Rosemary," said Revels, a tutor with AARP Foundation Experience Corps, referring to herself.

The high fives come only after the students complete an assigned sentence or paragraph without stumbling too much or skipping words. Until then, Revels, 68, gently urges the first-graders to try again.

"When you show a kid it's OK to make a mistake, because there is going to be someone around to encourage you," the effect can be transformative, Revels said. "To see a child come in who couldn't even pronounce words and now is doing that, and raising their hand to go first to read, has been the biggest thrill."

Revels, a retired supervisory logistics management specialist for the Air Force, helped her own children and grandchildren with homework when they were young. But the progress she sees occurring with Experience Corps students has been rewarding in its own, distinctive way.

"The biggest surprise for me is how much I get out of it," she said.

Experience Corps matches adults 50 and older with K-3 students not yet reading at grade level. Students who do not reach reading proficiency by the end of third grade are four times less likely than proficient readers to graduate from high school, according to a 2012 report by the Annie E. Casey Foundation.

Revels didn't have classroom experience, but none was needed for Experience Corps, which requires a high school diploma and background check. She completed 14 hours of training before entering a classroom. For the past two academic years—the first two that Experience Corps has been in the Sacramento region—she has visited North Country Elementary twice a week.

In 2012, AARP linked up with Experience Corps, which had been around since 1995. The program has expanded its presence in the state during the past few years, entering Los Angeles and Orange counties for the first time in 2017. Experience Corps is also in the Bay Area and San Diego.

This year, the program had about 450 volunteers serving almost 2,400 students in California. AARP California state director Nancy McPherson said there is "a real commitment" to increasing the number of Experience Corps volunteers and eventually serving about 10,000 students in the state.

Judging by statistics drawn from teacher surveys conducted at the beginning and end of the 2016-17 academic year, Experience Corps is making a difference in California. Overall reading literacy among Experience Corps participants improved 67.6 percent, with 41.2 percent showing a year or more of progress, and 31.4 percent reading at grade level or above by school year's end.

Experience Corps can help those same students in the long term as well.

"One of the areas the AARP Foundation works on is alleviating poverty in adults 50 and older," said Peggy Goldberg, Experience Corps volunteer advisor. "We know adults in poverty have very low literacy rates, and we know that if we catch students early in the game, we can make an impact."

For information on Experience Corps in California, go to aarp.org/experience-corps and click on "Find Experience Corps in My City" or call 202-434-6400 and leave a message.

Carla Meyer is a writer living in Sacramento.