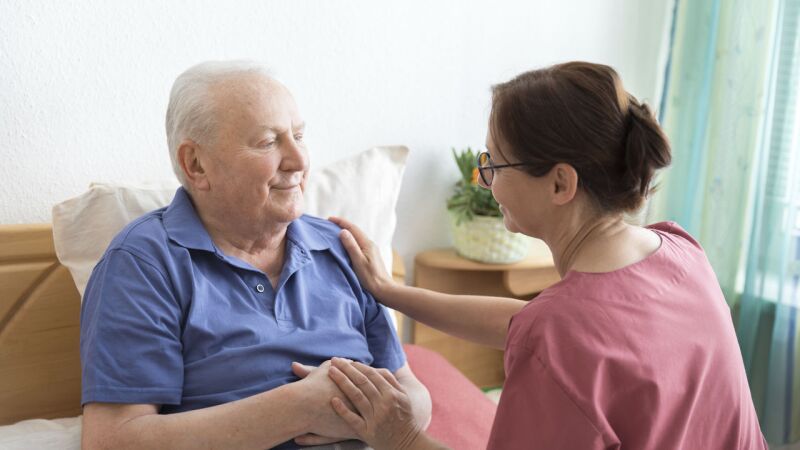 California nursing homes will contend with greater scrutiny this year under a new set of reforms aimed at increased transparency and oversight of the state's more than 1,200 facilities.

The changes come as they continue to grapple with the devastation wreaked by the coronavirus pandemic. More than 9,500 nursing home residents and staff have died of COVID-19-related illnesses, California Department of Public Health data shows.

Advocates for residents say the pandemic has underscored long-standing problems in the industry, including inadequate oversight, lax licensing requirements and a corporate structure that allows owners to reap financial windfalls despite providing substandard care.

"Many changes were needed to improve oversight and quality in California's nursing homes," says Nina Weiler-Harwell, associate state director for AARP California.

In October, Gov. Gavin Newsom (D) signed into law five bills to improve nursing home care. The legislation will:

Require nursing homes to submit an annual consolidated financial statement that includes data from any related businesses.
Allow current or former residents or their representative to sue in civil court for up to $500 for each violation of their rights. Previously, there was a $500 limit on civil damages for each overall case, not per individual violation.
Boost nursing home citation penalties for violations that cause a resident's death.
Close loopholes that allow facilities to avoid paying penalties for delivering low-quality care.
Require nursing home medical directors to be certified by the American Board of Post-Acute and Long-Term Care Medicine within five years of being hired.
Transfers Still Allowed
In a move that disappointed advocates, Newsom vetoed another nursing home measure that would have put a partial or temporary halt on resident evictions during the COVID-19 state of emergency by stopping involuntary transfers to other facilities.

"Some nursing homes were literally transferring patients out to ones with high COVID caseloads," Weiler-Harwell says.

The governor's actions came after four hours of testimony at a California State Assembly Health Committee hearing in Sacramento last October.

Kim Valentine, a member of the California Association of Consumer Attorneys, testified that nursing home owners "cry poverty" but then use related companies to shield assets and pay themselves hefty management and administrative fees.

Deborah Pacyna, director of public affairs at the California Association of Health Facilities, a nursing home trade group, says the new laws are "seeking to punish all providers because of the failings of a few."

The changes, such as increased fines, could be a particular burden on smaller mom-and-pop operations, Pacyna notes.

But advocates for residents plan to continue pushing for change. Requiring facilities to file complete financial reports is a good start, but more needs to be done, Valentine says.

"Capitalism is a good thing," she said at the hearing. "But we shouldn't be breeding billionaires in a system that is predominantly funded by our state and federal dollars."

Learn more at aarp.org/ca.

Barbara Kingsley-Wilson is a writer living in Long Beach.

For More on Caregiving

AARP Caregiving Tools Explained