California Volunteer News
JAN/FEB 2018 Edition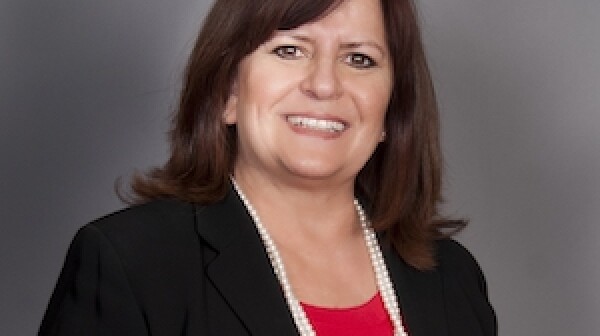 Message from the State President
Greetings to you all! I know I am not the only one who started the new year reenergized and eager to engage volunteers in connecting with people and championing issues that matter most to Californians. AARP California also hit the ground running with many fun and meaningful events and activities. We are currently celebrating Black History Month and anticipating Lunar New Year and the upcoming Year of the Dog. Please "like" our
Facebook
page and follow us on
Twitter
to find out more and to stay current on everything going on in California.
Our advocacy efforts are also ramping up, and we'll be involved with several bills in the state legislature, so stay tuned to learn more. We will also continue to advocate in Washington in defense of Medicare and Social Security, as well as working with Congress to implement the RAISE Family Caregiver Act, a bipartisan (yes, you read that right!) bill that represents an important step in providing support to family caregivers in California and across the nation. If you would like to stay engaged with our advocacy efforts, I urge you to consider becoming an AARP E-Advocate. Find out more
here
.
As always, we want to hear from YOU about how we can make this e-newsletter better, so please share your feedback
HERE
. To stay up to date on current and future activities and events, visit the
AARP California blog
.
Thank you for your dedication in putting into practice AARP California's mission to help create livable communities for all ages and to empower people to choose how they live as they age.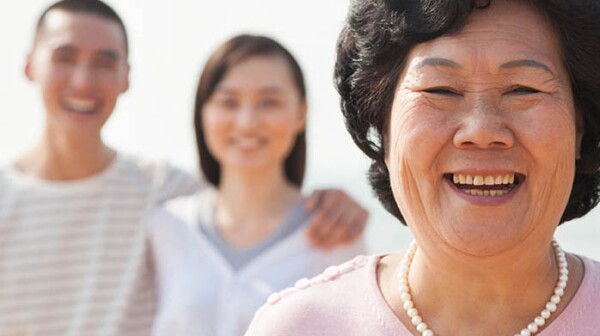 Welcoming the Year of the Dog
This year, AARP's Multicultural Team rolled out a new Chinese website, which focuses on "Health, Wealth, and Self" and provides individuals with in-language AARP resources. The site's launch was timed auspiciously to coincide with the new year and high hopes for a happy and prosperous Year of the Dog.
To celebrate Lunar New Year, AARP will have a float in the annual Chinese New Year Parade in San Francisco on Saturday, Feb. 17. San Francisco's celebration is the largest Lunar New Year celebration outside of Asia and draws thousands of visitors from around the world.
To learn more about our Asian American & Pacific Islander (AAPI) resources in English, visit
aarp.org/aapi.org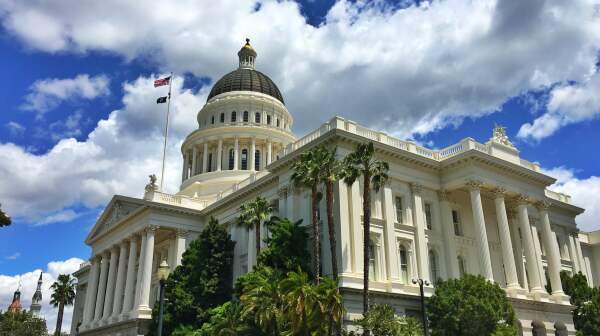 2017 was an ambitious year for AARP at the State Capitol, with important legislative victories achieved in the areas of housing affordability, government transparency, voting rights, older workers, training for long-term supportive services (LTSS) workers, and prescription drug pricing. AARP staff and volunteers played a critical role in these efforts, making hundreds of visits to legislators in their districts and at the Capitol. Highlights of bills signed into law include:
AB 275 requires nursing facilities to give greater advance notice (60 days) to a resident or his or her guardian when the facility plans to close or is no longer able to care for the resident.
SB 17 requires drug makers to give a 60-day notice to California purchasers — including state agencies, health care service plans, health insurers, and pharmacy benefit managers — of any increase in the wholesale acquisition cost of a drug costing more than $40 if the wholesale acquisition cost exceeds 10 percent over a two-year period.
SB 219 makes unlawful specific actions and practices in long-term care facilities (LTCFs) that discriminate based upon residents' sexual orientation, gender identity, or HIV status.
SB 449 requires an increase in the number of classroom hours required of CNAs.
AB 1111 will create training opportunities that can equip persons over age 50 with the technical skills required to thrive in today's work environments.
SB 2 represents a step toward addressing California's affordable housing shortage by imposing a fee on certain real property transfers, to be deposited in a Building Homes and Jobs Trust Fund within the state treasury, and dedicates those proceeds to specified affordable-housing purposes.
AB 918 requires that facsimile ballots be made available in loose-leaf format so voters can use them while voting privately instead of while standing at a wall.
In 2018, AARP California will again be working closely with legislators to build on 2017 victories and to address setbacks — all toward the goal of making life better for 50+ Californians and their families.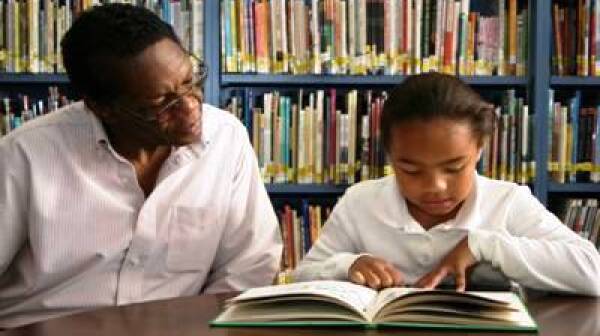 Make a Difference in Children's Lives with AARP Experience Corps
Did you know that only 31 percent of fourth-graders in this country are able to read at a proficient level? Moreover, research shows that those who don't read proficiently by the end of third grade are four times more likely to leave school without a diploma. But YOU can help to change this by volunteering with AARP Experience Corps.
AARP Experience Corps is an award-winning, proven program that places people over age 50 in classrooms with students in kindergarten through third grade to help them improve their reading skills.
Experience Corps is currently seeking volunteers in these areas:
NO PRIOR CLASSROOM OR TUTORING EXPERIENCE IS REQUIRED. All volunteers take part in a comprehensive training program to ensure their success in the classroom.
If you are interested in helping children in your area, please visit one of the sites above or click
here
.
To see firsthand the changes our students and volunteers experience, please watch this inspiring
video
.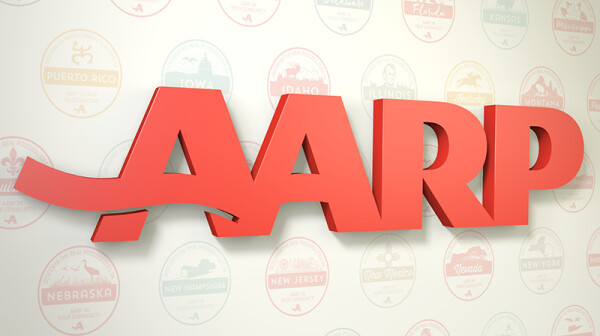 AARP chapters are a great way to get involved with a local group of AARP members doing some exciting things in their local community. AARP chapters meet monthly, plan social outings, participate in local community service projects, provide scholarships to college-bound high school students, and more. To learn more about AARP chapters or to locate one of the 25 chapters in California, visit
AARP chapters
.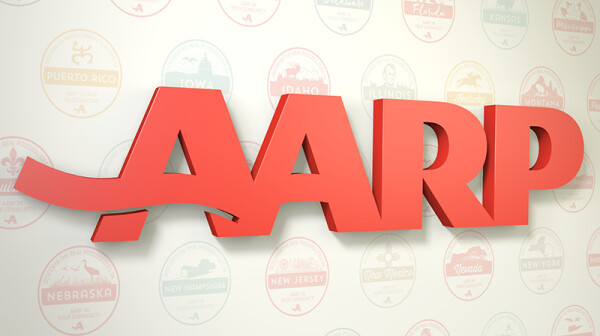 Stay Connected with the AARP Volunteer Portal
The
AARP Volunteer Portal
is an online resource created especially for volunteers and staff across the Association. It provides a wealth of services, including a library of key documents, a quick expense-reimbursement process, materials ordering capability, online learning, and a collaboration feature to connect with fellow volunteers and AARP staff.
If you have not yet signed in, or if you are having challenges with the Volunteer Portal, please contact Antoine Cook at
acook@aarp.org
or 626-585-2608.
Keep an eye on your email for upcoming quarterly trainings and refreshers to make sure you utilize this very important tool for AARP volunteers!
October, November, December 2016
In this Issue:
Letter from the State President Patricia Pérez
Secure Choice: Eliminating Major Barriers to Saving for the Future
Help us spread the news about the New Hospital and Family
Caregiver Law
More cities and communities are signing up to be a part of AARP's
Age Friendly Network of Livable Communities
Fraud Watch Network: recognizing our top volunteers of this last quarter.
Experience Corps is recruiting new volunteers for the upcoming school year.
Welcome our new team members!
Tax-Aide and Driver Safety recruitment of volunteers
Programs and Events taking place in your community during the last quarter of this year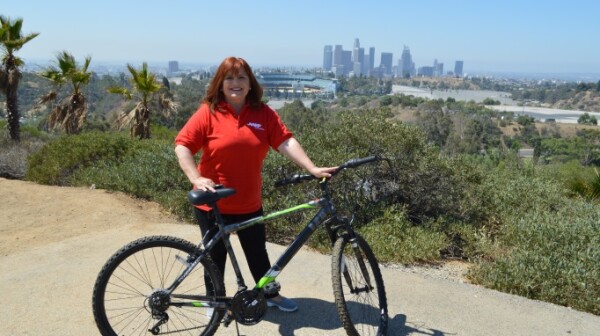 A Message from Patricia Pérez, AARP CA State President
Dear AARP Volunteers,
Welcome to our first issue of your AARP California Volunteers Newsletter. As a volunteer myself, I know how important is to listen to you! And that is why we are presenting you with this first issue of this newsletter electronically. This new format was created in response to the large number of responses we received to our online survey, conducted earlier this year. Among other things, you told us that you wanted to stay informed on what's happening in the AARP CA state office related to events and programs, as well as about stories regarding local advocacy around our priority issues. You also told us that you prefer to receive this information electronically. Most of you let us know that you would prefer a bi-monthly or quarterly newsletter, so we are starting off with quarterly editions, but may increase the frequency to bimonthly if we receive lots of feedback to that effect.
In this first issue you will find information about how our (and YOUR) advocacy efforts secured the passage of the California Secure Choice Retirement Savings Act (SB 1234) as well as the latest news on Caregiving, Fraud, and our work to promote Livable Communities. And speaking of cities, I recently had the honor of shooting our second Los Angeles television spot. The theme of the ad campaign is
"We Hear You,"
and it is designed to promote the many exciting and engaging events and activities we have organized In the Los Angeles region. Check it out
here!
On the advocacy front, Governor Brown signed the California Secure Choice Retirement Savings Act (SB 1234), which addresses the coming crisis in retirement savings. SB 1234 will create a simple, affordable, and automatic way to help private sector workers save their own money for retirement. These accounts will be completely portable, meaning they can be taken from job to job, helping millions of Californians without a workplace retirement plan.
Just in time for upcoming presidential election, you'll learn about AARP's Take A Stand campaign, which is designed to press the presidential candidates to tell voters exactly how they would update Social Security for the future, and how their plan will affect their families, how they'll pay for it, and when they'll get it done.
November is Caregiving month, and so we are sharing information about how you can help us spread the news about the new Hospital & Family Caregiver Law, which will help family caregivers by requiring hospitals to do more to help and inform them.
In the Fraud Watch Network article we recognize volunteers that have contributed greatly in teaching others how to spot and avoid scams. You, too, can become a Fraud Watch Network volunteer and teach others in your community how to protect themselves and their families.
Over the past year, our AARP Network of Age-Friendly Communities Program in California has quickly taken off. In November 2014, San Francisco became the first city in the state to join the Network. Since then we have welcomed West Sacramento, San Diego County, West Hollywood, the City and County of Los Angeles, Saratoga and Chula Vista. And with those valued partnerships in place, we're committed to continuing our work with mayors, city council members and a vast array of community leaders. Learn what each city and community is now doing as part of their efforts to become age friendly and be part of this growing movement right there where you live.
Last but not least, check out our calendar of events taking place in your city. We are offering an array of local events from our TEK program so you learn how to better use your smartphones and tablets and stay connected to friends and family, a series of CAREversations so you can connect with other caregivers, learn from each other's experiences and obtain information on local resources. For more information on our local events please visit
www.aarp.org/california
and/or
www.aaarp.org/losangeles
.
Para español, por favor visita: www.aarp.org/quepasala
We have a robust social media presence and would love to see you there too! Please join us on
Facebook
and
Twitter
to stay informed and entertained!
We would love to hear from you. Please contact us with your comments and opinions by email:
cavolunteer@aarp.org
Sincerely,
Patricia Pérez
AARP California State President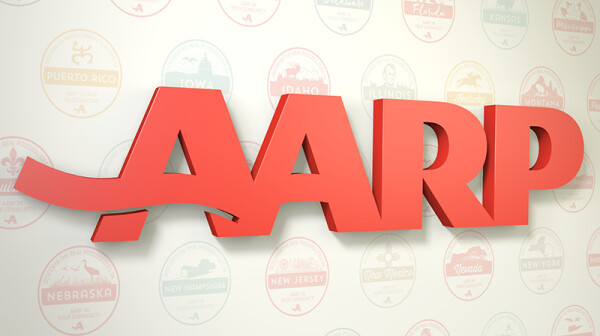 The California Secure Choice to Eliminate Major Barriers to Saving for the Future
By Blanca Castro, Advocacy Managerbcastro@aarp.org
In California alone, 7.5 million people working in the private sector lack access to a retirement savings plan through their job.
More than ever, people are ill-prepared for retirement because many workers do not have access to a system that allows them to save while earning income.
At AARP, we recognize that for many Americans, a major barrier to saving for the future is the absence of a retirement savings program at their place of employment which is why we have been strong supporters of a Secure Choice Retirement Savings Program.
Secure Choice addresses this problem by creating an automatic-enrollment savings program, which will allow workers to easily set aside a portion of every paycheck, to help them build their savings. The simple fact is that workers who have access to an auto-enrollment plan are 15 times more likely to save for their future.
The program was outlined in a bill introduced in the California State Legislature by Senate President pro Tem Kevin de León, which is based upon recommendations from California State Treasurer John Chiang and the Secure Choice Retirement Savings Investment Board. Governor Brown signed the bill in late September. SB 1234 establishes an automatically-enrolled savings program for private-sector workers whose employers do not offer a retirement plan. Secure Choice will help millions of workers improve their financial security by offering them a low-risk, low-cost and portable savings plan. This innovative approach is being watched nationwide as a template for improving retirement security for millions of Americans.
It is also critical to note that Secure Choice would not have passed without the grassroots efforts of our members, volunteers, who helped to make this important legislation a reality.
Learn more about the Secure Choice program at:
http://securechoiceca.aarp.org/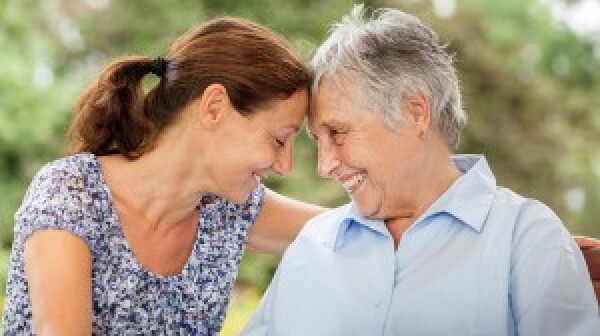 Seeking Volunteers to Spread the News about the New Hospital and Family Caregiver Law
By Nina Weiler-Harwell, ASD Communitynweiler@aarp.org
On January 1, 2016, a new, common-sense measure protecting California's 4.4 million family caregivers became law. The Hospital & Family Caregiver Law helps family caregivers by requiring hospitals to:
Provide patients the opportunity to designate a family caregiver when admitted
Keep the caregiver informed about their loved one's discharge plans
Provide education and instruction, when appropriate, of aftercare tasks – such as medication management, wound care and other tasks that the family caregiver will perform at home.
AARP California State Office staff is working with a growing cadre of caregiving volunteers to get the word out about this new law. A dozen volunteers have already been trained to present to local organizations about the new law and to answer questions about local services for caregivers –and you could easily be one of them!
We are seeking additional community-based volunteers throughout the state to make connections with local organizations to tell them about the Hospital and Family Caregiver Law. AARP staff will provide you with training, coaching and caregiving informational materials that will enable you to make local presentations in your community. As with any AARP volunteer position, expenses for travel to and from speaking venues will be paid.
One example of the collateral our trained volunteers can distribute at these events is a "wallet card" that can be placed in a caregiver's wallet as a reminder of the new protections available to California's family caregivers. A downloadable version can be found here: (Insert website)
This is an excellent opportunity to communicate with local organizations about the work AARP does every day to support family caregivers, and to show how AARP is fighting for a better life for all Californians.
If you wish to be part of the caregiving team, please contact Nina Weiler-Harwell at
nweiler@aarp.org
, or 916-556-3027, or Antoine Cook,
acook@aarp.org
, 626-585-2608.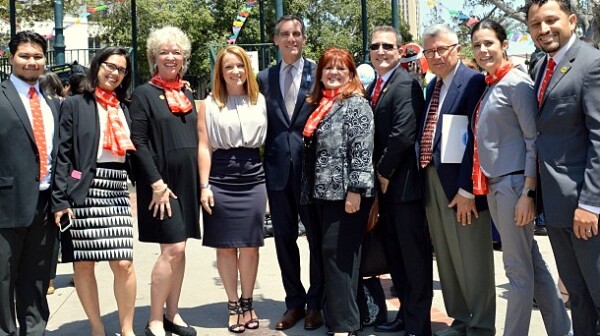 Working Locally To Create Livable Communities in California
By Christina Clem, ASD Community
cclem@aarp.org


We all deserve to feel good about where we are in life and to embrace our own aging. Here in California, we see incredible opportunities to change the perceptions of aging by developing our cities and towns into even greater places to live our best lives.

As a matter of fact, the staff and volunteers of AARP are working hard at the local level to help California cities become more age friendly. Over the past year, our AARP Network of Age-Friendly Communities Program in California has quickly taken off. To be accepted into the Network, a city or community must commit to undertake a five-year cycle. The first two years are dedicated to assessing the current age-friendliness of a city; identifying gaps in needs and services and creating a three-year age-friendly plan. The remainder of the cycle is spent continually assessing and improving the age-friendly plan which includes involving older residents in a meaningful way.

The Network is an affiliate of the World Health Organization's (WHO) Age-Friendly Cities and Communities Program, an international effort launched in 2006 to help cities prepare for rapid population aging and the parallel trend of urbanization. Communities in more than 20 nations are participating. While the focus is older residents, the strategies and outcomes promoted in via the program will result in communities that work for people of all ages.

In November 2014, San Francisco became the first city in the state to join the Network. Since then we have welcomed West Sacramento, San Diego County, West Hollywood, the City and County of Los Angeles, Saratoga and Chula Vista. And with those valued partnerships in place, we're committed to continuing our work with mayors, city council members and a vast array of community leaders.

San Francisco (Nov. 2014) – San Francisco is making great progress. They are in the final stages of editing their 3-year plan prior to submitting to AARP and WHO for approval. The city is currently conducting a round of interviews with subject matter experts to ensure their proposed plan is not only comprehensive but achievable.

West Sacramento (June 2015) – In June, the city convened their first Age-Friendly Steering Committee meeting, which is comprised of city councilmembers, commissioners from various departments and older adult advocates – all residents of the city. These meetings will be held bi-monthly and are open to the public to encourage civic participation from community residents.

West Hollywood (April 2016) – With a 5-year strategic plan already developed, West Hollywood's public officials have made significant progress in identifying the needs of their older residents. They have also incorporated the needs of two large city populations – their LGBT and Russian-speaking residents. The California office is working with the city to establish milestones and measurable outcomes to prepare the plan for submission to AARP and WHO.

City and County of Los Angeles (May 2016) – Unique in its size and complexity, the city and county of Los Angeles took a different approach when joining the Network. While following the requirement of AARP Network of Age-Friendly Communities, the Los Angeles area has established a coalition of partners and has dubbed their effort the Purposeful Aging Age-Friendly initiative that unites public and private leadership, resources, ideas and strategies. Partners include AARP, the County of Los Angeles Community and Senior Services (CSS), the City of Los Angeles Department of Aging, the Milken Institute Center for the Future of Aging, the USC Leonard Davis School of Gerontology and the UCLA Los Angeles Academic Partnership for Research in Aging.

Saratoga (May 2016) – Remember the little engine that could? That is how we feel about Saratoga. Within two weeks of contacting the state office about joining the network, the city leaders have recruited their advisory committee, sent in their application for membership and will soon roll out a resident survey to identify gaps in needs and services.

San Diego County (June 2016) – The San Diego area has been pursuing livable community projects for decades and are often recognized as one of leading metropolitan areas in engaging in intergenerational work. The county has also done much of their age-friendly leg work by creating a Live Well San Diego plan that addresses many of the needs of older residents. AARP has also partnered with the county's Aging and Independent Services to conduct numerous listening sessions to engage residents directly and gather feedback to inform their plan.

Chula Vista (July 2016) – Chula Vista is comprised of four distinct communities, each with different aging needs. AARP is currently working with city officials to conduct a resident survey to gauge where residents rank the city in terms of age-friendliness. Their Healthy Chula Vista plan has already identified resident needs and can be used as the basis for their 3-year plan.

California cities face big hurdles – the most prominent are affordable housing and coordinated transportation. AARP is an organization of real possibilities because we believe that no one's possibilities should be limited by their age, and that experience has value. That's why the Network of Age-Friendly Communities makes such great sense. It's meant to help towns and cities become great places by adopting features like walkable streets, better housing and transportation options, as well as key services, all of which helps to ensure that more people participate in a full array of community activities.

Word of mouth is spreading. The state office has received inquiries from several additional cities across the state about joining the program. Engaging members and volunteers in these communities is imperative. For this to be a great state, more work will be done to give residents opportunities to live rewarding, productive and safe lives in age-friendly communities.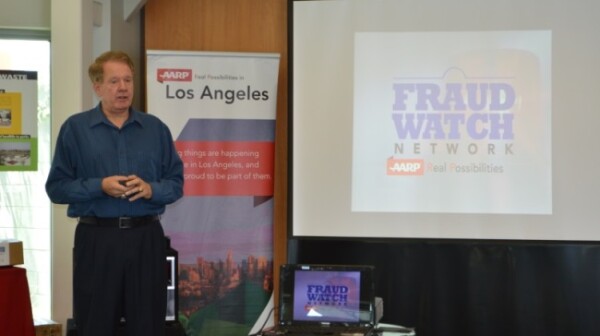 Volunteers Ken Allan and Chequita Falls of Southern California Honored as Fraud Fighters
AARP California and its Fraud Watch Campaign congratulates volunteer Ken Allan for his outstanding work in our fight against fraud, scams and identity theft. Ken is recognized for the many AARP Fraud Watch presentations he has made in Southern California, including AARP Shred fest, Bridge creek and Oakmont Retirement Communities. Ken has been a vital leader in the effort to arm Californians with information they need to protect themselves and their families from fraud and scams. AARP California congratulates and recognizes Ken as our Third Quarter, Fraud Fighter.

"I love serving my community this way," Ken said. "It is a delight meeting with seniors and hearing their stories. It shows that AARP's Fraud Watch Network is communicating with the very people hit hardest with the various scams out there."

Ken is a graduate of San Jose State where he earned a BA in Journalism. He is now retired after 41 years as a civilian sports broadcaster with the American Forces Network. For three years he was an US Army sports broadcaster with American Forces Network in Europe. He was also an umpired for division 1 college baseball for 30 years. Ken just celebrated his 50th wedding anniversary and he and his wife have lived in Diamond Bar for 35 years. The Allans have two adult daughters and four grandchildren.

"Our parents were right. Knowledge is power. A typical example is the IRS phone call scam. People have lost millions because they didn't know the IRS never conducts this type of business on the phone," Ken added.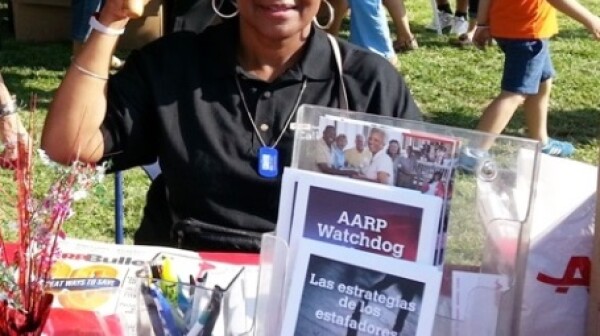 Chequita Falls from San Diego is the second 2016 Fraud Fighter recognized this year. Chequita has been an AARP volunteer for three years now and an AARP member since she turned 50 years old. She decided to work on the FWN campaign because she already works with seniors as a full time Manager of Meals-on-Wheels for Greater San Diego.

"Becoming a volunteer for The Fraud Watch Network program was a great fit for me and the work I already do with seniors. I also chose to volunteer with this campaign because fraud is a real concerned not only for seniors, but because it is such a universal topic, anyone, from any age and from anywhere can be a victim of that."

Chequita has shared her knowledge about how to prevent fraud with a series of nonprofit organizations on the South Bay, such as the National City Collaborative and others. She also includes fraud tips on a monthly newsletter she gives out to her clients and volunteers of the Meals-on-Wheels program.

This past July, several of Chequita's volunteers at the Meals-on-Wheels programs received the FWN's train the trainers so they too can go out and spread this message to others. "If we can stop one person from being scammed, I think that is an awesome thing. The more information we give to people, the better off they are," she said.

During the month of September Chequita and her team will participate in a conference for seniors called "Stronger Longer". "A good weapon to stay stronger longer is education and I will be sharing a 20 minute presentation in this conference on the FWN."

Chequita told us that the stories she hears from people the most when giving presentations are mainly about being scammed through phone calls. "This happens more often because seniors are more open and trusting of others and many times they are lonely and like talking to people on the phone." Chequita advices them constantly to be aware of this type of scams and that if something doesn't feel right just to hug up the phone and never give personal information over the phone.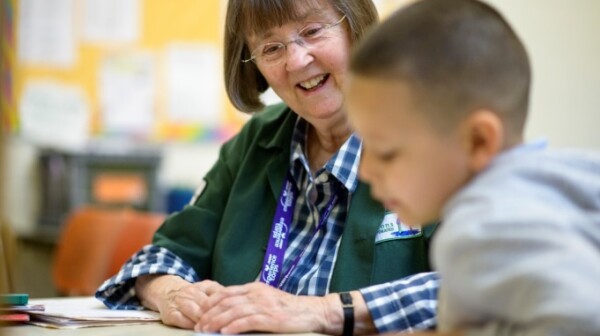 AARP Foundation Experience Corps Expanding in California – Volunteers Needed
AARP Foundation Experience Corps is looking for local volunteers, age 50 or older, to help children in kindergarten through third grade improve their reading skills. If a child can't read proficiently by the time they enter fourth grade, they are four times more likely not to graduate from high school. The statistic is even higher for children living in poverty. Alarmingly, only 28% of California's 4
th
graders are proficient in reading (2015 NAEP scores) and for children living in poverty, only 18% of California's 4
th
graders are reading proficiently (2015 National Kids Count). Experience Corps empowers older adults to serve in their community where they help to disrupt the cycle of poverty by tutoring children who aren't reading at grade level – guiding them to become great readers by the end of third grade.
The reading crisis statewide is evidenced by California's rank as 49
th
in the country for 4
th
grade reading (Studentsfirst.org). There are many factors that contribute to this reading crisis, as children today are faced with significant challenges that affect academic success. Some of these challenges include poverty, difficulty speaking or understanding English, learning disabilities, exposure to trauma, emotional behavior disorders, and lack of access or exposure to books. Experience Corps tutors create mentoring relationships as they build students' confidence and improve their academic performance.
By helping young students become better readers, AARP Foundation Experience Corps seeks to ensure a lasting legacy of strong futures, supported schools and empowered volunteers. In the 2014-2015 school year, 30,162 students were tutored by over 2,063 Experience Corps volunteers in 1,878 classrooms nationwide. Various studies have measured the outcomes of the Experience Corps program on children in grades kindergarten through third and found that students being tutored by an Experience Corps volunteer had 60% greater gains in key literacy skills in just one year. They also scored higher on reading assessments and had better behavior in school.
Not only is the Experience Corps model a proven intervention with measurable benefits for students, it also provides positive mental and physical health benefits for the volunteers who participate. According to a 2010 study done by the Corporation for National and Community Service, the U.S. Census Bureau and the Bureau of Labor and Statistics, older adults who engage in volunteer activities report lower mortality rates, lower rates of depression, fewer physical limitations, and higher levels of well-being. A 2007 report published by the Corporation for National and Community Service found that older adults who volunteered with two or more organizations experienced 44% lower mortality rates over a five-year period when compared to older persons who did not volunteer, taking other factors such as age, health, habits and social support into consideration.
Volunteering is especially helpful for older adults undergoing a transition such as retirement, the loss of a loved one, or moving. Civic engagement may be particularly helpful for older Americans dealing with a life stress or for those who are at-risk of being isolated. One study found that bereaved individuals who engaged in volunteering activities to help others experienced a shorter course of depression than those who did not volunteer (Brown, Brown, House, and Smith, 2008). Another study about Experience Corps showed volunteers experience increased brain activity as measured by functional MRIs and the preservation of cognitive function, as compared to a control group (Carlson et al., 2008; Carlson et al., 2009). A more recent study showed that after two years, volunteers from Experience Corps had reduced levels of depression and functional limitations, while the similar aged control group had increases in both categories (Hong and Morrow-Howell, 2010). In summary, volunteering is good for one's health!
Most Experience Corps programs are run during the traditional school day in collaboration with classroom teachers. However, more and more programs are starting to see the opportunity that exists by providing Experience Corps tutoring in the expanded school day as well. As the host agency in San Diego, the Children's Initiative is working with the expanded learning programs of local school districts to bring the Experience Corps model into the forefront of the after school arena. This will open up even more ways to maximize the time students are on campus. Some students get dropped off before 7am and are there until after 6pm. Extending Experience Corps tutoring into the after school hours not only utilizes the after school time to provide much needed literacy support, but also gives volunteers another option for their tutoring schedule. Tutors still work in collaboration with each school's literacy teacher and local program staff so that they are fully supported throughout their volunteer process.
With program sites in many cities across the state, including a few new ones this year, AARP Foundation Experience Corps is leading the way in California! Programs in San Diego, the Bay Area, Marin and Sacramento are recruiting volunteers to join their Experience Corps teams. You have what it takes to change a young person's life – and maybe even your own. Volunteers are asked to commit to a minimum of four hours a week, attend required trainings, and agree to a background check. Training, ongoing support and all supplies are provided.
Go to
http://www.aarp.org/experience-corps/
to find the site nearest you and attend an upcoming information session to learn more about becoming an Experience Corps volunteer.
Get to know the new AARP staff members
A word from our State Director, Nancy McPherson: "The AARP California State Office is continuing to build a professional, high-performing, and inspiring team. I am so pleased to introduce the newest members of the AARP California family, who are helping to make this vision a reality:"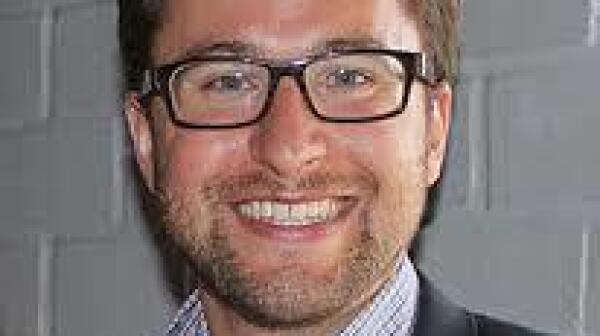 David Azevedo joined the AARP CA team in June 2016 as a Senior Program Specialist for the Los Angeles Metro Team in Pasadena. David was the Project Development Manager for the Los Angeles Unified School District (LAUSD) Information Technology Division where he managed a 10-member team of application developers, system architects, and business analysts. Prior to this role, he served as the District Director for LAUSD Board Member Tamar Galatzan where he was the chief representative for Ms. Galatzan to community groups, Chambers of Commerce, and Neighborhood Councils, and elected officials. David also directed constituent services for the Board Member, both mediating and resolving constituent cases. In this role, David organized town halls and community events, developed community coalitions on policy campaigns, and wrote talking points for media and public appearances, and op-eds for newspapers and community newsletters. David's work experience also includes serving as an Audit/Fraud Investigative Assistant for the Inspector General's Office of the Los Angeles County Metropolitan Transportation Authority, and the campaign manager for a Pasadena mayoral candidate.

David earned a BA in political science with honors from Loyola Marymount University and a MPA from USC. He was a Mansard Fellow and Parliamentary Researcher for the Parliament of the United Kingdom and an Arabic Language Scholar in Tunis with the U.S. Department of State. David currently volunteers with the USC Sol Price School of Public Policy Mentor Program, and is a Governing Board Member of the New Leaders Council Los Angeles.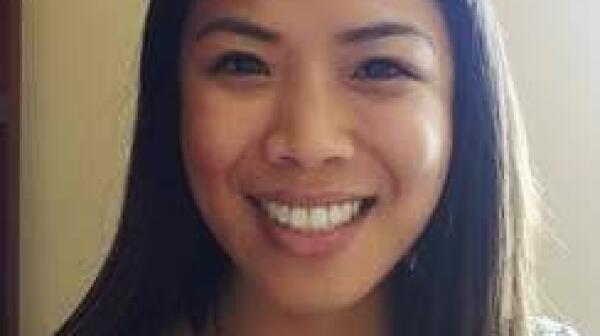 Jennifer joined the AARP CA team in May 2016 as a Senior Program Specialist in Sacramento. Born and raised in the Bay Area, Jennifer moved to the state capital city in 2011 to pursue her interests in government and policy. Prior to joining AARP, Jennifer worked as a Field Representative and Caseworker for Congresswoman Doris Matsui, who represents the 6th congressional district in Sacramento. Before that, she worked as a Program Coordinator for the nationally recognized Capital Fellows Program. She received her Bachelor's degree in Political Science from California State University, East Bay, and her Master's degree in Public Administration and Public Policy from Sacramento State University. In her free time, Jennifer also enjoys being involved in the community. She has served as a volunteer coach for the Junior Giants of Sacramento and currently serves on the Board of Directors for the Philippine National Day Association, a nonprofit organization that provides scholarships and leadership opportunities to outstanding youth leaders in Sacramento.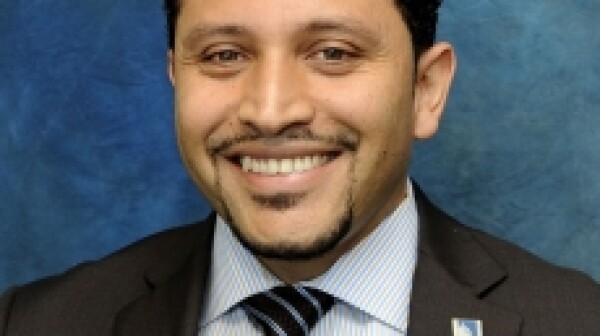 Luis Campillo joined the AARP CA team in November 2015 and serves as the Manager for the Los Angeles Metro Region based in the Pasadena office. In this role, Luis leads a cross functional team focused on positioning AARP as a trusted resource and leader in local communities, with elected officials (state and local), business and non-profit organizations. He leads the LA team of staff and volunteers in continuing to build and strengthen AARP's multicultural and member relevance through advocacy, community outreach, volunteer growth through meaningful engagement, and greater brand awareness. Luis also has statewide matrix responsibility for CA's volunteer management and engagement strategies.

Luis is a public and government affairs professional with over 10 years of public and private sector experience. He is skilled at working with all levels of government including congressional offices, federal agencies, and state and local officials. He has experience engaging multicultural third-party groups on a variety of public policy issues including media, telecommunications, and technology. He is accomplished at leading volunteer organizations in developing and executing engagement strategies and professional development programs.

Luis serves as the Treasurer of the Congressional Hispanic Caucus Institute (CHCI) Board of Directors, and is a board member of Brown Club of Los Angeles. He previously worked at the Ibarra Strategy Group, a leading government relations and public affairs firm in Washington, DC, before moving to Los Angeles to be closer to family. Luis also served in the Office of U.S. Senator Jack Reed (Rhode Island) and National Immigration Law Center.

Luis holds a Bachelor's Degree in Political Science from Brown University and an MBA from Johns Hopkins Carey Business School.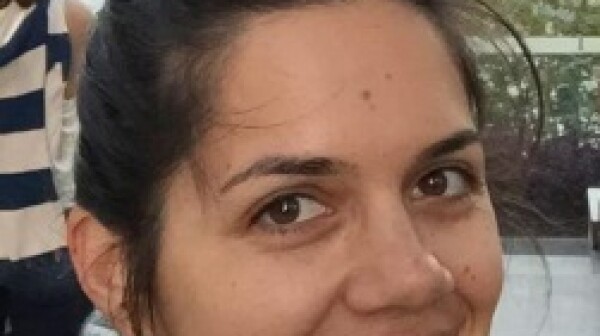 Joy Hepp joined the AARP CA team in November 2015 and serves as an Associate State Director – Communications in the Los Angeles (Pasadena) office. Joy is a seasoned strategic communications and marketing professional with a proven track record of developing high-performing social media accounts and campaigns. Her background includes developing content for print, web and social media. Throughout her working experience, Joy has continued to provide freelance and consulting services focusing on marketing and editorial accounts for a range of clients with work appearing in CNN.com, Latina Magazine, LAist and HealthyCAl.org.

Joy is proficient in Spanish and has taken opportunities to further strengthen her Spanish through language immersion programs and living for two years in Mexico. While in Mexico, she served Guadalajara's retired expatriate community as a writer for The Guadalajara Reporter newspaper. Her experience includes reporting on issues faced by the U.S. Latino population including worker rights, fair housing and education. Joy holds a Bachelor's Degree in Journalism from Arizona State University and a Marketing Strategy Certificate from Cornell University.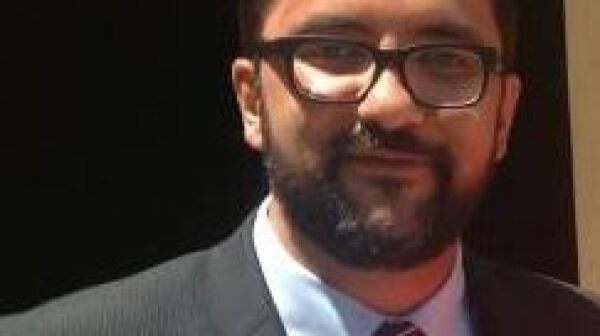 Rafi Nazarians joined the AARP CA team in September 2016 as Associate State Director- Community in Los Angeles (Pasadena) office.

Rafi worked for United States Senator Barbara Boxer for many years in various capacities, most recently as Senior Field Representative. Rafi was responsible for Los Angeles, Ventura, and Santa Barbara counties, serving as the Senator's representative to local governments, elected officials, businesses, non-profit organizations, and constituents. He advised the Senator and her staff in Washington, D.C., and collaborated with communities on federal legislative needs and priorities. Rafi also served Senator Boxer as statewide liaison for areas of health, public works, and LGBT issues.

More recently, Rafi worked in the health care sector, serving as the first ever Manager of Government Affairs and Community Partnerships for a federally qualified health center. In that role, he was responsible for government affairs, advocacy, and policy efforts at the local, state, and federal levels. Rafi was the primary liaison to government officials, community based organizations, and other key stakeholders. Rafi also served as a community relations consultant for large infrastructure and public works projects, worked in arts philanthropy, and has volunteered on numerous local and federal election campaigns.

Rafi holds a BA in Political Science from California State University, Los Angeles and he is currently pursuing an MS in Public Administration from the same university.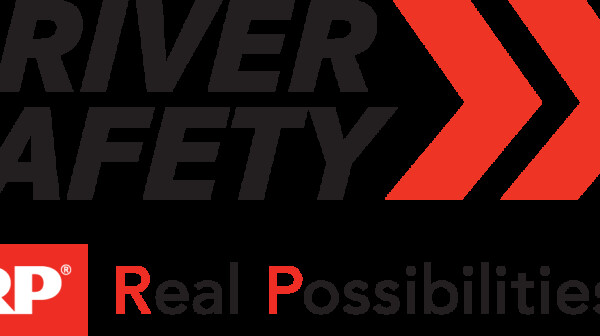 Volunteer with Driver Safety and/or Tax-Aide
The California AARP Driver Safety (ADS) Program is looking for volunteers. If you are looking to volunteer in your local community to help keep drivers, roads and communities safer for all Californians then the California ADS Program is an option for you. The Program is looking for passionate and dedicated individuals to take part in volunteer opportunities such as Data Manager, District Coordinator, Zone Coordinator and Course Instructor. If you are interested in signing up or learning more please visit
www.aarp.org/DSvolunteer8
.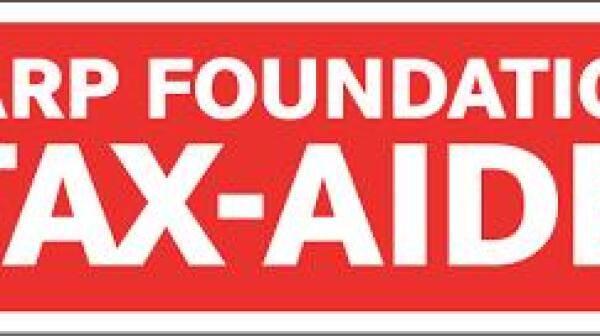 Before you know it, Tax Season will be upon us once again. You've got what it takes to be part of AARP Foundation Tax-Aide! AARP Foundation Tax-Aide is the nation's largest volunteer-run tax preparation and assistance service. And we want you to join us.
We started in 1968 with just four volunteers at one site preparing 100 tax returns.
AARP Foundation Tax-Aide
now involves more than 35,000 volunteers and serves 2.6 million taxpayers annually at more than 5,000 sites nationwide. In fact, we're one of the most effective volunteer programs in America.
But even though we've grown a lot, we're still all about the grassroots. You'll be helping people in your own community with a much-needed service that's free, individualized and has no strings attached.
Sign up in your community today. No tax experience needed, only a desire to help. Do apply to be a volunteer today!
Check out our Programs and Events taking place in your community during the last quarter of this year
For events taking place in Los Angeles, please check:
www.aarp.org/losangeles
For events taking place in Sacramento, Bay Area and San Diego, please visit:
www.aarp.org/california
Para información en español, por favor visita:
www.aarp.org/quepasala