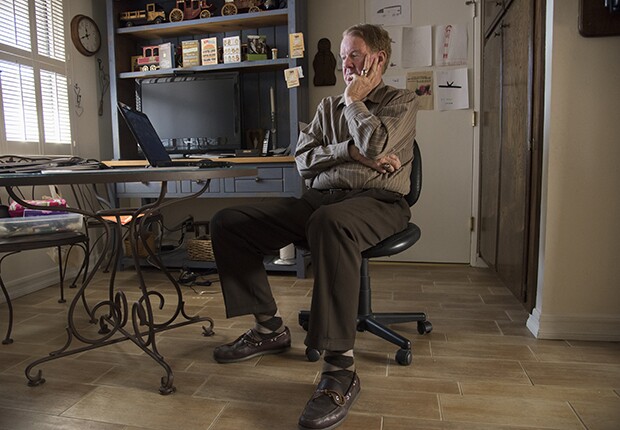 By Laura Mecoy

Ken Allan, 77, thought he knew all about online fraud because he teaches a class about it for AARP California. But he still fell prey to a scammer when he mistakenly visited a bogus website and called the number there to get his Garmin GPS unit updated.

He gave the man on the phone access to his credit card and his computer, leading to nearly $300 in fraudulent charges and a pesky virus on his computer.

"My big mistake was not typing in Garmin.com," said the retired sportscaster from Diamond Bar. "Instead, I just typed in 'Garmin' and up popped a website that looked very official."

Allan is not alone. In a recent AARP survey of internet behavior in California, 49 percent of respondents said they had found fraudulent charges on their credit cards.

More than half of Californians age 50-plus also think their information is less secure today than five years ago.
"Fraud is becoming more sophisticated," said Strat Maloma, AARP California senior program specialist and its Fraud Watch Network lead.

"Scammers are targeting older adults more, and with so many people connected through phones and computers, there are more opportunities for fraud," Maloma said.

AARP is training volunteer Fraud Fighters, like Allan, to offer free literature and community presentations on fraud and scam prevention.

Watchdog videos

AARP California also has a series of video public service announcements about some of the most common scams. The warnings appear on the association's Facebook and other social media sites.

The videos focus on common schemes, such as door-to-door home-repair scams that dupe victims into paying upfront for work that is never done and fraudsters who obtain people's account numbers by falsely claiming to be depositing funds from a government agency or grant.

AARP California is also developing a video about the grandparent scam, in which a caller claims to be a grandchild or other relative in distress and in need of money immediately.

In time for Veterans Day, Nov. 11, there will be videos demonstrating how to avoid common scams targeting veterans, including fake charity requests.

Allan, who got snared by the GPS scam, said knowing how these schemes work can make a difference.
He became suspicious as he listened to the con artist on the phone; then he checked his credit card, where he found the fraudulent charges.

The credit card company removed the amounts, so his mistake cost him only $100, to eliminate the computer virus. Allan also alerted Garmin, and he said the counterfeit website no longer pops up when he searches for the GPS system.

"These guys are really good at what they do," he said. "This is what puts food on their table—scamming people—and they steal billions every year."

For AARP Fraud Watch Network tips and free alerts, visit fraudwatchnetwork.org or call 877-908-3360 toll-free. The website also features a map that shows frauds across the country, so consumers know what to watch for and can warn others.

Laura Mecoy is writer living in Los Angeles.