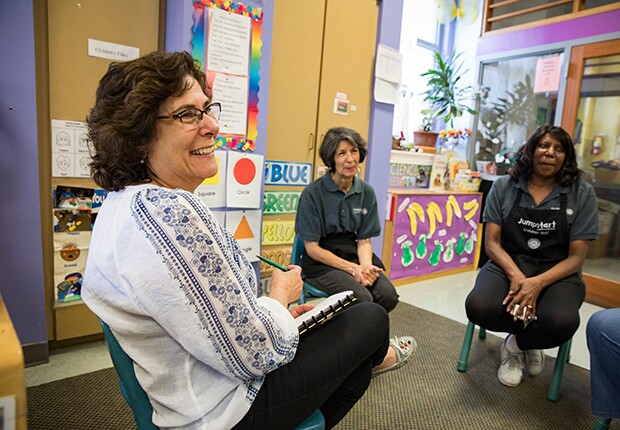 By Rita Beamish

Lydia Sussman knew she wanted to volunteer in retirement, preferably in a role taking advantage of her specific skills. She had been a teacher for 33 years in Los Angeles public school programs for deaf and hard-of-hearing children.

That made her a good fit for Jumpstart, a nonprofit that helps provide underserved youngsters with language, literacy and developmental skills to get ready for kindergarten. She was tapped to mentor the "grandparent" volunteers who teach the Jumpstart curriculum to preschoolers.

"It was right up my alley," said Sussman, 65, of Studio City.

Around the same time, another nonprofit also caught her interest—Imagine LA, where she signed up to mentor a young mother who, after a life in foster care, had few skills to parent her own 3-year-old.

Both organizations are partners in Generation to Generation, a new national campaign that seeks to mobilize 1 million volunteers age 50-plus to help children thrive.

The initiative was launched by a nonprofit, Encore.org, which aims to tap the human capital of older adults and harness the important contributions they can make to children.

The Los Angeles pilot program (Gen2Gen LA), with a steering committee of community leaders, educators and service groups including AARP, is a partnership of organizations that serve young children at sites such as libraries and early learning centers.

The goal is to recruit 150 volunteers this year and affect the lives of 1,200 children ages 8 and under, starting in the Los Angeles neighborhood of Boyle Heights.

Research shows impact
The campaign is based on striking evidence about the mutual benefits of intergenerational mentoring. Research has shown that children participating in mentoring programs improve in school achievement, reading scores and social adjustment.

At the same time, older volunteers gain a heightened sense of well-being when they work with kids. Studies have linked volunteering to reduced risk of hypertension, along with enhanced cognition and lower mortality.

"A lot of retiring individuals have so much talent," said Celia Ayala of Encore. "We have this aging population that is still very vibrant and vital, and they want to give back to the community. It gives them another chapter in their lives."

For Lanny Levine, 66, of Los Angeles, volunteering with Jumpstart is a chance to use his business and nonprofit management background to help the organization expand. Levine, who still runs his international supply consulting business, was moved when he saw the passion and enthusiasm at a meeting of Jumpstart volunteer mentors, many from difficult backgrounds themselves.

"That motivates me," he said. "Part of it is a sense of accomplishment. Part of it is I like to be busy and to contribute. I get more out of it by contributing and feeling good about myself."

Levine and Sussman will help Jumpstart grow, with more children and mentors, said Christine Manley, program director.

Sussman finds that volunteering is energizing. "It is keeping me young. It keeps me out in the world. I feel I am constantly learning," she said.

To learn more, go to bit.ly/laworks_gen2gen.

Rita Beamish is a writer living in San Mateo, Calif.