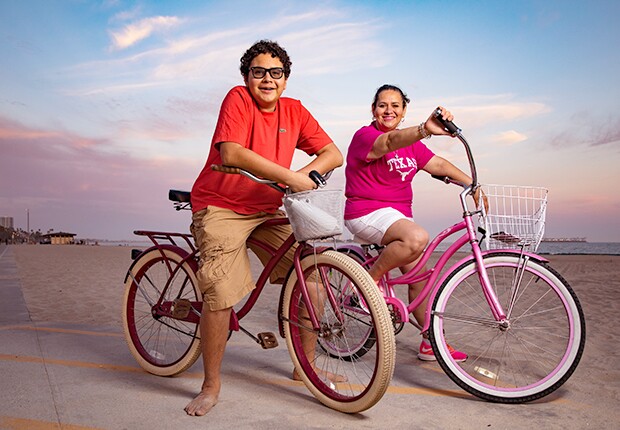 By Rita Beamish

Patricia A. Gonzalez-Portillo loves her California life, her friends and her home in Long Beach. But at 51, working as a national director for a nonprofit and married to a video-industry entrepreneur, she knows that finances ultimately will force them to leave and retire in Texas.

Gonzalez-Portillo would rather stay, but Alan, her 15-year-old son, is bound for college in a couple of years. With a mortgage, the boy's tuition at a private high school and other expenses, it's been hard to save for a comfortable future.

"It's not a daily struggle. It's a savings struggle," Gonzalez-Portillo said. "Once my son goes to college, will we have enough money for retirement? Everything in California is very expensive. We're not going to have a comfortable retirement here."

Skyrocketing costs of living, and housing in particular, are sparking anxiety across the state about savings and retirement, an AARP survey found.

More than half of working Californians ages 36 to 70 share that concern. One in 5 say their finances are so tight they could not afford an emergency costing more than $1,000. Half do not have the money for an emergency expense over $5,000.

California's Secure Choice program, scheduled to begin enrollment in late 2018, is one option that will help residents save for retirement at work. AARP is working with the state treasurer and others on the program that will give over 7 million Californian workers who do not have an employer-sponsored plan a way to save for their future.

The financial stress runs deep. Three in 5 residents say high costs of living have led them to at least consider moving to another state. Census surveys show that people leaving California commonly cite housing as a reason.

Impact on homebuyers
The 2016 AARP survey asked how Gen Xers, ages 36 to 50, were preparing for retirement, and found that this group felt more vulnerable to rising real estate costs that are pricing some homebuyers out of the market.

The survey found that 63 percent of Gen Xers think elected officials should support increasing access to affordable housing, especially with 18 of the nation's 25 most expensive real estate markets located in California.

"The role of housing in cost of living and family budgets looms very large," said Sarah Bohn, an economist and researcher with the nonprofit Public Policy Institute of California (PPIC). "Housing costs across the state are at or above the median for the whole United States."

Wages in the state outpace earnings elsewhere, she added, and workers have access to innovative job markets, but higher expenses soak up potential savings.

California homeowners spend a disproportionate share of their income on housing—about 44 percent higher than the nationwide median, PPIC found.

Half of California's non-homeowners fear they will never have the money to own a home, and renting is nearly as stressful, according to AARP's survey.

Six of the nation's 11 most expensive large rental markets are in California, with the crisis most acute in the San Francisco and Los Angeles areas, according to PPIC.

In the prosperous San Francisco Bay Area, people commute for hours each day in snarled traffic, unable to afford housing anywhere near work. San Francisco rents have escalated 44 percent in just a couple of years.

State lawmakers have been exploring numerous legislative solutions to address the need for affordable housing.

"AARP will be working closely with communities and elected officials to determine solutions and possible legislation to help turn this financially devastating trend around," said Nancy McPherson, AARP California state director.

AARP will hold informational meetings this month in the Los Angeles area on the housing crisis. For details, go to aarp.org/losangeles.

Rita Beamish is a writer based in San Mateo, Cal.