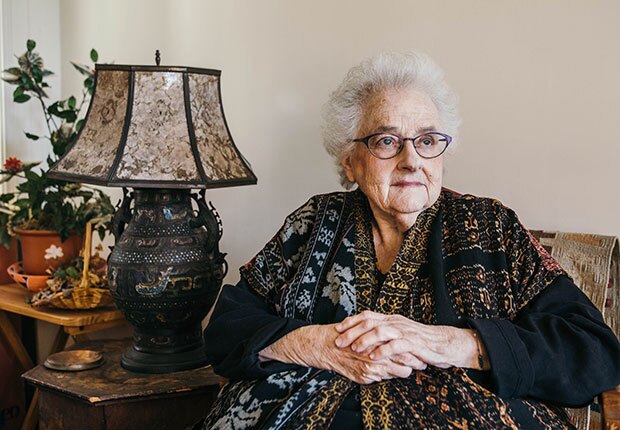 By Julia Yarbough

June Fisher, 84, laments that she can't negotiate the park steps on Billy Goat Hill, one of the most beautiful walks in San Francisco.

"There are no handrails on those steps," said Fisher, a physician specializing in internal medicine and occupational health. "It's something that I will never be able to do until they put handrails in."

At home, she has difficulty reaching cabinets, storing belongings and cooking meals. "One of my biggest problems is reaching. I've shrunk a great deal, so it's very hard for me."

Fisher is researching technological help for the "mundane day-to-day tasks" of living.

"You should think about design for aging early on, before you age," she said. "How can you do that if you don't have the aged involved?"

In 2016, she helped teach a course at the Jacobs Institute for Design Innovation at the University of California, Berkeley, focusing on design for older adults.

The course's lead faculty member, Dan Gillette, brought together 15 older residents and 16 undergraduate design students to create effective solutions for people as they age. "We had projects that were focused on social isolation, signage, bus stop design and transportation," he said.

Gillette is a senior research scientist and program codirector at UC Berkeley's Center for Information Technology Research in the Interest of Society (CITRIS). The center works with researchers, more than 60 start-up companies and organizations such as AARP, seeking answers to a key question: "How can technology evolve for social good?"

Putting devices to work
David Lindeman, director of the CITRIS health initiative, regularly provides AARP with the latest information on technological advances that help older adults.

The number of Americans 65 and older is projected to double from roughly 46 million in 2016 to more than 98 million by 2060. By 2030, California's 65-plus population will be roughly 11 million.

"You have a greater number of people aging in place," said Lindeman, a member of the AARP California Executive Council. "Technology can be a huge help in maintaining independence, offering lifelong learning, wellness and healthy aging."

He points to emerging technologies, such as interactive devices like Amazon's Echo and apps like WellDoc's BlueStar, a diabetes management program.

The use of sensors in wristwatches or embedded in clothing to monitor vital signs is increasing. There is also progress in robotics assisting with mobility, driverless vehicles and drones delivering packages to homebound or rural residents.

Robotics includes the use of artificial intelligence to gather data. New applications employ in-room video at managed care facilities to monitor whether a patient has fallen.

SafelyYou, a program using cameras and artificial intelligence, is currently operating in 11 managed care facilities in California. It has already led to fewer falls, said CEO George Netscher.

"There are a lot of falls that happen that folks just don't know about," he said. "If you can find out about those falls before a more serious fall happens, it improves the chances to make changes before you have a painful and expensive situation."

In California, the benefits of new technology and social innovation aren't limited by age.

"We're at the heart of the technological innovation space," Lindeman said. "This will only be more advantageous for older adults as technologies improve."

Julia Yarbough is a writer living in Chico, Cal.