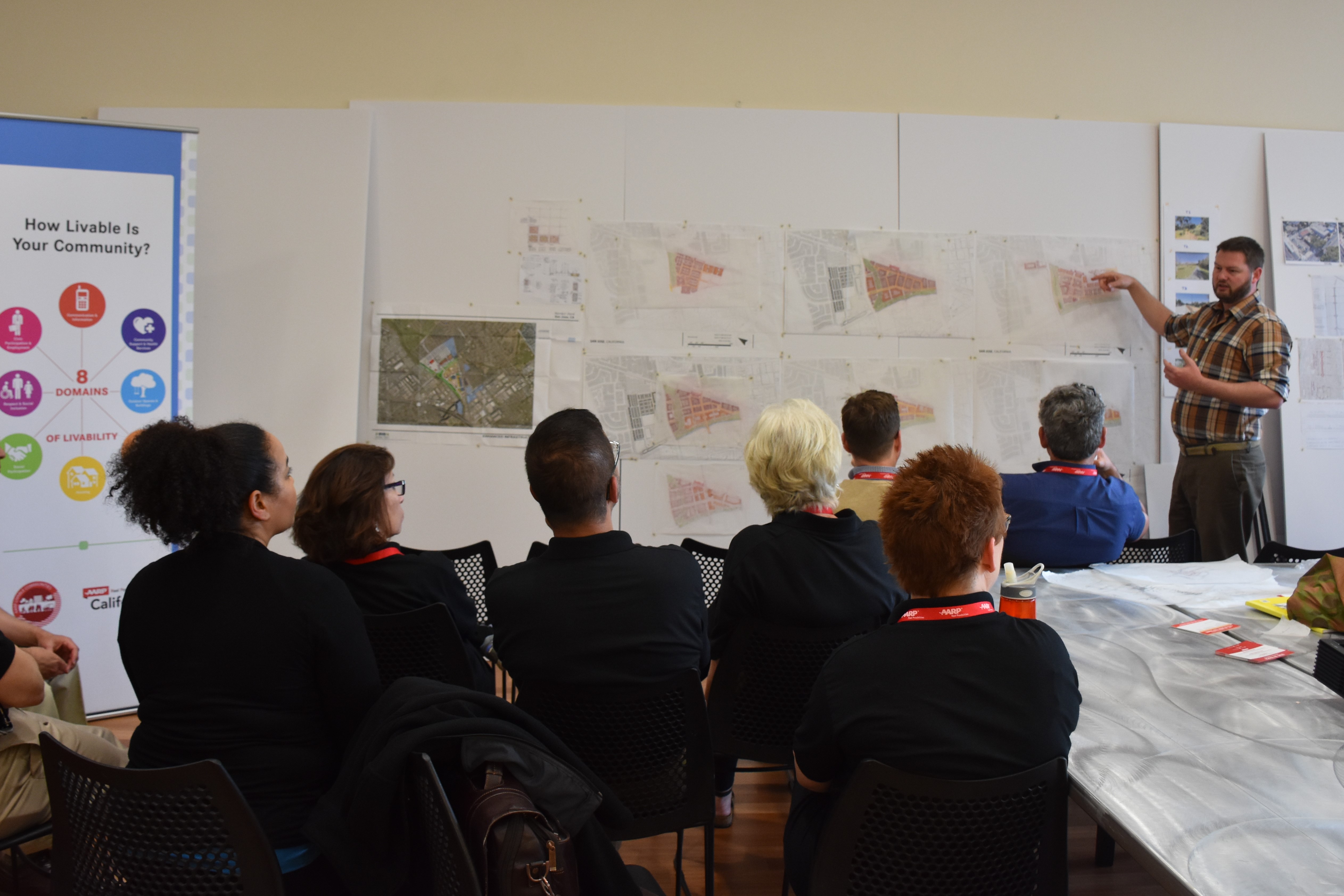 Apply today! Be a voice for older adults in your community.


Every day local and state leaders make critical decisions that shape the communities we live in. These decisions impact our neighborhoods for years to come, and it is vital that all voices are represented. If you are a civic minded individual looking to get involved and serve as a voice for people ages 50-plus in your community, we encourage you to apply to the AARP California Planning Academy! This free, educational program will equip you with the knowledge, skills, and connections to be an impactful leader in your community's planning efforts.
The application period is open from May 15 – June 30, 2023.
Participants of the AARP California Planning Academy will:

Learn local planning processes, principles, and practices, and how planning shapes our communities' today and in the future.
Learn about issues affecting older adults, and how local planning efforts can be leveraged to enact meaningful and positive change.
Learn the key components of an age-friendly community.
Be prepared to serve on a local board or commission as a voice for people ages 50-plus.

By participating in Planning Academy, you commit to:
Completing 8 virtual sessions that will take place in fall of 2023.
Identify open opportunities within your local communities where you are interested in serving on a board, committee, and/or commission.
Engage in and inform public planning processes on issues such as housing, transportation, civic engagement and so forth.
No prior planning experience is required to participate in the Planning Academy, although professional planners are welcome. The Planning Academy is free, but space is limited. You will be notified by an AARP staff member of your acceptance to participate in the academy by late-July 2023. Participants will be selected based on their application.

Planning Academy FAQ:
How many sessions are there?

There will be 8 virtual sessions, including a closing session and celebration. Each session will take place on Wednesday evenings from 6-8 p.m. (PT). The first session will take place on August 23rd with the remaining sessions following weekly after that (schedule permitting).
How much planning experience do I need?

None! We are looking for people who are curious and interested about planning and civic engagement and who want to make an impact in their communities.
What if I don't know of a board/commission I want to serve on?

We strongly encourage you to get to know the local planning bodies in your community, but it is not a requirement that you immediately serve on a board.
What if I miss a session?

By participating in this program, we hope you can commit to joining all 8 sessions. However, we do understand that emergencies and other conflicts may arise.
Will the session be recorded?

We will record all the sessions; however, it is strongly encouraged that you participate live in order to get the best experience from this program.
What is the application process?

All applications must be submitted by June 30th. The application can be completed here: https://www.surveymonkey.com/r/TN2TVQM.
All applicants will be asked to confirm their interest by participating in a short follow-up interview.
Selected participants will be notified by an AARP staff member in early August.
What is the selection process?

We are looking for a variety of things in applicants, including but not limited to; commitment, regional diversity, interest/identified opportunity in civic space (boards/commissions, etc.)
How many people are selected?

We are hoping to have a smaller inaugural cohort of participants to ensure strong opportunities for engagement. The final number will be determined after our screening process.
How much does it cost to participate?

The Planning Academy is free.
What are the participation requirements?

All selected participants will be asked to attend and fully participate in the 8 weekly sessions, as well as complete any pre-readings and prep work in advance of sessions.
What happens after the program ends?

We want the cohort to stay involved and be willing to participate in ongoing learning sessions, as they are scheduled. Participants will be asked to register as an AARP volunteer and participate in networking opportunities with the cohort.
Is this only open to AARP members?

No. The Planning Academy is open to the general public.
Who will lead the weekly sessions?

AARP CA is the lead organizer of this Planning Academy and will facilitate and moderate the sessions each week. We will be partnering with several issue and subject matter experts to present on the various topics. This includes professional planners and urban designers, commissioners, non-profit leaders, and more. The final list of presenters will be made available to participants prior to the start of the academy.
For additional questions, please contact Rachel Zaiden at rzaiden@aarp.org.