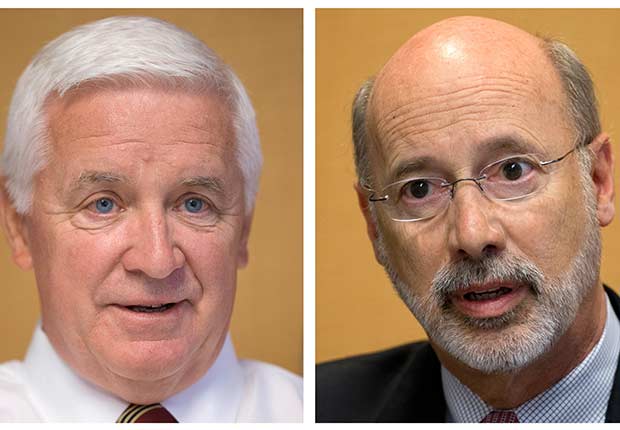 Por Hilary Appelman

Los impuestos sobre la propiedad y el gasto en salud se encuentran entre los principales temas que enfrentarán los votantes de Pensilvania el 4 de noviembre, cuando tengan que elegir entre Tom Corbett, republicano y actual gobernador, y su contrincante demócrata, Tom Wolf.

AARP Bulletin consultó a ambos equipos de campaña sobre temas de interés para los votantes mayores. Ambos equipos respondieron por correo electrónico.
Impuestos sobre la propiedad. El gasto en educación ha sido un tema candente y es de vital importancia para muchos adultos mayores de Pensilvania porque incide directamente en los impuestos sobre la propiedad.

Más del 60% de los distritos escolares del estado han aumentado los impuestos sobre la propiedad en los últimos tres años. El año próximo, cerca del 80% planea aumentar los impuestos, según la Pennsylvania Association of School Administrators (Asociación de Administradores de Escuelas de Pensilvania) y la Pennsylvania Association of School Business Officials (Asociación de Funcionarios de Negocios Escolares de Pensilvania).

"El impuesto más odiado en Pensilvania es el impuesto sobre la propiedad", dijo el profesor de ciencias políticas Terry Madonna, director de la encuesta de Franklin & Marshall College. "No creo que haya ninguna duda", agregó, "de que los adultos mayores están verdaderamente enojados".

Corbett atribuyó los aumentos del impuesto sobre la propiedad a los crecientes costos de las pensiones de maestros y demás empleados públicos, y ha presionado para reformar el sistema de pensiones del estado, el cual, según él, podría "sepultar nuestro crecimiento económico y consumir los beneficios de nuestros adultos mayores". Asimismo, hizo un llamado por la creación de un plan estilo 401(k) para los futuros trabajadores.

Wolf, quien está a favor de un plan jubilatorio de beneficios definidos para los empleados públicos, dijo que el pasivo sin respaldo financiero se debe al incumplimiento de los pagos al sistema por parte del estado.

Dijo que la negativa de Corbett a gravar la creciente producción de gas natural de Pensilvania y sus recortes a los subsidios para la enseñanza forzó a los distritos escolares a aumentar los impuestos sobre la propiedad. Wolf respalda un impuesto a la extracción del 5% sobre la producción de gas y quiere que el estado aumente lo que destina al financiamiento de la educación. Corbett se ha opuesto a gravar la producción de gas, argumentando que afectaría el crecimiento del empleo.

Servicios basados en el hogar y en la comunidad. El estado asigna una baja prioridad a la provisión de servicios de apoyo a las personas que desean permanecer en su hogar a medida que envejecen.

"Tenemos que adoptar medidas para equilibrar el gasto estatal entre los hogares para el cuidado de adultos mayores y los servicios que las personas pueden recibir en sus hogares y en sus comunidades", dijo el gerente de defensa de derechos de AARP Pensilvania, Ray Landis.

Corbett inicialmente rechazó la propuesta de expandir Medicaid en virtud de la Ley de Cuidado de Salud a Bajo Precio (Affordable Care Act o ACA), la cual puede brindar cobertura para algunos servicios basados en el hogar y la comunidad. Pero, en agosto llegó a un acuerdo con el gobierno de Obama por un plan alternativo que depende de aseguradores privados para la provisión de cobertura de salud a quienes no tienen seguro.

Wolf apoya la tradicional expansión de Medicaid, y criticó a Corbett por establecer una comisión sobre cuidados a largo plazo en lugar de actuar. El propio plan de Wolf, "Pennsylvania Choice" (Alternativa Pensilvania) subiría el límite de ingresos para ser elegible para recibir servicios basados en el hogar y la comunidad.

Desregulación de servicios públicos. La legislación sobre servicios públicos propuesta es otro tema fundamental para los votantes mayores. Uno de esos planes terminaría con el actual sistema, bajo el cual el consumidor que no elige un nuevo proveedor de electricidad mantendrá automáticamente su proveedor tradicional, en tanto el otro plan desregularía el servicio telefónico.

Corbett no respalda esa legislación en este momento. Al respecto, su vocero, Chris Pack, señaló: "El gobernador Corbett cree que nuestros adultos mayores necesitan acceder a servicios eléctricos costeables, y que aquellos que dependen de ingresos fijos no deberían estar sujetos a aumentos de tarifas repentinos. Se necesitan más estudios para garantizar que las tasas sean más competitivas, de modo que no recaigan penurias indebidas sobre los adultos mayores de Pensilvania".

El vocero de Wolf, Jeffrey Sheridan, dijo que "cualquier cambio legislativo tiene que centrarse principalmente en proteger al consumidor". Wolf trabajaría con "actores clave para estudiar más profundamente estos temas y garantizar que cualquier cambio legislativo no resulte en problemas con la seguridad o el acceso al servicio para los residentes de Pensilvania".

Para más información sobre las posiciones de los candidatos estatales y federales, consulta la guía del votante disponible en aarp.org/yourvote. AARP no respalda a ningún candidato, no hace contribuciones a ninguna campaña ni favorece a ningún partido político.