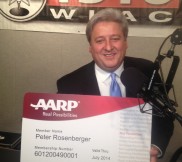 By Peter Rosenberger, a caregiver for nearly three decades, author and radio talk show host.
Peter has just joined the AARP generation and ranks, turning 50 in late July, and his birthday gift to us is starting a monthly blog for AARP Tennessee on "Care for Caregivers."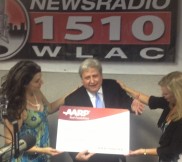 The Delta Doctrine

While flying Delta Airlines to Atlanta one day, I discovered that flight attendants state the best advice for caregivers – all day long. "In the unlikely event of the loss of cabin pressure, oxygen masks will drop from the ceiling. Securely place your mask on first, before helping anyone next to you who may need assistance."

That small directive, what I call "The Delta Doctrine," contains applicable wisdom for so many life circumstances - but probably none as poignant as for those of us serving as a caregiver for a chronically ill/disabled loved one. Compassion and love often mistakenly lead us to hold our own breath - while trying to help someone else breathe, but once we make that decision, it is only a matter of time before we find ourselves gasping for air. If we are unable to breathe, how can we help anyone else?

Yet, many of America's 65 million caregivers desperately try to assist a vulnerable loved one – while growing dangerously close to "blacking out" themselves. Grabbing the mask first is not a sign of selfishness, but rather the whisper of wisdom. Unfortunately, that soft voice is hard to hear over the often-deafening cries of someone we love.

Those who "push the wheelchair" serve as the critical team player for a suffering patient. Sadly, few know how to create a sustainable care structure for themselves. Simply getting sleep and eating a good diet is not enough. Caregivers must remain healthy physically, financially, emotionally, professionally, and spiritually - but that is impossible to do without reaching for the mask first.

Help is available, but a caregiver must be willing to accept that help – while tuning out the fear (and sometimes panic) that arises during high stressful moments. On a plane, one must simply reach for the mask dangling from the cabin ceiling. For caregivers, however, reaching for help looks quite different. Most of the conflicts with caregiving involve some sort of relationship dynamic. If the patient is bleeding or injured, then the crisis is medical which temporarily supersedes relational issues. A medical emergency involves a different set of skills and needs - generally referred to as triage.

Caregiving scenarios that strain the bonds of friends, family, and marriage could benefit from "emotional triage." Since the one who suffers will, by definition, probably not be providing leadership in those areas, it is up to caregivers to ensure their own safety and well-being. Just as paramedics train to care for an agitated (and sometimes even violent) patient in a medical emergency, caregivers can learn a few tips to protect their own emotional safety and peace of mind during the myriad of caregiving difficulties that often seem to erupt on a daily basis.

When the "turbulence of caregiving" hits, three simple things I do immediately help calm me down so that I can make healthy and positive decisions in high-stress moments: Wait, Water, Walk.

Wait.

Take a moment before responding. Regardless if the culprit is dementia, drugs, or just your loved one having a bad day, all types of "emotional tug-of-wars" seem to be happening simultaneously while caregiving. If you pick up the rope and involve yourself in a tug-of-war, one of two things will happen: You will win and end up on your rear - or you will lose and end up on your face. Don't pick up the rope! Simply wait before responding. Rarely do you have to apologize or make amends for something you didn't say. Breathe slowly (inhale four seconds – exhale eight seconds), until you feel yourself growing calmer. Stress and anger are toxic for good decisions.
Water.

Drink some cool water. It will buy you time to think a littler clearer. Avoid sugary drinks or even coffee, and instead grab a bottle or glass of water. Your body needs water – your brain needs water. From high blood pressure to fatigue, water helps a myriad of issues. A tanked up brain functions better. Drink to think!
Walk.

Caregiving creates extreme stress, so when things are bouncing off the walls, take a few moments to put on some comfortable shoes and walk off some of that tension. By doing so, you are truly putting on the mask first, getting better oxygen to your body and brain, and bleeding off anxiety. Walking immediately helps facilitate calmness. Settling yourself down allows you to bring your "A-Game" to the caregiving scenario.
Wait, Water, Walk cost little or nothing – but can instantly help a caregiver make better decisions, calm down, and feel more at peace. Those are the initial actions of the Delta Doctrine that any caregiver can immediately implement. "Put your mask on first" is the most responsible and caring step in your efforts to help others. In doing so, the patient gets a healthier, confident, stronger, and more "self-controlled" caregiver - who can provide leadership while offering love.

While "putting on the mask," it is important to remember that caregiving is a marathon not a sprint – so wear comfortable shoes.

Peter W. Rosenberger is the president of Standing With Hope - a non-profit prosthetic limb outreach to amputees overseas. Standing With Hope recently launched an outreach to caregivers that draws upon Peter's vast experience as a caregiver for his wife, Gracie, for 27 years through her now 78 operations, multiple amputations, 60 + Doctors, 12 Hospitals, and $9 million in medical costs. He hosts a weekly radio show on Nashville's 1510 WLAC for caregivers. His newest book is Wear Comfortable Shoes-Surviving and Thriving As A Caregiver. For more information visit www.caregiverswithhope.com