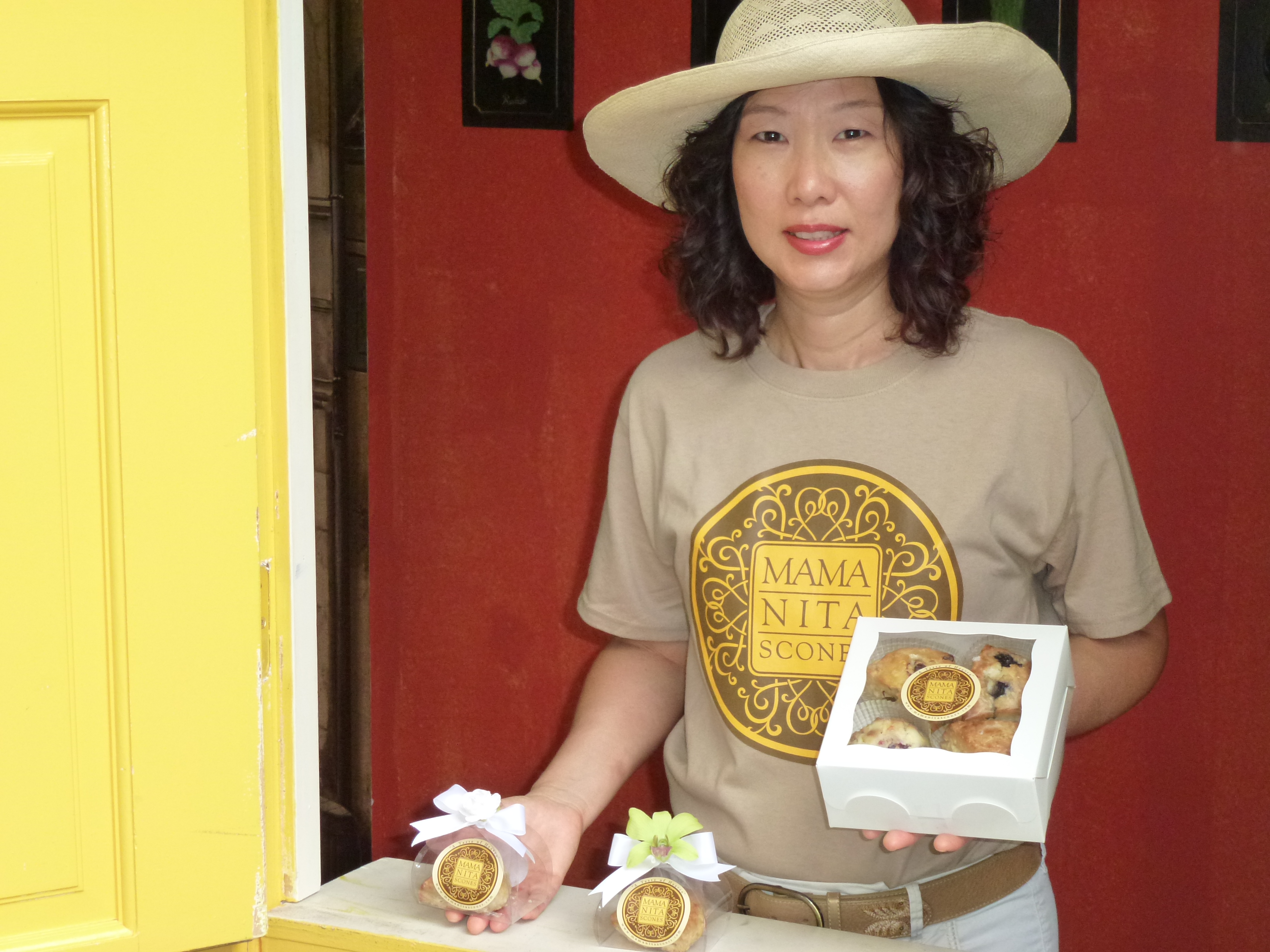 Anita Rhee credits a scone baking class at a church event for inspiring her plunge into entrepreneurship. After moving to Hawaii from the East Coast in 2004, the career pharmacist turned full-time mother was weighing second-career options after the kids were grown. She thought of teaching or returning to work as a pharmacist – but memories of the baking class brought back fond childhood memories of afternoon tea and pastries.

"As a pharmacist I had to be very exact about filling prescriptions, so that attention to detail probably carried over to my baking," said Rhee.

Today, a little more than two years after launching her small business venture, the self-professed night owl has remade herself into an early rising scone chef and successful entrepreneur. The namesake behind Mama Nita Scones, Rhee has built her business from a startup selling at farmers' markets to a sought-after pastry company doing online orders, catering and gift-boxes for weddings and other occasions.

At age 50, Rhee is doing what thousands of Hawaii boomers have done or are considering doing: reimagining their lives and pursuing new passions in adulthood. Like Rhee, many people redirect their lives after major turning points such as retirement and taking time off to raise children or care for elderly parents.

AARP has launched an initiative called Life Reimagined to help older adults unlock their dreams and navigate new life stages. The goal of Life Reimagined is to help turn people's goals and dreams into real possibilities through online and offline programs, experiences, resources and services that help people adapt to their new life stage and live their best lives. Life Reimagined offers a flexible, step-by-step approach to help you discover new possibilities, guide and prepare you for personal growth and change.

AARP has also created Life Reimagined for Work, to help experienced workers achieve their employment goals, turn goals and dreams into real possibilities, and create possibilities by connecting people with others. Life Reimagined for Work is a social network-based jobs program, targeting experienced workers (workers with 20+ years of career experience), connecting them with employers who value and seek qualified experienced workers for new or more satisfying work, career and entrepreneurial opportunities.

As for Rhee, she's not finished redefining herself. She's looking at new ventures such as creating wedding favors and setting up a scone factory. While expanding is one option, she says firmly that, "making money is not the sole purpose of my business…I have a mission." She dreams of going to underdeveloped countries to train local people on her business model so they can learn skills to sustain themselves. This dream came closer to realization recently when a church member approached her about training women in Thailand to bake scones for tourist coffee shops.

Anita's eyes twinkle at the prospect of doing good work and using local fruits to develop new flavors. Up every morning from 4 a.m., she's baking her way toward her dreams one scone at a time. For a closer look at what she's doing in the kitchen visit Mama Nita Scones.

This article was written for AARP Hawaii by communications volunteer Marian Okada.