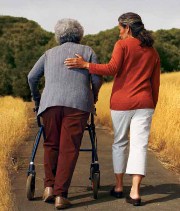 In the legislative session that begins Jan. 13, AARP Indiana will focus on ways to help family caregivers.

A recent scorecard on long-term services and supports ranked Indiana 51st among the states (and District of Columbia) in support for family caregivers. The findings underscore the need for resources that can help Hoosiers continue to care for their loved ones at home and keep them out of costly institutions.

This year AARP supported a bill that would have granted a tax credit of up to $500 for home improvements or equipment needed for a family member age 65 or older. Although the bill died in committee, AARP may support a similar measure in 2015. In addition, AARP supports a legislative proposal that aims to reduce hospital readmissions by showing caregivers how to perform follow-up tasks before the patient goes home.

To help with caregiving issues, email inaarp@aarp.org or call 866-448-3618 toll-free.